Execs from C4, UKTV, Sky outline their strategies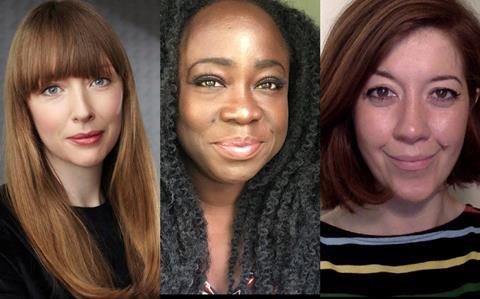 Comedy commissioners from C4, UKTV and Sky have urged producers to pitch ideas that reflect the diverse lives of viewers
Channel 4 head of comedy Fiona McDermott, Sky commissioning editor Alex Moody, and UKTV commissioning editor Sarah Asante outlined their desire for relatable comedies at a recent event hosted by Broadcast's Commissioner Index .
"For Sky, comedy is about mirroring the lives of our audience. We want local stories that have an international appeal," said Moody.
She referenced the success of Bloods, a London-based show that has been picked up by Hulu, as an example of what they are looking to replicate.
UKTV's Sarah Asante called for comedy ideas that are laced with honesty and warmth.
"With comedy, you have to start with the truth. It has to represent the truth within our world and be authentic," she said.
Channel 4's Fiona McDermott similarly highlighted the importance of relatability: "Comedy is so important to Channel 4, and we're after characters that feel like home who are placed in recognisable situations like a family unit, or a friendship group."
She added that in order to reflect audiences appropriately, diverse stories must be told. "We're not doing our job if our shows are not discussing race, gender, and class relations" she said.
Channel 4 has achieved huge success with Derry Girls and critical acclaim for We Are Lady Parts, which has recently been renewed for a second series, and wants to build on these types of sitcoms.
All three commissioners acknowledged the difficulty of developing comedy and of maintaining a show's humour throughout a series.
Asante is keen for producers to recognise that the commissioners are in the business of helping them and said the small, close-knit community of comedy commissioners in the UK enables them to share ideas.
"If I get pitched an idea that I like that UKTV would not necessarily go for, I'll send it on to Fiona or Alex if I think that it would be more suited to their channels," she said.
McDermott agreed, stating that "anyone who comes to us with their own vision, we will do the best we can to help realise".
Developing new talent is another area on the agenda. Sky has recently partnered with Birmingham Rep and is looking to develop comedy writing talent from across the UK. "We want to bring new writers to the screen, especially those in the regions who lack credentials," said Moody.
Similarly, Channel 4's Comedy Blaps provides the channel with an insight into up-and-coming talent and offers writer/performers the chance to showcase their abilities.
The commissioners were speaking at Commissioning Conversations Live: Scripted Comedy, a virtual event run by Broadcast's Commissioner Index.
To discover more about the Commissioner Index and to become a subscriber, please click here. The service offers profiles of more than 450 commissioners, their pitch details, contact information and strategies, as well access to future events.
Commissioner Index runs quarterly panels and regularly offers subscribers the opportunity for 1-2-1 pitch and introduction meetings after each event.