Veteran documentarian D.A Pennebaker (Bob Dylan: Don't Look Back) delivered a masterclass at Sheffield Doc/Fest on Sunday (June 12) in which he discussed his lengthy career in the business.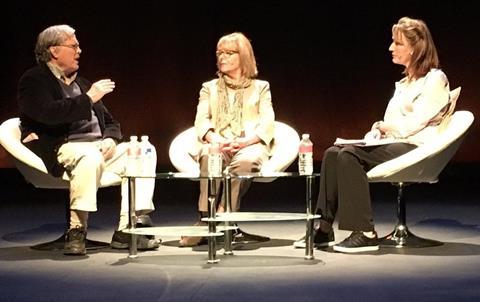 He was on stage with frequent collaborator Chris Hegedus, who is also his wife. The film-making duo were behind 1993 Oscar-nominated documentary feature The War Room and have worked together on several of projects.
Clips were shown from some of their most notable films including 1979's Town Bloody Hall and 2009's Kings Of Pastry, as well as their latest feature Unlocking The Cage, which depicts a group of lawyers advocating for animal rights and screens at Doc/Fest following its Sundance premiere in January.
Early career
The 90-year-old Pennebaker also discussed his earlier work, which saw him chronicle the careers of musicians Bob Dylan (1967's Don't Look Back) and David Bowie (1973's Ziggy Stardust And The Spiders From Mars).
The director disclosed how, when working with Dylan, he was left to his own devices with his craft: "It was the freedom of the kind that, as a film-maker, you desire but very seldom get."
He said that it was a relaxed process, with very little pressure on him to deliver a particular end product: "I could've had a broom in my hand as far as [Dylan] was concerned."
"Nobody seemed to take seriously a person making a film all by themselves, they still don't really. Very few people do it. Eventually, I think that kind of film-making will become a language and people will use it in a way that we now barely understand," he added.
Asked by moderator Francine Stock whether - on either his Dylan or Bowie docs - he had a sense that he was making works that would have lasting appeal even 40 or 50 years down the line, he said: "No, you never do. It's just today's work."
Pennebaker had fond memories of his time filming Bowie, who died earlier this year, during the historic 1973 concert 'Leper Messiah', which was Bowie's final performance in his Ziggy Stardust persona.
"What I saw when David got on stage, was one person totally holding that stage for two hours," he recalled. "I thought, 'There's not many people who can do that, I better get this all on film while it lasts."
Advice
The veteran film-maker also offered some salient advice for budding documentarians.
Reiterating his earlier comments about the freedom of the documentary film-maker, Pennebaker said: "The determining factor of any scene or shot is if I find it interesting. If I was working for a producer, I wouldn't have that. I needed to be an unemployed photographer [early in life] to get that.
"The film-maker has to consider taking on the role of an artist. The artist can have no master and, if you understand that, you're always free, and you can do anything you want. It's a hard place to get to."
Hegedus added further advice on how to get the most from documentary subjects. "We try not to overshadow our subjects, we tend not to use lights and big overhead boom mics," she said.
"We make sure they're the most important thing in the room and it doesn't become about us, it's always about them. Once they realise you respect them and you're not there to catch them doing something, they take you into their lives."