Seeing more people with disabilities on screen is key to transforming attitudes, says Lee Ridley
When I won Britain's Got Talent last year, people said it was a watershed moment for people with disabilities. After all, I was the first disabled person to win a prime-time television talent show in the UK, and I'll be the first to admit that my success has not only benefited me, but many other disabled people as well.
When I first started doing stand-up comedy seven years ago, I didn't do it because I wanted to be the poster boy for disability, or to be an inspiration to anyone else. I simply did it because I enjoyed making people laugh and I thought it was a fun hobby to have.
Of course, I never expected to make a living out of it – never mind win Britain's Got Talent. But I appreciate that I have inadvertently inspired some people. This is clear from all the messages I get on social media from parents of disabled children telling me that I've given them hope for the future.
If I'm being honest, I don't really see myself as an inspiration; I'm just a bloke trying to get on with his life. I'm not doing anything special, but I don't mind if other people see me as a role model. If it helps encourage them to follow their dreams and gives them hope for the future, then it must be a good thing.
"Shows like The Last Leg are the exception. The number of physically disabled comedians who have appeared on panel shows is very low"
Whether it was a watershed moment is a different story though. Let's remember that we've had watershed moments for the disabled before – the London 2012 Paralympics being the most notable. While things certainly got better in terms of disabled people being better represented in society as a whole, there is still a lot that needs to be done.
Channel 4's The Last Leg is probably the best example of how things have improved. For the first time in my lifetime, I'm seeing disabled people on the television who I can relate to, and I'm sure almost every disabled person would tell you how important it is to have positive role models in the public eye.
Sadly, shows like The Last Leg are the exception rather than the rule. The number of physically disabled comedians who have appeared on panel shows is very low, as is the number of physically disabled people who have appeared on entertainment shows as contestants or guests. Of course, identifying disability can be problematic as it can be either visible or invisible.
Either way, we have a long way to go before onscreen representation reflects the estimated 20% of the UK population who are disabled – that's more than 13 million people.
It is only recently that disabled people have become more visible in society – on television, they include RJ Mitte (who played Walt Jr in Breaking Bad), comedian Francesca Martinez (formerly a star of Grange Hill) and James Moore (currently in Emmerdale).
The reason I mention these three is because their disabilities were hardly mentioned on screen; they were just characters in television programmes. That shows how much progress can be made if we want it to happen.
I'm glad I won Britain's Got Talent because success breeds success. It would be nice for every disabled child to realise they can do whatever they like when they grow up. But they'll only believe this if they see other people in a similar situation achieving their goals.
Only when we see disabled people on our stages and on our screens as much as anyone else will attitudes really change, and only then will disabled people feel fully a part of society. As a comedian, I hope that the industry I work in can be at the forefront of changing people's attitudes. ­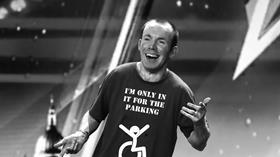 'Lost Voice Guy' Lee Ridley is a comedian and winner of Britain's Got Talent 2018. His book, I'm Only In It For The Parking, was published by Bantam Press on 16 May