British Council backing tour of Alternate Realities programme.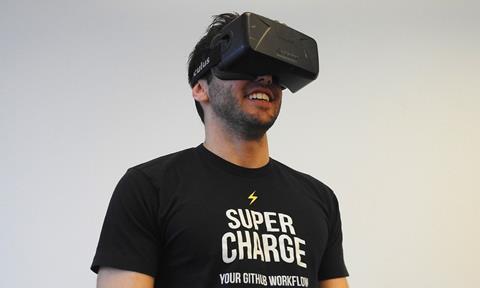 Sheffield Doc/Fest and the British Council are teaming up to tour a selection of works from the festival's Alternate Realities programme in Latin America later this year.
Nine projects from the sidebar, which showcases virtual reality experiences and interactive documentaries, will travel to the DocMontevideo in Uruguay (July 22-28), DOSCP in Brazil (October 2-7), and Noviembre Electrónico in Argentina (November 12-19).
A number of the selected experiences will be translated into Spanish and Portuguese specially for the tour, which is a Doc/Fest initiative supported by the British Council in partnership with the three festival destinations.
The selected projects are:
Munduruku: The Fight To Defend The Heart Of The Amazon, Grace Boyle, James Manisty, Pete Speller / UK, Brazil, 2017
Planet, Momoko Seto / France / 2017
Future Aleppo (Sheffield Doc/Fest commission, in partnership with FACT, supported by Arts Council England) Marshmallow Laser Feast, Alex Pearson / UK, Turkey / 2017
DeathTolls Experience Ali Eslami / Iran, Islamic Republic of, Netherlands / 2016
In My Shoes: Intimacy Jane Gauntlett / UK / 2017
Step To The Line Ricardo Laganaro / USA, Brazil / 2017
Trafficked Owain Rich, Charlie Newland / UK, Mexico / 2016
Borders Gonzalo Alvarez / USA / 2017
Tell Me Your Secrets Mike Orwell / UK / 2017
Dan Tucker, curator of Doc/Fest's Alternate Realities programme, said: "From gaming to virtual reality and interactive installations, I am thrilled that this specially curated selection of the Alternate Realities programme is heading to Latin America.
"I am also delighted that the tour is in partnership with the British Council. The selection has a focus on stories of our natural habitat, the lives of Syrian refugees and the importance of intimacy and empathy in order to promote a better understanding of each other.
"Even better, several of the Alternate Realities projects we have chosen document the region itself. It feels essential to us that these world leading projects, that tell such profound stories and showcase cutting edge technologies, are reaching audiences globally."
Briony Hanson, director of film at the British Council, added: "We're excited to be partnering with Sheffield Doc/Fest to tour their excellent Alternative Realities programme to Latin America, and internationalise their visionary programme to a whole new market.
"The profound stories told through this programme are as relevant overseas as they are innovative in form, and we're immensely proud to be enabling this work to inspire and challenge audiences and practitioners across the Americas."