UK drama producers are looking to tighten their grip on scripted opportunities in the US following an explosion in demand for the genre from cable operators and digital giants.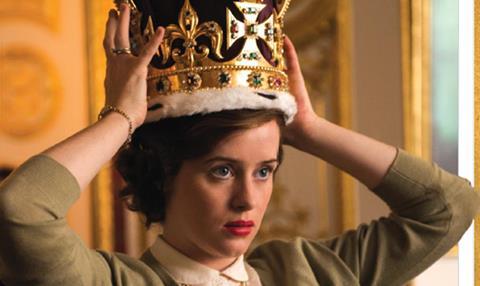 Research by Broadcast shows the likes of Carnival Films, Left Bank Pictures, Kudos and Neal Street Productions produced or co-produced around 30 of the 409 scripted series that aired on US TV and online last year. This adds up to around 200 hours of content.
The trend looks set to continue, as a result of a number of young indies winning major commissions, established British scripted players targeting the US and online platforms, including Netflix and Amazon, upping their ambitions.
UK producers broadly agree that there are between 10 and 15 regular buyers of British scripted ideas in the US. This includes cable networks such as AMC, Showtime, Starz and Sundance, public broadcaster PBS, and OTT services such as Hulu. There is also occasional interest from broadcast networks like ABC and NBC.
"Two years ago, there were 25 or 30 overall buyers of drama in the US and now there are 60," said Stewart Mackinnon, founder of Man In The High Castle producer Headline Pictures. "We decided to break that down and realised that for the kind of shows we make, the number falls to between five and 10, not including the Netflixes of the world."
The number of scripted shows on basic cable has grown exponentially over the past five years, from 74 original commissions in 2010 to 181 last year, with digital platforms airing 44 originals in 2015 compared with just four in 2010.
"There's a crazy and wonderful proliferation of opportunities for high-end drama right now," said Kudos founder Stephen Garrett, who now runs Character Seven, which co-produced The Night Manager. "It doesn't seem that long ago, when I was at Kudos, that every idea theoretically had only three buyers in the UK, if you were lucky."
Left Bank makes sci-fi drama Outlander for Starz and, with The Crown, was the first UK producer to win a drama commission from Netflix. "Ten years ago when you went to the US, they were interested to meet you because you were a bit of a curiosity. Now it's absolutely a level playing field and I no longer feel like an eccentric British producer looking for a break," said chief executive Andy Harries.
The Sony Pictures Television-owned indie is currently pitching a high-end series directed by The Last King Of Scotland's Kevin Macdonald and written by Bridge Of Spies' Matt Charman. On Harries' most recent trip to LA, he visited eight broadcasters in two-and-a- half days.
Downton Abbey producer Gareth Neame agreed that British producers are now treated equally to their US counterparts. "Downton will get us a meeting with anyone but it just gets us in the door, it doesn't put you at the front of the queue or guarantee a commission," said the Carnival Films boss.
And it is not just the established UK indies that are making progress. Slim Film + Television has won a landmark commitment from Breaking Bad broadcaster AMC to make The Recruit, a CIA spy drama penned by Humans writers Sam Vincent and Jonathan Brackley.
Slim originally developed the New York and Washington-set series for Sky, but it is now being fully funded by AMC – a rare event for a firm with only two UK commissions under its belt.
Similarly, HBO is developing a one-off drama from Headline Pictures about a controversial arms deal between former Soviet leader Mikhail Gorbachev and US president Ronald Reagan at a historic summit in Iceland in 1986. Based on a book by Reagan aide Ken Adelman, Reykjavík will be executive produced by Ridley Scott and star Michael Douglas as the former president.
A number of established UK firms are also making a renewed push into the US. Company Pictures, under former Mammoth Screen boss Michele Buck's leadership, is looking to capitalise on The White Queen follow-up The White Princess for Starz.
Objective also wants to build on The Arrangement, an E! drama about a TV actress who is offered a $10m (£7m) marriage contract with Hollywood's biggest star. Similarly, Kudos, which produces Humans for C4 and AMC and remade Broadchurch for Fox, is eyeing its first US-originated project.
"It's very early, but we've got hold of some very big books for one project. We're wondering about taking it out first to the US to find a big platform and find a British broadcaster later on," said chief executive Diederick Santer.
Broadening horizons
Death In Paradise producer Red Planet Pictures is also beginning to pitch original material after boss Tony Jordan returned from LA looking for co-pro partners on Sky 1 adventure series Hooten & The Lady. "I want to make shows specifically for the US market; they don't have to necessarily be US/UK co-productions," he explained. "If you're an indie, there needs to be more to your business than popping down to Portland Place or Horseferry Road."
Happy Valley indie Red Production Company is developing an adaptation of Harlan Coben thriller Six Years after setting up US indie Final Twist Productions with the author. Meanwhile, Gold Rush producer Raw TV is making six-part motorbike drama Harley And The Davidsons for Discovery.
Chief executive Joely Fether said: "We started growing our scripted business at the same time that Discovery and other US cable networks were identifying a need to become scripted players."
Many expect Apple to join the party too, as Netflix and Amazon continue to make major investments in scripted projects. Apple is said to have recently ordered a scripted series from Dr Dre and a non-scripted project from Ben Silverman and Will.i.am.
Until now, the majority of deals struck by British producers have been co-production agreements. These fall largely into two categories: equal relationships, such as the collaboration between AMC and C4 on Humans; and deals with less editorial input from the US partner. The latter is often closer to an acquisition and a good example is Downton Abbey, which aired on PBS.
But Kudos boss Santer said even a number of its so-called "domestic" shows are co-produced to "a degree". This includes ITV's Grantchester, which is shown by PBS, and forthcoming C4 comedy Flowers, which will air on NBC-backed VoD service Seeso.
The drama gold rush has largely been focused on cable, with only a handful of indies targeting the major broadcast networks: ABC, CBS, Fox, NBC and The CW. Ecosse Films coproduces the US remake of Mistresses for ABC, while Carnival recently made Dracula for NBC and Sky.
Carnival is now in talks with NBC over The Gilded Age, the Julian Fellowes-penned period drama follow-up to Downton. Neame acknowledged that network projects can be more "difficult". Harries added: "Network's a very big commitment; cable is much more talent-friendly. The heat of US networks means a lot of notes."
Garrett said the opportunities feel endless: "It wasn't that long ago when the world was dominated by cops and doctors and lawyers. Now you've got everything from trans gender 65-yearolds to Serbian gangsters – there's no idea too mad to pitch."
THE GOLD RUSH: US DRAMA IN NUMBERS
200 Hours produced or co-produced by UK companies for US networks in 2015
30 Shows produced or co-produced by UK indies for US networks in 2015
409 Scripted shows on US TV in 2015, up from 217 in 2010
181 Scripted shows on basic cable in 2015, up from 74 in 2010
44 Scripted shows on OTT services in 2015, up from four in 2010