Everywhere you looked in the Las Vegas Convention Centre there was a drone dangling from the top of a stand or hovering overhead.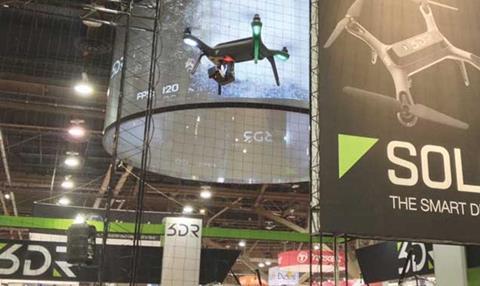 This was the first year that NAB had a dedicated drone zone, but the machines were not confined to the South Hall: unmanned aerial vehicles (UAVs) were on show in all three halls, on the stands of a range of exhibitors keen to take advantage of their ability to draw a crowd.
Camera manufacturers have tailored their kit to address the soaring interest in drones. Just ahead of the show, Arri unveiled its Alexa Mini device, while Canon launched the compact DSLResque XC10 and the C300 MkII, which were bolted to UAVs and on display during the show.
Blackmagic Design got in on the act on NAB's first day when it unveiled a new addition to its range: the Micro Cinema Camera, a point-of-view Super 16mm digital fi lm camera. The palm-sized device includes an expansion port for the use of PWM and S.Bus model airplane remote controls, so users can remotely control features such as iris, focus and audio levels, and start and stop recording.
While the floor-to-ceiling flight demonstration cages attracted hoards of NAB attendees, experts weren't bowled over by what was on display. Jon Hurndall, cofounder of drone operator firm Batcam, said while he was impressed at the amount of new
UAVs on show, he was disappointed that they predominantly catered for the consumer market. "With the exception of Freefly Systems' Alta UAV, which has the option to mount cameras on the top rather than below, we felt the technology was a little stagnant at this year's exhibition and lacked any new concepts or game-changing items in the UAV market."
Freefly's Alta, which was unveiled at NAB, was the pick of the products aimed at professional users. Tested with the Alexa Mini ahead of its launch, the ability to haul a 15lb payload for around 14 minutes makes it suited for use with cameras such as the Red Dragon or Sony F55. It ships in June for $8,495 (£5,700).
Towards the cheaper end of the market, new entrant 3D Robotics (3DR) touted its Solo drone as the first to offer full control of a GoPro camera. The $999 (£670) ready-to- fly device can deliver a live stream of HD video from a GoPro camera to an Android or iOS device from a distance of up to half a mile, or through the controller's HDMI output.
DJI, one of the best-known manufacturers in the drone sector, launched its Phantom 3 device in Las Vegas. One of the enhancements on previous Phantom models is the addition of a positioning system that uses sonar and a downward-facing camera to aid low flying. It is available in two models, with either a 4K or a 1080p built-in camera.
Yuneec also added a 4K camera to one its drones for the first time.
The updated Q500 will be released in a month's time for around $1,500 (£1,006).
VIRTUaL REaLITY: a LaCK OF LaUNCHES
While drones dominated NAB, VR was conspicuous by its absence. Red Bull's pledge to have a VR channel by early next year and Sky, through its investment in VR tech firm Jaunt (whose senior execs spoke at a conference event), stoked interest in the technology, but there was a paucity of kit on display in Las Vegas.
Red Digital Cinema's stand was the setting for a demo from VR platform provider NextVR. It delivered a VR feed from two Red Epics paired with 8mm fisheye lenses placed high on the camera manufacturer's stand to Red's offices in the UK, Germany, China and India, and its stores in New York and Los Angeles. This was the first ever live VR broadcast to multiple global locations, according to NextVR.
Elsewhere, lens manufacturer Zeiss showed off its VR One device, essentially a high-end version of Google's Cardboard VR display. Launched last year, VR One uses the firm's "premium lenses", which sit in front of a smartphone.
A spokesman described its VR venture as an "internal incubator" to help the company move into the digital world.
Meanwhile, in the North Hall, 360Heros launched the latest addition to its range of mounts for GoPro's HD Hero cameras for capturing the footage used for VR displays. The 360 Abyss is an underwater housing designed to accommodate six GoPro cameras.