EVS will show off its new XT2+  video production server at next month's Broadcast Video Expo (BVE).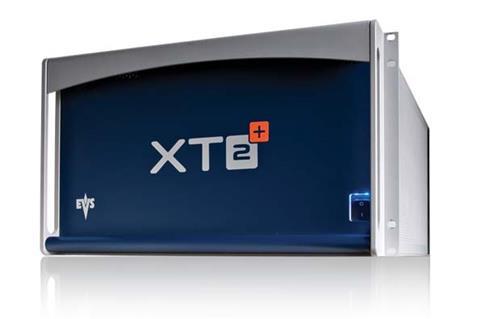 The latest addition to the XT series provides 30% more bandwidth, providing an available upgrade path to AVC-Intra and 1080p production.
It comes with a range of software and remote controllers, such as MulticamLSM, IPDirector and Insio, and offers an open architecture with extended support of formats and codecs that will provide smoother integration with third-party systems.
EVS chief executive Pierre L'Hoest said: "The XT2+ has been designed to meet extended production requirements from customers. The newly developed server will offer them the best of breed of broadcast technology for today's and tomorrow's demanding operations, while guarantying the highest level of reliability and robustness expected from an EVS brand."
The new EVS server is available in 6, 4, or 2 channel configurations and in SD/HD ready or full HD/SD mode with dual networking capabilities, including the XNet2 (high bandwidth media sharing network) dedicated to live production media access and exchange.
The XT2+ will be on show at Broadcast Video Expo 2010 (16-18 February, Earls Court 2 London).