It had been years since an English prison had opened its doors to a fi lm crew, but HMP Durham saw what we were trying to do, says Paddy Wivell
Production company Spring Films
Commissioner Nick Mirsky
TX 19 July, 9pm, Channel 4
Series director, writer and producer Paddy Wivell
Executive producers Kathy Myers; Richard Melman
Shooting producer Jack Wood
Assistant producer Josh Allott
Editors Chris Nicholls; Fraser Gibb
Head of production Pat Footer
Post house The Farm
Nothing prepares you for the first time you walk into B Wing of HMP Durham during 'association', when 200 prisoners are unlocked and pack into a narrow landing, mingling with just a handful of officers.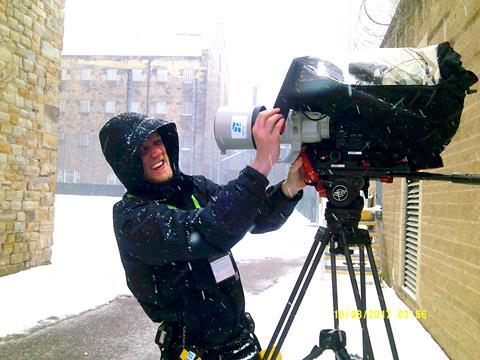 It's like walking into an unfamiliar pub in a shady part of town and being met with hardened stares from blokes who think you're a police officer.
We're all aware of the slew of headlines reporting the crisis in our prisons: drugs are rife, incidents of violence have doubled in the past 10 years and self-harm statistics have tripled.
It's certainly a pertinent time to try to tell the human stories on both sides of the door – staff and prisoners – but no documentary team has been allowed in an English jail for years. So it was a bold decision of governor Tim Allen to give us access to his prison and reveal just what they are up against.
New arrivals
As a remand centre, Durham has a huge weekly traffic of prisoners coming from the courts and police cells. It locks up everyone, from murderers to first-time offenders, so it felt well placed to articulate the national issues and provide a human face.
We spent a month winning the confidence of both staff and inmates – without a camera – and getting to see first hand how a prison functions. We travelled light, just a team of three: me, shooting producer Jack Wood and assistant producer Josh Allott.
At first, we were overwhelmed by the possibilities; there's a story behind every door. But it soon became clear that we needed to find present-tense stories that spoke to the much-reported crisis. Drugs, violence and self-harm were everywhere, so I decided to shape the episodes around these three issues.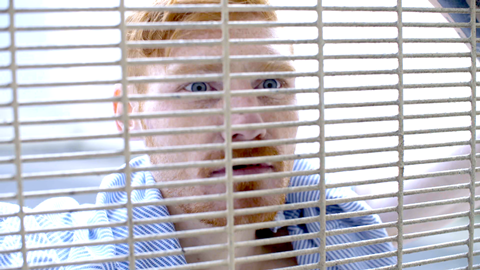 We were amazed at the freedom we were given – staff had enough to deal with without having to chaperone a camera crew. We joined some of the new officers on their training course – 'What to do if you're taken hostage' was a highlight – and were then given our own sets of keys.
Our ambition was always to avoid shooting scenes on the back of the officers and to instead embed ourselves with the prisoners. However, this occasionally left us vulnerable.
Some inmates were happy to show us contraband: drugs, phones and alcoholic 'hooch'. We were totally independent and it was not our job to report back on what inmates told us.
On one occasion, we heard that officers were going to 'spin the pad' of some of the prisoners we had recently filmed with. We knew we had to film the search, as it was a good story, but we did so knowing that it might put us in a compromising position.
Sure enough, the prison security team later informed us that a 'hig-hrisk intelligence report' had come in.
Paddy Wivell - My tricks of the trade
Work with a small crew. Be nimble and discreet. Anticipate problems and head them off before they build.
Your relationship with your contributors is all-important. There are no fees so their goodwill is all you have. Never be a burden to them.
If you need to live and work with a small crew for many months, choose them wisely.
Remember to leave your phone at the gate. It's a criminal offence to take one into a prison. You don't want it going off in a governors' meeting.
Don't film a prison key. You'll be billed £1m for new locks.
Apparently, we were in danger of being slashed across the face, scalded with boiling water or 'potted' (a term used to describe the practice of filling a bucket with excrement, allowing it to ferment for as long as possible, and then dousing it over a victim's head). Entire landings have been known to contribute to a pot.
But sometimes, surprises end up enriching the film. We were able to go to the segregation unit and confront the prison's biggest dealer about the threat. After spending some time with him, he decided we were alright and consented.
Consent was one of the biggest logistical issues – it was virtually a full-time job for AP Josh. We didn't want a series packed with blurred heads so we needed signed release forms from as many as prisoners as possible – by the end of six months, there were more than a thousand.
You cannot broadcast footage of someone yet to be charged, so we had to know everyone's face and keep on top of individual cases. Through post, Josh rigorously checked every frame for compliance – we couldn't risk influencing a courtroom.
Jack Wood did an unbelievable job keeping focus on prime lenses in extremely challenging environments; sometimes in the midst of fights, and often cramped into tiny cells.
We saw the effects of the escalating drug problem, the scale of violence that frontline staff have to endure daily and the truly shocking levels of self-harm.
However, we were also confronted with extraordinary levels of compassion from staff members doing their best in difficult circumstances, and, once they realised we weren't police officers, genuine hospitality from the residents.
GAINING ACCESS AND WINNING TRUST
Richard Melman - executive producer, Spring Films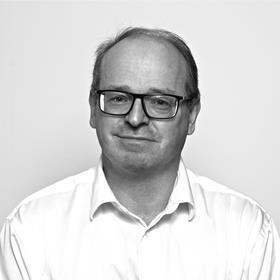 Facing an executive governor, a governor and a deputy governor for one of Her Majesty Prisons, all of whom have a list of perfectly reasonable reasons why they shouldn't allow you to film in their prison, is a challenge.
All we had to fall back on was the one thing we could demonstrably prove: that Spring Films has never flinched from tackling difficult subjects with honesty and transparency.
Fellow executive producer Kathy Myers and I promised them we would show just what we found, without manipulation or spin.
GETTING THE GO-AHEAD
Even to get to that first meeting had been a delicate process, made smoother by working closely with a former head of the National Offender Management Service as our champion. After many weeks of discussion with the prison and the Ministry of Justice, we were finally given the go-ahead.
With great access and freedom comes great responsibility. Legal issues, sub-judice questions and competency issues had to be met head on, as none of us wanted to inadvertently end up as residents.
We worked hard to keep the governors informed of what we were doing by regularly going up to show them roughly assembled sequences, including that of a prison officer accused of assaulting an inmate.
There was some lip biting and sharp intakes of breath from time to time, but no attempt or request was ever made to edit or change what we were doing.
On the ground, Paddy and the team did a remarkable job in gaining the trust of staff and inmates, which resulted in moments of drama, black humour and immense sadness when one of the inmates took his own life.
A year and a half later, we showed the governors the first film and, after a truly agonising pause, the former executive governor, now promoted, turned around and said: "It's not going to win me any friends in high places because it shows the prison we have, not the prison we want, but it's brilliant. Don't change a thing."