Heat-resistant helmet cams helped our firefighters to take us into places far too dangerous for any TV crew, says Jon Peck
Production company IMG Productions
Commissioners Helen Nightingale, Luke Hales, Richard Watsham
Length 2 series of 9 x 60 minutes
TX 10pm, Mondays from 8 January, Really
Executive producer Bob Massie
Series producer Nick Kenton
Production executive Lianne Hickey
Head of production Jane Tatnall
Development executive Jon Peck
Post house IMG Studios
Distributor DCD Rights
I came across the Fire Cam™ by googling new camera technology (as you do). The helmet camera was designed by Rob Schield, an American firefighter who wanted a camera he could literally take to work with him as he tackled blazes in his home town of East St. Louis, Illinois.
We realised that these unique cameras would allow us to make an exciting TV series, filming at the very heart of firefighting.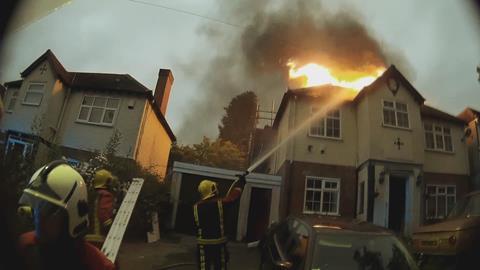 The work of the police and ambulance services has been well documented, but the problem with making a show about firefighters, using traditional TV crews, is that it is almost always impossible to get your cameras to an emergency call-out in time to capture anything meaningful, especially as firefighters aim to arrive at incidents in under five minutes.
Nor does embedding crews in individual fire stations solve the problem. Each fire service can have dozens of individual stations, any of which could be called to the next 'shout'.
The Fire Cam™ finally cracked that conundrum. Firefighters could take the cameras with them, so it wouldn't matter if we couldn't get there. We had found our cameras, but we still needed to find a fire service willing to wear them and roll them out across their entire team of firefighters.
We approached West Midlands Fire Service after seeing their excellent social media posts. As they already shared examples of their call-outs through photos and videos online, we hoped they would be receptive to a TV series where they could reveal the incredible work they do in a new way.
Into the Fire: in numbers
1,200 firefighters protecting more than 2.7 million people across the West Midlands
38 Fire Stations
80 Fire Cams™ - heat resistant to 600°C
70 body cams for incident commanders
More than 2,000 hours of emergency call-out footage
58 TB of storage
Luckily, they displayed the level of enthusiasm the project demanded. I have never worked on an access series that asked so much of the organisation it was following. We weren't just looking for access. We were asking for them to film it all themselves too.
We also knew we were asking a lot from a broadcaster to greenlight the series. For most call-outs, not a single member of our production team would be there with the firefighters. We were delighted when Helen Nightingale at UKTV saw how our filming approach could work and had the confidence to commission two nine-part series.
We bought eighty Fire Cams, one for all the 41 engines and 19 Brigade Response Vehicles to be used on fire engines and other response vehicles throughout the West Midlands Fire Service region.
These were supplemented by 70 bodycams which, by good fortune, the service had just started rolling out for their incident commanders who lead each emergency at the scene.
These gave us our overall wide-shots, but it was the Fire Cam, operated by firefighters themselves, that would take us to a place far too dangerous for any TV crew. They would allow us to see and hear what the firefighters do.
Nick Kenton - series producer
It took 12 months to bring the series to screen and a lot of people worked very hard to make it the best it can be. During the shoot, Into The Fire really evolved and grew, from the first faltering frames shot on helmet cam by the firefighters, to some of the most impressive, immersive firefighting, from a first-person POV, you can imagine.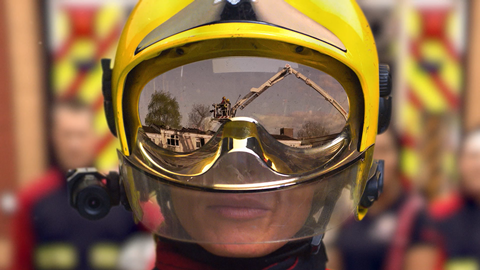 We captured a wide range of emergencies, from fatal road traffic crashes to flaming factory fires and family homes ablaze to animal rescues, and even the safe detonation of an unexploded WW2 bomb. We were also keen to highlight the fire service's often-unseen outreach work with schools, the elderly and the homeless.
Alongside the action were the characters. People are the heart of any good documentary because it is people we all care about.
Across this series, there are some genuine heart-stopping displays of humanity, compassion, courage and professionalism. So perhaps the most rewarding aspect was how the cameras allowed us a glimpse of the real women and men on the frontline of firefighting, the everyday heroes of West Midlands Fire Service.