Broadcast takes an in-depth look at some of the winners and shortlisted entries in this year's Focal International Awards - including Firelight Films' The Black Panthers and On The Corner's Amy.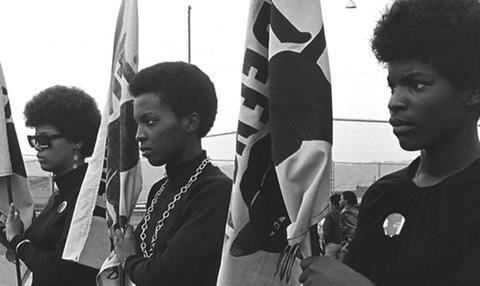 The Focal International Awards, presented in association with AP Archive, celebrate achievement in the use of archive footage and restoration, in all genres and across all media platforms.
The awards ceremony for programmes that aired in 2015 took place on Thursday 26 May at the Lancaster Hotel in London. It was hosted by former BBC chief news reporter Kate Adie.
WINNER
The Black Panthers: Vanguard of the Revolution
Producer Firelight Films
Sources NBC; T3 Media/CBS; Chicago Film Archives; Cine Tamaris-Agnes Varda; Oddball Film
Focal's jury commended the "enormous amount of work done by researchers" to obtain the 50 minutes of archive footage used in this feature-length documentary looking at the Black Panther Party, its significance to US culture and the impact of its derailment.
"Everyone has seen the Black Panthers marching in formation looking militant, but we wanted material that had not been seen before," says the film's director, Stanley Nelson.
When Nelson mentioned his Black Panthers project in conversation at a screening of another film, it led him to a Sony Porta Pak home-movie tape, made in the 1960s and stored in a cupboard.
"It was shot in Algeria and showed Panther leaders on the phone at the critical moment the party split," he says. "It was just incredible to find this footage and make it central to the storytelling."
The Black Panthers: Vanguard Of The Revolution was shown in the UK as part of BBC4's Storyville strand.
Best of Enemies
Producer Magnolia Pictures
Main sources ABC News; Videosource; Getty Images; Hoover Institution; WNET; T3 Media
When rival Republican and Democratic pundits William F Buckley Jr and Gore Vidal went head to head on ABC News in 1968, it changed the nature of TV news debates.
Focal jury chair Alison McAllan describes it as "an unusual subject for a documentary, made viable by two such larger-than-life characters".
The material used was "well chosen and frequently humorous", said the judges, and the contextual archive "gives a fascinating political picture of the times".
The Killing Fields of Dr. Haing S. Ngor
Producer Deep Focus Productions
Sources Bophana Audiovisual Resource Center; Dr. Haing S. Ngor Archive; Georgetown University; ABC News; Videosource; CNN
This documentary telling the story of the Khmer Rouge's reign of terror through the eyes of Dr Ngor, whose experiences were recreated for Oscar-winning film The Killing Fields, took an innovative approach.
"With next to no footage of the Cambodian atrocities available, the use of original animated sequences, combined with more general Cambodian archive footage, manages to convey some of the horror of the events and helps towards an understanding of why they unfolded as they did," says McAllan.
WINNER
The Queen of Ireland
Producer Blinder Films
Sources RTÉ; personal archives; Irish Queer Archive (Tonie Walsh); Invisible Thread Films; Gaze Film Festival
LGBT rights activist Rory O'Neill (drag queen Panti) is the focus of documentary approach that uses archive to illustrate a talking head," says McDonald. "They achieve it quite excellently." coBain: montage of heck Producers End of Movie; LLC Sources MTV Networks; Reelin in the Years; Universal Music; The Cobain Estate In this record of the life and death of Nirvana frontman this feature documentary that follows the lead-up to Ireland's 2015 referendum on same-sex marriage.
"A very enjoyable film with some incredible archive from around the world – from home movies to newsreels and club footage," the jurors stated.
"The wider issue of gay rights in Ireland was really well portrayed through the times and words of its larger-than-life central character."
Clockwork Climate
Producer Artline Films
Sources BBC Motion Gallery; AP Archive; National Archives and Records Administration; Lawrence Livermore National Laboratory; Museum of Innovation and Science Collections
"Our central topic is a theoretical research field, with little visual material except through CGI and computer models," says producer Benjamin Landsberger.
For this exposé of climate control by American and Russian geo-engineers during the Cold War, 35mm source copies of secret atmospheric experiments found in US and Soviet military archives were transferred to digital HD. "The archive was carefully used with the original aspect ratios preserved," says jury chair Mat Flasque.
India's Daughter
Producer Assassin Films
Sources NDTV; Wilderness Films India; ITN Source; CNN IBC
The aftermath of the brutal gang rape and murder of a female medical student in Delhi in 2012 compelled producer/director Leslee Udwin to make this film.
"I was reliant on material shot for Indian TV in analogue 4 x 3, whereas our format was digital 16 x 9," she says. "I had to trust that the content was more important and powerful than strong in style, and we went with what we had – raw and emotional, and technically variable. It was the right decision."
WINNER
Amy
Producer On The Corner
Sources Universal Music Group; Family & Friends; Getty Images; BBC; Videoplugger, ITN Source
Director Asif Kapadia's intimate portrait of the troubled singer is already a Bafta and Oscar winner.
What Focal jurors found remarkable was that the film is entirely composed of archive footage. "The audio interviews are used to bring meaning to the visuals, which is a reverse of the conventional factual documentary approach that uses archive to illustrate a talking head," says McDonald. "They achieve it quite excellently."
Cobain: Montage of Heck
Producers End of Movie; LLC
Sources MTV Networks; Reelin in the Years; Universal Music; The Cobain Estate
In this record of the life and death of Nirvana frontman Kurt Cobain, the mix of specially shot interviews with home-movie footage, recordings, artwork, photography and journals makes for "a voyeuristic" insider's account, according to jury chair James McDonald.
He adds: "The use of animations was weird but appropriate."
Eurovision at 60
Producer BBC Entertainment Production
Sources EBU; Pathé; RTÉ; ITN Source; ITV Studios; Getty Images
Featuring stories from more than 60 years of Eurovision, "the film totally achieved what it set out to do", says McDonald, namely: "A fun but often poignant programme making great use of familiar footage without being repetitive."
Footage includes a version of Lulu's Boom Bang-A-Bang.
WINNER
Free To Run
Producers Point Productions; Yuzu Productions; Eklektik Productions
Sources Salmini Films; NBC News; ABC
This film exploring how running changed from an all-male sport to the all-embracing activity it is today took eight years to complete. That included two years of research plus "multiple layers of rights, lost masters or contracts and real detective work", says producer Fabrice Estève.
Gathering first-hand testimony and forgotten archives, he uncovered footage of Kathrine Switer being attacked by the race director during the 1967 Boston Marathon, an incident previously known only through photographs.
"A truly remarkable documentary, where archive footage drives the narrative across five decades of sporting and social history," says lead juror Massimo Moretti.
Building Jerusalem
Producer New Black Films
Sources IMG; Sky Sports; ITN Source; Screen Ocean; Press Association
England's 2003 Rugby World Cup win over hosts Australia is rapidly gaining legendary status and this production combines match action and original interviews to relive the moment.
"It's an amazing story of success and single-mindedness, and brought together a cross-section of different characters," says director James Erskine.
"We found all the ISO recordings we could to show the final from different angles and used the personal collections of [coach] Clive Woodward and [star player] Jonny Wilkinson's family."
I Believe In Miracles
Producers Baby Cow Productions; Spool Films
Sources ITV Sport; BBC; Getty Images; Media Archive for Central England; ITN Source; Kino Library
This documentary tells how maverick coach Brian Clough took unfashionable Nottingham Forest to soccer glory and features interviews with his 1979 European Cup-winning side.
"The character of the team and their renowned management shone through in the archive to make a very entertaining watch with a great soundtrack," says Moretti.
WINNER
The Nature of Things: Jellyfish Rule!
Producer CBC
Sources Evergreen Studios; Howard Hall Productions; PhD Oleg Kovtun; Odessa National University; T3 Media; Nat Geo
This production licensed 13 minutes of footage from 19 sources. Five were commercial stock houses and the rest were independents, scientists and "fans of jellyfish", says project researcher Gina Calix.
"Just because a major news broadcaster doesn't have the footage covering an event, some unknown person may have it – so never give up," she advises.
Calix discovered one short video documenting the massacre of thousands of farmed salmon off the coast of Northern Ireland, which was "exactly the event" that scientists were describing on camera.
Seeking images of an underwater invasion by the mnemiopsis jellyfish in the Black Sea in the 1990s, Calix contacted archivists in the region with the help of Google Translate to track down "a keen marine biologist at the Odessa University who had shot this actual event".
Beasts Behaving Badly
Producer Barcroft Productions
Sources Jukin; Viral Hog; Storyful; Newsflare; licensed YouTube clips
With its jokey presentation and jerky pictures, this series was radically different from the competition, says jury chair Carol O'Callaghan.
Five comedians provide voiceovers for handpicked clips of animals creating havoc, shot on CCTV, camcorder or smartphone.
Sourced largely from user-generated video, "it is probably agony to most people at Focal, who are wary of YouTube", O'Callaghan concedes.
Wild 24: African Savannah
Producers NHNZ; Nat Geo Wild
Sources NHNZ Moving Images; Aquavision; Getty Images; Londolozi Game Reserve
Representing a single day of animal behaviour across 25 countries, it was an "incredible luxury to be able to cherry-pick from such world-class collections", says senior archive producer Lemuel Lyes.
He adds: "It was a monumental creative and logistical challenge to craft a unifying narrative, track the usage rights and edit content from multiple sources into a seamless show."
Arts
Imagine: The Ecstasy of Wilko Johnson
Producers Essential Arts Entertainment; Nitrate Film; BBC
Sources Mosfilm Cinema Concern; National Cinema Centre of Armenia; UTV Archive; Fuji TV Network; BBC Information & Archives
The uplifting story of Dr Feelgood guitarist and singer Wilko Johnson, who was diagnosed with pancreatic cancer, tells a "tremendous story, with expressive use of archival footage and music, superbly realised by director Julien Temple," according to the Focal judges.
For producer Richard Conway, the main challenge was to ensure that Temple could choose both rare and iconic film footage.
Conway says: "People's empathy for the fi lm's subject matter, and respect for Julien, helped enormously, as well as the professionalism of our brilliant archive producer, Miriam Walsh."
Arena: Night and Day
Producer BBC
Sources BBC; Apple Corp
To celebrate its 40th anniversary, the BBC arts strand assembled a film made entirely from its own archive, featuring clips of people from TS Eliot to Amy Winehouse.
Jury chair Gintare Kriauceliunaite commends the "superb idea."
"It's a great collage of best bits – some unseen, some inviting to watch more, some just pure gold.
"The list of names is endless and the archival layovers are very smooth."
By Sidney Lumet
Producers Augusta Films; American Masters Pictures; RatPac Documentary Films; Righteous Persons Foundation; Matador; Anker Productions
Sources Warner Brothers; CBS Entertainment; CBS News; Corbis
An interview with the director of Serpico and Network forms the heart of this career retrospective.
Focal's jury highlighted the "good choices of archive clips and editing" used to weave together the themes of Lumet's work. "It had to be put together in quite an unorthodox style to make very specific points and to enhance the interview footage," says Kriauceliunaite.
History Production
Every Face Has a Name
Producer: Auto Images
Best Use of Footage in an Entertainment Production
Best of Enemies
Tremolo Productions / Magnolia Pictures
Best Use of Footage on Non-television Platforms
The Beatles 1+ Video Collection
Apple Corps.
Best Use of Footage in a Cinema Release
Amy
On The Corner
Best Archive Restoration Preservation Project or Title
The Memory of Justice
The Film Foundation / Academy Film Archive
The Jane Mercer Footage Researcher of the Year Award
Jessica Berman-Bogdan
Footage Employee of the Year
Tim Emblem-English
Footage Library of the Year
Historic Films Archive
Advert or Short
Lenor 'Odes to Clothes: Marvellous Scarf'
The Director Studio for Grey Düsseldorf