As the provider of Premier League coverage to broadcasters outside the UK, Premier League Productions is on a drive to recruit staff to a range of roles for the upcoming season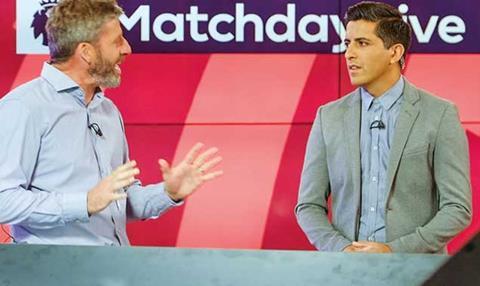 Deep in the heart of west London, there's a thriving television football factory. It's in a state-of-the-art building, packed with the very latest in broadcasting technology.
It's swarming with creative, passionate and determined people – and overflowing with ideas for how to push the boundaries of sports TV production. This is the home of Premier League Productions (PLP). And it's something of a secret.
Part of the bigger WME/IMG group, PLP is the Premier League's international television partner. It provides all Premier League coverage outside the UK – its key role being to distribute the matches and provide footage to the world's Premier League broadcasters.
Now it's on a drive to recruit staff ahead of the new season.
Anyone who does join PLP will find a team that has grown considerably – from 120 to 165 in the past three years – to keep up with the ever-growing demand for the thrills and spills of Premier League football.
PLP's offices are connected by fibre to every Premier League ground. Giant satellite dishes beam every single match to a worldwide audience – with a produced 'World
Feed' of all 380 games in a season. And the bigger picture is the wealth of pictures.
For the bigger games, that means feeds from an extra six or seven cameras – not just the coverage supplied by host broadcasters such as Sky Sports, BT Sport and BBC Sport. The operation is enormous.
Nick Moody, the head of PLP, describes the buzz of the galleries on matchday – and the excitement from the grounds. "It's a hive of activity – both here at the office and on location at the stadiums," he says.
"The Premier League likes the host broadcasters to concentrate on producing and directing the live matches. But we take responsibility for facilitating all the overseas broadcasters' production needs."
This means providing unilateral cameras for pre- and post-match interviews, studio or pitchside presentation positions and commentary positions. PLP also accesses all the pre- and post-match press conferences.
"We can also access up to 10 of the host broadcaster's match cameras," says Moody. "These allow us to provide the multi-angle replay service [MARS] and create a live clips channel for all the major incidents. When a goal is scored, we can go back 30 seconds, get 10 angles from the host broadcaster's coverage and play each one out for the overseas broadcasters."
The core team at PLP headquarters are charged with producing the World Feed – a package that includes 10 minutes of pre-match build-up, half-time material and another 10 minutes to wrap up the game.
Then there's a live 24-hour channel, including five and a half hours a day of live studio programming. It's known as the 'Content Service' – and it attracts some of the biggest names the Premier League has known.
"We have contracts with on-screen talent such as Ryan Giggs, Alan Shearer, Michael Owen and Rio Ferdinand," says Moody. "We had Frank Lampard in recently. We're always on the lookout for the biggest and best names."
The Content Service is not available in Europe so the only PLP output seen in the UK is its roster of six magazine shows, which sit on Sky Sports and BT Sport's platforms.
"That's part of the reason why we're such a well-kept secret," says Moody. "But around the world, it's a different story."
The August-to-May football season means that work at PLP is seasonal. There's not a high turnover of staff – around 82% return for the following season. But PLP is constantly looking to bring in new talent to work on its coverage.
This year, it plans to recruit around 20 people – including broadcast journalists and assistant producers.
Around a third of these positions are entrylevel media co-ordinators, who take charge of all the footage that comes into PLP's production facilities. "You're only ever as good as the logging, storing and moving of your material," says Moody.
"We have a huge amount of footage, and that means a robust and efficient system is paramount. On a Saturday night, we are making our edits of all the games – if we can't find a goal, we're in trouble."
Moody joined PLP three years ago after stints at Sky, ITV and ESPN. Making shows for an international audience requires many of the same skills, but a slight shift of mindset. After all, there's less instant reaction from viewers or host broadcasters.
Even so, PLP speaks to around six or eight of its main broadcaster clients a few times a week – as well as co-hosting an annual workshop in London with the Premier League.
"We are always looking to improve the experience for our broadcasters so this season we will be holding specific breakout sessions to see where we can enhance what we provide," he says.
"Throughout the season, some of us will also visit various countries to see how they are using the material we deliver, as each market has unique requirements."
Moody says he and the PLP management team work hard to create the right ethos, diversity and work culture, and regularly try to raise the profile of PLP at open days with universities and technology companies.
"When little we make is seen in this market, we have a big focus on internal praise," he says. "We think this is a fabulous place to work. Not every role requires you to be a football fan. But if you are one, it could be said that one of your best rewards is being paid to watch it every weekend."