Sponsored content
Find out more
Kaleidoscope Film Entertainment on remaining agile and spotting trends
UK distributor Kaleidoscope started in 2008 with four titles to its name, amid a recession that went on to claim some of the country's biggest high street DVD retailers.
Founder and chief executive Spencer Pollard says the business was built around the idea that despite changes in the market such as the decline of physical entertainment formats, there would always be an appetite for mainstream films that travel well.
"These are the ones that have cast or a director that people are familiar with or titles that have done well on the film festival circuit," he says.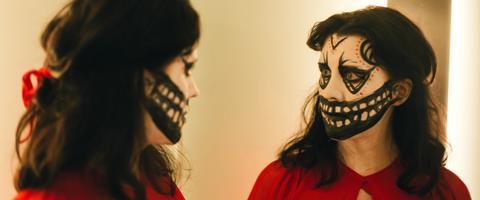 Kaleidoscope Film Entertainment (KFE)'s titles include low-budget gems such as British writer/performer/director Alice Lowe's Prevenge and Buffy the Vampire Slayer creator Joss Whedon-directed Much Ado About Nothing.
Still an independent, the UK company has now evolved into an all rights distributor, handling 15 theatrical movies a year and 40 to 50 home entertainment titles.
Pollard says that while its content strategy hasn't changed, consumer habits have, and remaining agile and spotting trends in the market remains crucial.
"People got comfortable with pressing a red button or signing up to subscribe to consumer services and as we watched this change happen, we wanted to be part of it," he says.
Kaleidoscope got involved in film financing to secure sales and distribution rights at an early stage.
"We now fund four or five documentaries a year - from a global perspective, that's helped us gain leverage with both traditional bidders and new players," he says.
Selling to SVoDs
Rather than view digital players such as Amazon and Netflix as distribution giants capable of swallowing their business, Pollard says that his Kaleidoscope maintains a good relationship with these streamers, and with more niche services such as OTT horror film network Shudder and independent films streamer Sundance Now.
These relationships were enhanced by a series of staff hires with execs that have experience of selling to global digital and SVoD channels, as well as the major studios.
"As a distributor, a sales agent and film financer, we go in with a mix of things to talk about - although we always try and retain our original focus and curate what we sell," Pollard adds.
He keeps selecting the right titles and keeping an eye out for ones that are underserved in the digital, streaming and TV sales world front-of-mind: "We had lots of fun with Sharknado 2, 3 and 4 – but by the time it got to 5, it had become overexposed, it felt like it was one step too far," he admits.
An opportunity for the firm to double its market share arrived at the end of last year with the acquisition of a library of assets from Platform Entertainment (which formerly traded as Starz-owned Anchor Bay Entertainment until an MBO in 2015).
Kaleiscope took over all sales and distribution for the company's 500-strong library, including 10 Minute Solutions, Vendetta, The Adventures of Tin Tin, I Spit On Your Grave, Sky Sharks and Starz drama series Spartacus.
"If we had to choose now, the ability to acquire and consolidate libraries is of more of interest than financing individual films," Pollard adds.
This acquisition of under-exploited libraries is the final plank in a strategy that has enabled the firm to maximise the value of films in every territory across the full spectrum of rights, and to gain access to a studio-type network without forgoing the agility that goes with remaining proudly independent.