Sponsored content
Find out more
Described as 'The Vice of football', COPA 90 meets fans in favelas and house parties
In five years, COPA 90 has grown from a $3m YouTube football channel into a multiplatform youth destination that garners more than 85 million views a month.
By eschewing rights bids in favour of focusing on fan culture, the firm has attracted substantial partnerships with the likes of Adidas, Nissan and Verizon as well as investment from US backers such as Turner International and Liberty Media.
"It's all about creating original IP," explains COPA 90 chief executive Tom Thirlwall. "Our viewers can get hold of rights content from lots of different sources; where we come in is telling those stories outside of the 90-minute game."
What separates this digital player from traditional media companies, he says, is its ability to tell stories that talk to its key demographic of under-35s.
"The problem with sports broadcasters is that they come with 40 years of baggage," he says. "In Brazil in 2014, the BBC presenters rolled up their shirt sleeves and had a little kick about before going back into their hermetically-sealed box and talking about how England are giving way the ball too much.
"We stayed out there in the favelas and at house parties – and when Brazil was vanquished by Germany, we took to the streets and bars of Rio to report on the atmosphere."
For next year's World Cup, the firm plans to arrive in Moscow with a full production unit to cover stories through the lens of the fan.
"We'll be out there with our editorial partners and our 1,400-strong network of animators, footballers and creators to get perspectives from all over the world to bring a real geographical context to any stories playing out," says Thirlwall.
Platform agnostic play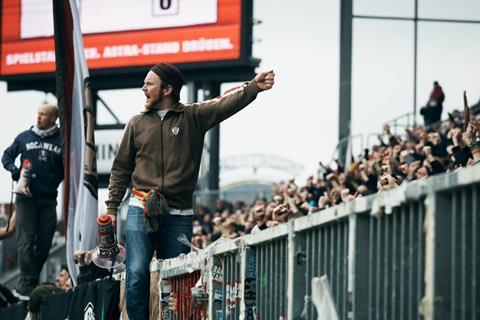 While COPA90 has its own site, the company - once described as 'The Vice of football' - is platform-agnostic, seeking to be wherever its audience is. Last year, it arrived on Snapchat with a 36-episode Premier League Show, Saturdays are Lit, attracting 49 million views globally.
The company is also innovating with new technology. Two years ago, it became the first football brand to build a Facebook Messenger chatbot for the UEFA European Championship.
Thirlwall says COPA 90 is fuelled by two core revenue streams: the first are straightforward media buys and sponsorship deals for brands that want to feature around COPA90 content; the second sees the firm take on the role of a media agency, as it create strategies for brands around major events such as the World Cup or the Champions League. Consultative clients include Adidas, Pepsi, Hyundai and Nissan.
Now, a third revenue stream is emerging, creating destinations for broadcasters keen to reach elusive younger audiences.
COPA90 is set to exploit the live football rights that Verizon channel go90 has for several global tournaments with a fan-centric show, COPA90 Kick-Off.
Rather than viewing COPA90 as digital disrupter, football's clubs and governing bodies appear to have embraced it as a media partner.
Over the summer, the firm worked with Manchester United, Real Madrid and Man City while FIFA and UEFA are also shepherding their own advertisers towards the company.
"UEFA presented us recently to their official brand partners as a means of getting the most out of their sponsorship for Champions League games," says Thirlwall. "They all regard us as this cool media brand that engages their young fans."