Inspired by the works of renowned artist Romero Britto, Happy Art Happy Life (w/t) seeks to spark enthusiasm among pre-school children for art and creativity in all aspects of their lives.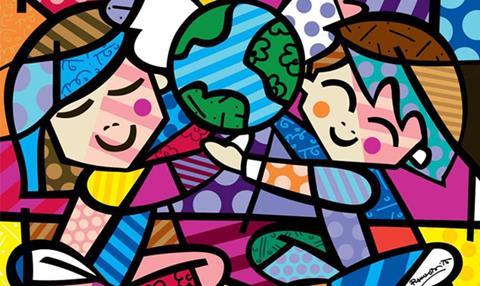 HAPPY ART HAPPY LIFE
Distributor Nelvana
Producer Grey Matter/UTA
Length TBC x 11 minutes
Broadcaster TBC
The series, produced by Grey Matter's Lawrence Grey and Ben Everard and written by Emmy Award-winner Judy Rothman Rofé (Madeline), is a character-driven sketch show that blends live action and animation.
It aims to introduce young audiences to the colourful world of the visual arts, while celebrating diversity and promoting inclusiveness through spirited, dynamic and relatable characters.
Central to the series is Britto's alter-ego Romero – a sharp-dressed bulldog who lives, paints and sculpts in an exotic art studio. His friends are all budding artists working across various disciplines, including finger painting, paper maché and street murals.
Each 11-minute episode presents a range of inspiring and visually stunning standalone segments designed to give children confidence and encouragement through art.
Scott Dyer, president of Canadian distributor Nelvana, says Happy Art Happy Life is "a truly vibrant and dynamic series that reflects the optimistic and joyous vision of acclaimed artist Romero Britto".
He adds: "The series' universal themes of exploring creativity and empowering kids through visual arts will resonate with audiences everywhere."
Britto is a Miami-based pop artist who has exhibited in more than 100 countries and collaborated with some of the world's biggest brands, including Audi, Bentley, Coca-Cola, Walt Disney, Evian, Hublot and Mattel.
Grey Matter was behind the 2016 supernatural horror film Lights Out and is working on a film about the formation of MI6, which is being directed by Joe Cornish, as well as the Santa Claus origin story Winter's Knight.
Corus Entertainment-owned Canadian group Nelvana has been behind some of the biggest names in animated kids' TV, including The Adventures Of Tintin and Babar.