Kid-E-Cats boasts an executive team with a strong kids' programming pedigree.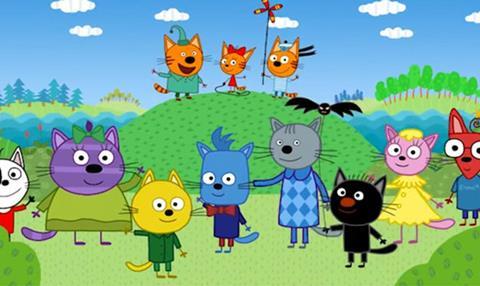 KID-E-CATS
Distributor APC
Producer Studio Metranom, Metrafilms, APC Kid
Length 52 x 5 minutes
Broadcasters CTC (Russia); Carousel (Russia)
Nigel Pickard, who oversaw the creation and launch of CBBC and CBeebies 15 years ago and commissioned some of the UK's biggest series while director of programmes at ITV, is the executive producer; Ceri Barnes (Postman Pat, The Last Dragon, Floogals) is story editor.
The pair have worked with the show's Russian writers and creators Dmitriy Vysotsky and Andrey Sikorsky to put together an international version of an original Russian show, which is currently airing on CTC and Carousel.
Kid-E-Cats follows three kittens named Cookie, Pudding and Candy, whose imaginations lead them into situations where they have to put their "absurdly funny problem-solving suggestions" to the test.
Throughout the 52-part series, the three characters learn to think before they leap – almost.
Lionel Marty, managing director of APC Kids, says bringing together leading Russian broadcaster
CTC Media, Russian animation studio Metranomfilms and the experience of Pickard and Barnes made for a strong combination.
Marty also has experience in TV distribution and marketing on international kids' brands such as Fantastic 4, Code Lyoko, Chloe's Closet and Sam-Sam.
"Watching an episode of Kid-ECats is a great experience," he says. "It makes you feel smart and good from laughing and it delivers messages on two levels: it teaches parents to let their kids learn by themselves, and teaches kids to think before acting."
Although there is as yet no UK broadcaster attached, Marty says there is already a great deal of interest following the Kidscreen Summit in February.
Kid-E-Cats is also looking to make the leap from TV into consumer products, including books, toys, stationery, back-to-school items, puzzles and food. "The series has been an immediate hit with Russian viewers and a resounding success on both Carousel and CTC networks," says Marty.
APC Kids is a division of French distributor APC, which was bought by UK indie Nevision in 2015, at which point Pickard took a role on the board.