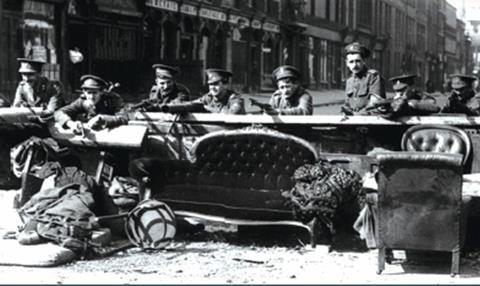 Distributor RTÉ Global
Producer Coco Productions
Length 3 x 60 minutes
Broadcaster RTÉ (Ireland)
It's now 100 years since the Easter Rising, when armed Irish Republicans seized key locations in Dublin and proclaimed an Irish Republic.
Irish public broadcaster RTÉ aired three-part documentary 1916 to coincide with this anniversary.
The films examined the uprising and put the events into the context of the anti-colonial movement that followed World War I.
They also explored the role played by the US and the Irish-American community.
The series was created by historian Briona Nic Dhiarmada and is narrated by Liam Neeson, who played Michael Collins in Neil Jordan's 1994 biopic of the revolutionary who helped establish the Irish Free State.
The Irish actor says the film puts the Easter Rising in a "broader, more international context" than ever, and highlights how it inspired similar movements around the world.
"What attracted me most was that the series also focuses on the personal stories of those involved. These stories are very human and powerful," he adds.
It is produced by Irish indie Coco Television, which is best known for making the Irish version of First Dates.
RTÉ Global has already sold 1916 into a number of major territories, including the UK, where BBC4 aired it over Easter; the US, where it will air on public broadcaster PBS in major cities including Chicago, New York and Boston; Australia (SBS); France (TF1 Histoire); Spain (TVE); and Denmark (DR).
The international sales division will be launching it at Mip TV. Edel Edwards, head of international programme sales at RTÉ Global, says demand for the doc from broadcasters around the world "underlines the enduring legacy" of the Easter Rising.
"As its centenary approaches, it's a timely moment to look back on the turbulent events that changed not only the relationship between Britain, Ireland and the US, but the world's relationship with colonial rule."