Oddball humour is the way to many kids' (and big kids') hearts.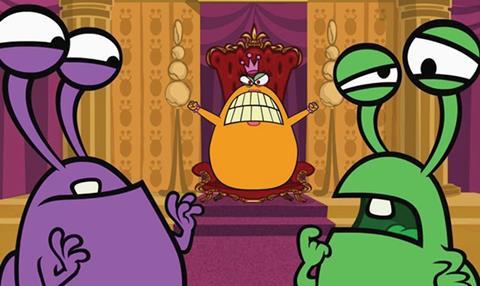 Distributor Beyond Distribution
Producer Blue Rocket Productions
Length 90-minute special plus 52 x 11-minute or 26 x 30-minute episodes
Broadcaster 9Go! (Australia)
Blue Rocket and Beyond Distribution will be hoping their new animated series Fanshaw & Crudnut secures its place in the hall of fame alongside the likes of Ren & Stimpy and SpongeBob Squarepants.
Described by producer David Gurney as "a classic odd-couple" series, Fanshaw & Crudnut follows two purple slugs who work for Princess Vial, a "completely unreasonable and self-centred" slug princess.
She sends them on pointless and dangerous missions throughout the galaxy, which they inevitably fail to complete.
"The underlying humour is an extreme parody of the situation children are in: grown-ups are in charge of their world and kids often don't appreciate why decisions are made or why they have to perform chores," Gurney says.
"For children, the chores get in the way of what they want to do, which is to play and have fun. With Fanshaw & Crudnut, we've amplified this by about 10,000% to create something completely farcical and totally unfair for our characters, and although they can't function successfully together, they can't bear to be apart."
The 90-minute Christmas special – titled Attack Of The Slug Santas – is complemented by 52 x 11-minute or 26 x 30-minute episodes, although Gurney says viewers "don't need to see the series or the film to enjoy one or the other".
The series, which is aimed at kids aged six to nine years old, will launch on 9Go! in Australia, the digital broadcaster that airs SpongeBob Squarepants, Paw Patrol and Power Rangers.
It is co-produced with Blue Rocket Productions, the Tasmania-based indie that makes kids' series including Buzz Bumble, Pixel Pinkie and Bang The Cat. The feature film is not the classic Christmas story, says Gurney.
Fanshaw and Crudnut completely wreck Christmas, and although they try to patch everything back together, they just cause one disaster after another – right up to the last few seconds of the film.
"Santa is a complete disgrace as well," says Gurney. "You won't have seen a Santa like this since Billy Bob Thornton's Bad Santa – except our Santa is a slug so that makes Attack Of The Slug Santas even more over-the-top."
Outside of the kids' arena, the Michael Murphy-run distribution business is launching a number of factual titles in Cannes. Heavy Rescue: 401, from the producers of Highway Thru Hell, focuses on the difficult working conditions endured by heavy rescue vehicles on the world's busiest highway, and Carnival Eats, a 39-part food format, looks at the food sold at North American carnivals.
Beyond will also be distributing a film from grunge rockers Pearl Jam of their set at Chicago's Wrigley Field. Distributed in association with Blink TV, it will be the first time the Seattle band have released concert footage without their record label.
Finally, former Masterchef Australia winner Brent Owens will be in Cannes to promote Beyond's Brent Owens: Extreme, Authentic & Unwrapped, a 13 x 30-minute series that follows Owens as he samples a variety of unusual dishes in South Africa.