This observational documentary from Emporium Productions lifts the lid on the Freemasons, the secretive 300-year-old society that is notoriously guarded and seldom shares details of its machinations and rituals.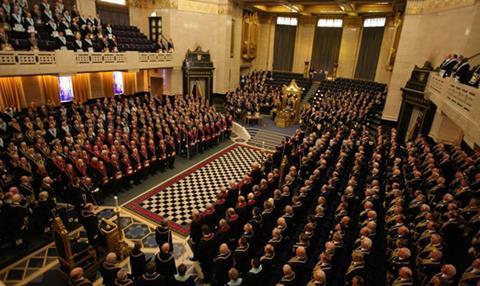 Distributor Hat Trick International
Producer Emporium Productions
Length 5 x 60 minutes
Broadcaster Sky 1 (UK)
The series was commissioned as a four-parter but on delivery earlier this year, Sky and the Freemasons themselves agreed that it should be extended by one hour.
Emporium's Emma Read, who is renowned for securing difficult access after series like Sky 1's Harrow: A Very British School, won the confidence of the organisation and has delivered a series that she says "found the fun" in Freemasonry, as well as uncovering its secrets.
The show features stories from across England and Wales, including the consecration of a new lodge in Cardiff, and features individuals from many walks of life – from ex-military members in the north-west to biker Freemasons in Newcastle.
"We told a story of 21st century men and why they joined, what they get out of it, and why they would want to join something where they have to learn all these rituals perfectly and dress up in aprons and gloves," Read explains.
The show is being distributed by Hat Trick International. Director of sales Sarah Tong says that because of the unprecedented access and the intrigue that surrounds the organisation, she expects it to easily attract an international audience.
"People will think they know what a Freemason is – this sort of secret society – so they'll watch thinking it's all very peculiar and strange, and that's why it will sell," she explains.
The society has members across the world, including a massive contingent in the US, which Tong says she hopes will give the show traction there. Hat Trick is also targeting Australia, New Zealand, Scandinavian and Europe. And although Tong says Asia might be harder to crack, she hasn't ruled it out. Mipcom will mark the start of the distributors' sales drive for Inside The Freemasons, and Tong says Hat Trick has "kept it really close to our chests" to maintain some intrigue around the title. "It's the kind of show that nobody was going to buy until they'd seen it, so they could really understand the access," she adds.