Mentorn Scotland has rebooted its classic entertainment format Robot Wars for BBC2, 13 years after it last aired.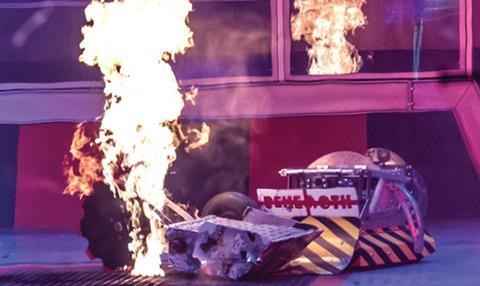 Distributor Passion Distribution
Producer Mentorn Scotland
Length 6 x 60 minutes
Broadcaster BBC2 (UK)
Originally presented by Red Dwarf actor Craig Charles, Mentorn's format is a national knock-out competition to find the toughest and most advanced fighting robots in the country.
Teams of amateur engineers build their ultimate fighting robots before pitting them against each other in a battle to the death.
Each round is timed and the winning robot is the one that disables its adversary. The new series will be similar to the original format, with house robots on hand to ambush and destroy the competing machines as they engage their opponents with pneumatic hammers, flays, pick axes and flame throwers.
Dara O'Briain and Angela Scanlon are fronting the show in the UK.
The refreshed format will also include more background on the competitors and magazine-style inserts on advances in robot technology.
Passion Distribution managing director Nick Rees says being able to use GoPros on robots for the first time will help create multiplatform content that will keep viewers engaged between series.
Robot Wars already has an international fan base, having travelled to around 30 territories via tape sales in its first incarnation, while local versions were made in the US, Netherlands, Sweden and Germany.
"These will obviously be our starting points for the format discussions," says Passion Distribution director of global sales Elin Thomas.
Passion has already received expressions of interest from Australia, Asia and Europe.
"A robot is international – we'd expect there to be interest all over the world because it's a topic that is of the moment," Thomas adds.
Format sales will be the major focus for distributing the show, with Mentorn's "bullet-proof " arena in Glasgow set up so that international versions can be made in the original set.
"That will make it more cost-effective for everybody, including the licencees of the format," says Thomas. Rees also plans to bolster the brand with a reignited merchandising strategy, starting with a limited range of clothing that would be extended if the reboot takes off.