Space Ranger Roger is a 3D animated series aimed at pre-school children, with the theme of helping other people at its heart.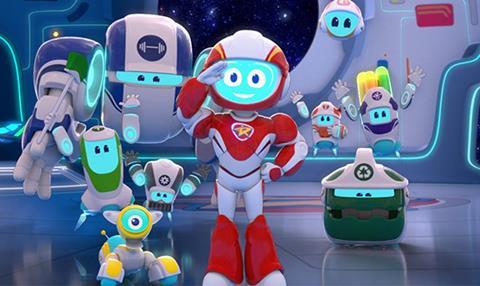 Distributor DHX Media
Producer DHX Media
Length 13 x 30 minutes
Broadcaster Family Jr (Canada)
Roger is a brave little alien sent to explore a strange, faraway world called Earth.
Each day, Roger scans the surface of our small blue planet from his home base, the Friend Ship. If he picks up a distress signal from an Earth creature, it's his job as a Space Ranger to identify the problem and gear up his team of Ranger Bots to fix it.
No problem is too big or too small for Roger – he helps Earthlings with anything from a broken scooter wheel or defl ated football to an escaped foal that needs to be brought home. His mantra is: 'A friend in need is a mission for me.'
Though his alien point of view and the bots' enthusiasm often lead to more trouble, Roger's determined spirit and creative thinking save the day.
Josh Scherba, senior vice-president of distribution at DHX Media, says: "As well as being colourful and visually distinctive – to appeal to its pre-school audience – the show combines space adventure with Internaof themes of friendship, teamwork and a can-do spirit, inspiring kids to think creatively and work together on a common goal.
"Family Jr is the commissioning broadcaster, but already we have considerable interest from international channels and we anticipate further deals coming out of the market."
Space Ranger Roger was created by Jeff Rosen, who was behind hits Animal Mechanicals, Bo On The Go, The Mighty Jungle and Monster Math Squad.
It is produced out of DHX's CGI studio in Halifax, Canada.