Morgan Freeman has famously played God against Jim Carrey in Bruce Almighty and Steve Carell in the sequel Evan Almighty.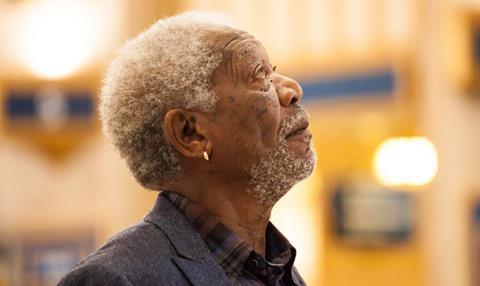 Distributor Fox International Channels
Producer Revelations Entertainment
Length 6 x 60 minutes
Broadcaster Nat Geo (US)
This, it seems, would make him the obvious choice to narrate and star in a landmark documentary about God and religion for US factual broadcaster Nat Geo.
The Shawshank Redemption star explores how religion has shaped the history of the world and continues to mould all our lives, including those without faith. Freeman looks at the origins of the world's five main religions – Buddhism, Christianity, Hinduism, Islam and Judaism – and travels from the Ganges River to Rome and Texas.
The actor, whose own belief was formed after losing a close relative at a young age, visits holy sites around the world, from Mayan ruins to Buddha's Bodhi Tree, Jerusalem's Dome of the Rock and the Pyramids of Giza.
Holiday revelation
The project originated six years ago when Freeman and Lori McCreary, the Madam Secretary producer who runs Freeman's indie Revelations Entertainment, visited the Hagia Sophia in
Istanbul. The museum was built 1,400 years ago as a cathedral before being transformed into a mosque in 1935. "I was looking at a beautiful mosaic of Jesus Christ's birth and conversing with some people who were Muslim. They mentioned how Christ was a part of their tradition, that he was a prophet, and I felt a little naive. I couldn't believe that I didn't know this," McCreary says. "Morgan and I began discussing it: if we don't have a handle on this, then who does? Perhaps talking about God from our differences might enlighten us all, so that we can reach a hand across the table."
The series will launch on Nat Geo in the US in April and then be rolled out via the company's international channels. It marks a step change for the 21st Century Foxowned broadcaster, which is now ordering fewer, bigger, more highprofi le documentaries with Hollywood talent attached.
It is distributed by Fox International Channels Content Sales, the fledgling distribution division run by former global head of content sales Prentiss Fraser. The former Entertainment One exec says The Story Of God With Morgan Freeman is a "marquee" show.
"Having someone like him narrate and star in a six-part documentary series is fantastic. It takes factual to the next level by bringing in A-list talent from Hollywood. It could even convert someone who previously only consumed drama," she adds.
Given that the show, along with most of Nat Geo's slate, will air on the company's pay-TV channels around the world, FIC Content Sales' job is to score sales to free-to-air channels and subscription video-on-demand platforms. "We're experts in working around windows," Fraser adds.
The unit was set up in September 2014 and now sells around 15,000 hours of content, of which around half is produced for Nat Geo. Other shows on the firm's Mip TV slate include one-off doc He Named Me Malala and Breakthrough, narrated by Adrien Brody and Jason Bateman.
The remainder is programming produced for Fox's global channels, including 3,000 hours of Turkish drama and a raft of Latin American content, as well as formats such as Sleeping With The Enemy, a dating show produced for Fox Life Italia.