Superheroes, sci-fi and procedurals among major themes as networks reveal schedules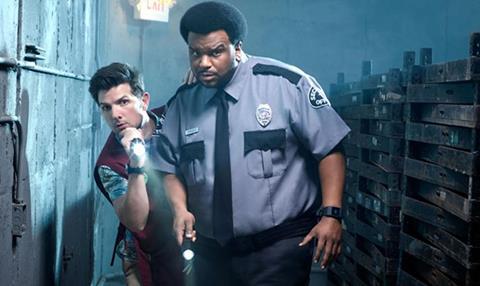 SWAT teams, superheroes and sci-fi are front and centre of the US networks' 2017/18 schedules, which reveal increasing levels of vertical integration between the broadcasters and their sister Hollywood studios.
ABC, CBS, Fox, NBC and The CW have unveiled nearly 45 dramas and scripted comedies to advertisers in New York, which will then be offered to international buyers next week at the LA Screenings.
The desire to own all rights to capitalise on domestic second-window SVoD deals and international sales is driving vertical integration, with Fox and Comcast- owned NBC the most obvious examples. Both exclusively ordered new shows from their in-house production divisions.
CBS and Disney-owned ABC also leaned heavily on their own studios, but did offer key slots to shows from independent studios including Warner Bros and Sony Pictures Television.
On the programming front, the US networks are working harder to identify long-running procedurals that can replicate the success of dramas such as CSI and NCIS.
ABC is hoping that Deception, produced by Arrow and Flash showrunner Greg Berlanti, can fit this model.
The story-of-the-week series follows a Las Vegas magician, played by British actor Jack Cutmore-Scott, who becomes a consulting illusionist for the FBI.
Meanwhile, CBS has ordered Instinct, Seal Team and S.W.A.T. Instinct, based on a forthcoming novel from crime writer James Patterson, stars The Good Wife's Alan Cummings as a former CIA operative attempting to track down a serial killer.
Angel and Bones star David Boreanaz is fronting Seal Team, a thriller from Homeland writer Ben Cavell that follows an elite team as they execute high-stakes missions, while S.W.A.T, produced and distributed by Sony Pictures Television, is based on the 2003 Samuel L Jackson and Colin Farrell movie.
Fox has Angela Bassett-fronted emergency responder drama 9-1-1, from The People Vs OJ Simpson creators Ryan Murphy and Brad Falchuk, while NBC has ordered Reverie, a thriller about a former hostage negotiator who is brought in to help people who have lost themselves in a highly advanced virtual-reality experience.
Elsewhere, comic books remain a major source of inspiration, with Marvel and DC Comics both scoring TV remakes.
Fox is bringing The X-Men to television for the first time in The Gifted, a show about an organisation that rounds up and neutralises mutants.
Black Lightning, one of the first African-American superheroes, is set to join Arrow, The Flash and Supergirl on The CW, while ABC has ordered Inhumans, an eight-part series about a reclusive race of genetically altered superhumans.
In terms of sci-fi , Fox has ordered Star Trek parody The Orville from Family Guy creator Seth Macfarlane, while The Office's Craig Robinson and Parks And Recreation's Adam Scott feature as accidental alien hunters in comedy Ghosted.
Comedy remains a tough genre for the broadcasters to crack, with only 13 new shows ordered, compared with 24 dramas.
Three are relatively safe bets: CBS has ordered The Big Bang Theory prequel Young Sheldon, NBC has rebooted Will And Grace, and ABC has rebooted Roseanne.
Another notable comedy is ABC's Start Up, which features Scrubs star Zach Braff.
Ultimately, all of the networks are looking for a hit on the same scale as this year's breakout relationship drama This Is Us.
NBC is hoping to follow suit with Rise, a Friday Night Lights-meets- Glee-style drama from Jason Katims. The show, based on Michael Sokolove's book, is set in a high school drama department and stars How I Met Your Mother's Josh Radnor.
ADAPTATIONS LULL
An Israeli tech crime drama starring Mr Selfridge's Jeremy Piven and a Danish divorce comedy were the only two
foreign adaptations picked up by the US networks - the lowest number in recent years.
Keshet is co-producing Wisdom Of The Crowd with CBS Television Studios for CBS. It follows a tech expert who creates an online service to solve his daughter's murder.
The Office's Jenna Fischer stars in ABC's screwball sitcom Splitting Up Together, which is based on TV2 Denmark's Bedre Skilt End Aldrig.
However, the Disney-owned broadcaster did not take its adaptation of C4's Raised By Wolves to series. It is understood the pilot is now being offered to cable networks.