Broadcast selects the shows set to take centre-stage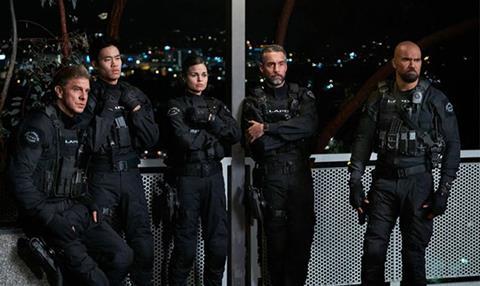 A raft of comic book adaptations, a slew of traditional police dramas and a number of high-profile TV remakes are to take centre-stage at the US networks' Upfront events.
ABC, CBS, Fox, NBC and The CW have commissioned the majority of their 2017/18 seasons ahead of the New York event and LA Screenings over the coming days.
Highlights include The Big Bang Theory prequel Young Sheldon, reboots of Dynasty and Will and Grace as well as a legal drama from Scandal creator Shonda Rhimes.
A number of international projects, including adaptations of South Korean and Danish series, have also been ordered, while Israeli producer Keshet, creator of the original Homeland, has scored two series.
However, the adaptation of Big Talk's Raised By Wolves has not been picked up by ABC.
Drama
The Crossing
Sci-fi refugee drama set 250 years in the future.
Producer ABC Studios
Distributor Disney Media Distribution
Deception
Crime drama featuring a superstar magician who uses his powers of illusion to help the FBI.
Producer Warner Bros. Television
Distributor Warner Bros International Television Distribution
The Good Doctor
Medical drama, starring Bates Motel's Freddie Highmore as a savant doctor working in the paediatric unit of a hospital. Based on a South Korean format and exec produced by House's David Shore.
Producers Sony Pictures Television, Shore Z, 3 AD
Distributor Sony Pictures Television
The Gospel of Kevin
A down-on-his-luck man, played by Jason Ritter, is asked by God to save the world.
Producer ABC Studios
Distributor Disney Media Distribution
Inhumans
Eight-part superhero drama about Black Bolt, the boss of a reclusive race of genetically-altered superhumans.
Producers ABC Studios, Marvel Entertainment
Distributor Disney Media Distribution
Ten Days In The Valley
Kyra Sedgwick stars as an overworked television producer and single mother whose daughter goes missing in this 10-part straight-to-series order.
Producer Skydance Television
Distributor TBC
For The People
Shonda Rhimes-produced legal drama about a group of young lawyers working in New York.
Producers ABC Studios, Shondaland
Distributor Disney Media Distribution
Untitled Firefighter Drama
Shonda Rhimes-produced drama set in a Seattle fire station. Spin-off of Grey's Anatomy.
Producers ABC Studios, Shondaland
Distributor Disney Media Distribution

Comedy
Roseanne
Eight episode reboot of the classic US sitcom with Roseanne Barr and John Goodman returning
Producers Carsey-Werner Television
Distributor TBC
Splitting Up Together
The Office's Jenna Fischer stars in this divorce drama, produced by Ellen DeGeneres and based on a Danish series created by Mette Heeno
Producers Warner Bros. Television, Piece of Pie Productions, A Very Good Production
Distributor Warner Bros International Television Distribution
Alex, Inc
Zach Braff-fronted series based on Gimlet Media's podcast about starting a new business.
Producers Sony Pictures Television, Davis Entertainment, Gimlet Media
Distributor Sony Pictures Television
The Mayor
Comedy about a rapper who becomes mayor
Producer ABC Studios
Distributor Disney Media Distribution
Drama
Instinct
The Good Wife's Alan Cumming stars as a former CIA operative, who is forced to return to the division to track down a serial killer. Based on a forthcoming James Patterson novel.
Producers CBS Television Studios, Secret Hideout
Distributor CBS Studios International
S.W.A.T
Adaptation of the feature film about a S.W.A.T. lieutenant and his LA-based crime fighting team.
Producers Sony Pictures Television, CBS Television Studios
Distributor TBC
Seal Team
Navy Seals drama starring Angel and Bones star David Boreanaz
Producers CBS Television Studios, Timberman-Beverly Productions
Distributor Distributor: CBS Studios International
Wisdom of the Crowd
Tech crime drama starring Mr Selfridge star Jeremy Piven, based on an Israeli format.
Producers CBS Television Studios, Universal Television, Keshet Studios
Distributor CBS Studios International
Comedy
9JKL
Family comedy, starring Mark Feuerstein, loosely based on the life of The West Wing's star.
Producers CBS Television Studios, Kapital Entertainment
Distributor Distributor: CBS Studios International
Living Biblically
Religious comedy about a man who decides to live according to the Bible
Producers Warner Bros. Television, Alcide Bava Productions
Distributor Warner Bros International Television Distribution
Me, Myself and I
Comedy about the life of a man set over a 50-year period, focusing on his time as a teenager, 40-year old and 65-year old.
Producers Warner Bros. Television, Kapital Entertainment
Distributor Warner Bros International Television Distribution
Young Sheldon
Prequel of the smash hit multi-camera comedy The Big Bang Theory, focused on a nine year-old Sheldon Cooper living with his family in Texas.
Producers Warner Bros. Television, Chuck Lorre Productions
Distributor Warner Bros International Television Distribution
Drama
The Orville
Seth MacFarlane drama set on a spaceship 300 years in the future.
Producer 20th Century Fox Television
Distributor 20th Century Fox Television Distribution
The Resident
Medical drama starring Halt and Catch Fire's Manish Dayal
Producer 20th Century Fox Television, 3 Arts, Fuqua Films
Distributor 20th Century Fox Television Distribution
9-1-1
Procedural drama created by Ryan Murphy and Brad Falchuk and starring What's Love Got To Do With It's Angela Bassett about the lives of emergency first responders including cops, paramedics, firefighters
Producer 20th Century Fox Television, Ryan Murphy Television, Brad Falchuk Teley-Vision
Distributor 20th Century Fox Television Distribution
The Gifted
X-Men television series about parents who discover that their children possess strange powers.
Producer 20th Century Fox Television, Marvel Television
Distributor 20th Century Fox Television Distribution
Comedy
LA to Vegas
Workplace comedy set on a Friday night flight from LA to the Nevada gambling mecca.
Studio 20th Century Fox Television, Gary Sanchez Productions
Distributor 20th Century Fox Television Distribution
Ghosted
Sci-fi alien comedy starring The Office's Craig Robinson and Big Little Lies' Adam Scott.
Producer 20th Century Fox Television
Distributor 20th Century Fox Television Distribution
Drama
The Brave
Military drama starring Anne Heche.
Producers Keshet Studios, Universal Television
Distributor TBC
Good Girls
Drama about three suburban wives and mothers who break bad.
Producer Universal Television
Distributor NBC Universal International Television Distribution
Reverie
Virtual reality drama about a former detective
Producer Universal Television, Amblin Television
Distributor NBC Universal International Television Distribution
Rise
Drama about a working-class high school drama department, starring How I Met Your Mother's Josh Radnor and based on Michael Sokolove's book
Producers Universal Television, True Jack Productions, Seller Suarez Productions
Distributor NBC Universal International Television Distribution
Comedy
Champions
Mindy Kaling comedy about a charismatic gym owner who lives with his brother and suddenly becomes a father
Producers Universal Television, Kaling Intl., 3 Arts
Distributor NBC Universal International Television Distribution
AP Bio
School drama about a university professor who becomes a high school biology teacher.
Producer Universal Television
Distributor NBC Universal International Television Distribution
Will and Grace
Ten-episode reboot of the Debra Messing and Eric McCormack-fronted dysfunctional comedy
Producer Universal Television
Distributor NBC Universal International Television Distribution
Black Lightning
Comic book adaptation featuring the DC Comic character.
Producers Warner Bros. Television, Akil Productions, Berlanti Productions
Distributor Warner Bros International Television Distribution
Dynasty
Remake of classic soap following America's wealthiest families, the Carringtons and the Colbys.
Producers CBS Television Studios, Fake Empire
Distributor CBS Studios International
Life Sentence
Drama about a young woman, played by Pretty Little Liars' Lucy Hale, who is diagnosed with terminal cancer before discovering that she's not dying.
Producers Warner Bros. Television, Doozer Productions
Distributor Warner Bros International Television Distribution
Valor
Military drama about a team of elite helicopter pilots.
Producer CBS Television Studios
Distributor CBS Studios International