Fresh from her Broadcast Special Recognition Award win, the prolific TV writer talks about nurturing the next generation of writers
Kay Mellor found it "incredibly touching" to receive the Special Recognition Award at the Broadcast Awards 2020 last month – particularly as she admits to feelings of frustration in the past that some of her work at Rollem Productions has been "a bit ignored" by the media industry.
"Broadcast comes through my letterbox every week, and there are pieces about how the industry doesn't work enough with female, regional and working-class talent. And I think, 'We do all of that'," she says.
Happily, Mellor has fond memories of receiving her award. "It was a gorgeous evening," she recalls. "To be handed the award by [Gavin & Stacey co-writer] Ruth Jones was a really lovely touch."
Nurturing talent
Mellor's canon of work – which includes Fat Friends, In The Club and The Syndicate – speaks to the effort she has put into getting more working-class women on screen.
Setting up shop in Leeds, and unofficially mentoring writers such as Sally Wainwright, she has also played her part in boosting regional and female talent behind the camera.
It was the plight of new writers, however, that Mellor used her platform at the Broadcast Awards to highlight.
Speaking in front of more than 1,300 industry execs at Grosvenor House in London, she urged commissioners to take greater risks on new writing talent and begged the industry to look for reasons to commission new voices, rather than find ways to bow out from developing their work.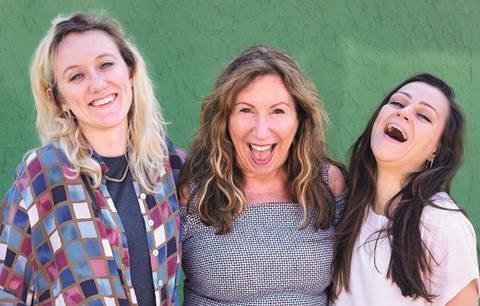 Mellor has been busy practicing what she preaches. While Rollem had primarily been a vehicle to develop her own work, in 2017, she teamed up with 2018 Broadcast Hot Shots Eva O'Connor and Hildegard Ryan to rework their stage show Overshadowed for TV.
Rollem soon secured a BBC3 commission for the short-form vlogging drama and this positive experience gave her a taste for supporting new writers.
"Enabling Eva to develop her voice was such a fantastic experience for me and the company," says Mellor. "She had something really important to say about anorexia and this made me think about new ways we could find writers who had great stories to tell."
Joining forces with the BBC Writersroom, Rollem soon rolled onto its next project, working with Michael Patrick and Oisín Kearney on their comedy-drama My Left Nut. Like Overshadowed, it had also started life as a play.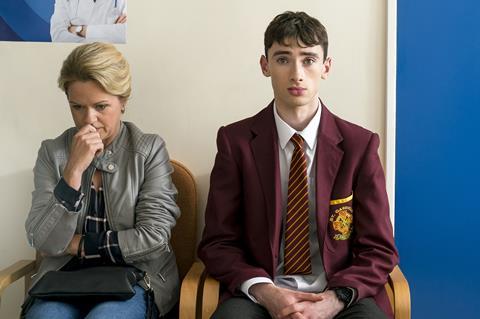 Based on Patrick's experience of finding a lump on his testicle as a teenager, My Left Nut was the first BBC3 commission signed off under controller Fiona Campbell. Mellor says Campbell was enamoured by its humour and potential to highlight an important health issue to young people.
However, as her Broadcast speech attested, Mellor has not always had such a positive reaction from commissioners when approaching them with inexperienced writers.
"Often, when I take in scripts attached to new talent, commissioners will say that they are already working with so-and-so on a similar idea," says Mellor.
She adds that commissioners will tell her an idea isn't "edgy" enough for their editorial line – even when the storyline deals with issues such as acid attacks on young women. "How edgy can you get?" she wonders.
Mellor also feels frustration for the "poor new writers" whose projects fall by the wayside when commissioners change and projects fall out of favour.
She bites back hard when Broadcast suggests it is understandable broadcasters opt for recognised talent when budgets are tight and time is pressured.
"We have to step outside the circle of trust, otherwise the same writers, actors and directors will make everything," she says. "When I was pushing Sally Wainwright, people would ask who she was. I would say, 'She is utterly brilliant – that's who she is'."
Mellor says she was promoting Wainwright's work before she had even met her because it sparkled on the page. "If I read something brilliant that makes me laugh and tells a great story, I can't understand how commissioners can read the same thing and not see its potential," says an exasperated Mellor.
Spotting potential
As an unofficial mentor to the likes of Wainwright and Ruth Jones in the 1990s, she is now keen to make her attachment to writers more official. In 2019, she launched The Kay Mellor Fellowship with Leeds Playhouse and has taken four new female writers under her wing as part of a recent BBC scheme.
Two of the writers are from BAME backgrounds, with Mellor seeing the advantage of collaborating with women who have completely different backgrounds to hers.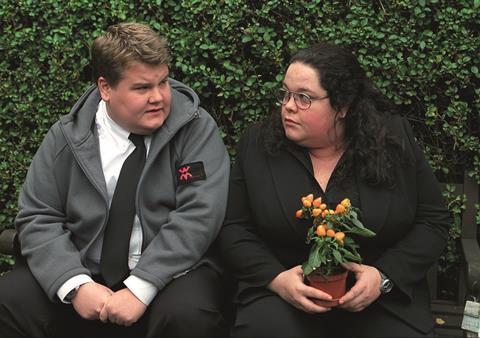 Through the same BBC scheme that introduced her to the writers of My Left Nut, she is also mentoring writer Rebekah Harrison, who has several projects in development. One of these follows three generations of women from the same family, which she says highlights the potential of scripts that go against the grain of murder or criminal investigations.
With these mentorships bubbling along, how will she find time for her own writing?
"There's a lot of free time when writers are writing," says Mellor.
"It is my role to help set them off in the right direction and be there if they need any support. I have no intention of slowing down my own projects and I am currently writing the fourth series of The Syndicate and developing a film idea."
Mellor is supported by a solid team at Rollem and says Sian Palfrey, the producer of My Left Nut and Overshadowed, is a "remarkable" executive.
"She has made these great shows on limited budgets and it feels like there is nothing she doesn't know," says Mellor. "She used to be my PA but now heads up development at Rollem. I could see that she knew more than most producers."
"The streamers don't care as much about the experience of the writers – for them, it is all about the product. They seem braver"
Kay Mellor
After working predominantly with BBC1 and ITV, Mellor says she has started to have conversations with international SVoD platforms and feels "very excited" about the state of drama in the UK.
"I have spoken to Netflix about my writing projects but also about mentoring new writers, who could write something for them," says Mellor. "The streamers don't care as much about the experience of the writers – for them, it is all about the product. They seem braver."
Despite writing for more than 30 years, Mellor says she is still in love with the profession and feels "incredibly blessed" to be trusted to do it. She has special praise for BBC1 drama controller Piers Wenger, who recently brought back The Syndicate after four years off air.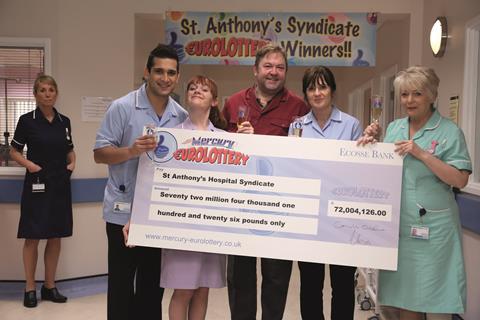 Its fourth series will be filmed in Leeds and Las Vegas, and (the North American version of ) streaming service BritBox has come on board to capitalise on the transatlantic plot. The SVoD's involvement has provided a beefed-up budget to help cover the "higher costs" of filming in the US.
Mellor says the reason why her TV shows have been so popular is because they connect with people from working-class backgrounds, and the first Kay Mellor Fellow, Bradford-born Kat Rose-Martin, is cut from the same cloth. Describing her as "the real McCoy", Mellor says Rose-Martin has a "clear voice and a lot to say".
Mellor's own story – which had brought her "plenty of hurt" – has played a key role in her writing.
"I got married and had two kids by the time I was 19 and I didn't know where my next penny would come from," she says. "I saw the violence of when my mother and father broke up. You don't realise at the time, but as a writer you draw on that and there are themes still coming through that I am trying to work out. It's cheap therapy – you don't think that at the time, but it's true."