First major programme acquisition for Anthony Kimble's nascent firm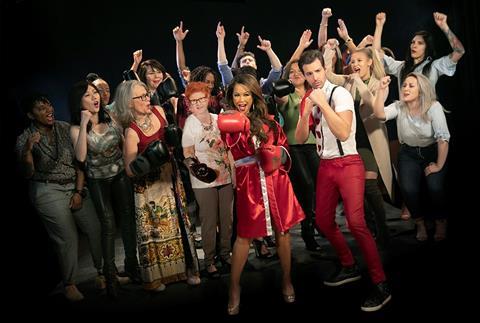 London-based programme finance specialist Fugitive has acquired 40 episodes and format rights to dating series Mom vs Matchmaker.
The deal for Mom vs Matchmaker, which Fugitive will now represent internationally, marks the first major acquisition by the nascent development, distribution and financing company, which was set up by former Cineflix and National Geographic exec Anthony Kimble.
Along with finished tape and format rights, Fugitive is also pre-selling 10 episodes of Mom vs Matchmaker's fifth series.
Mom vs Matchmaker, which was created by Go Button Media for Canadian channel Out TV, sees celebrity matchmaker Carmelia Ray face off against a fiery mum in each episode to see who can find the best date for the parent's son or daughter.
"With big characters and hilarious moments in the woo camps, plus a mix of unlikely matches and fledgling romances, Mom vs Matchmaker is a highly entertaining and standout dating show for a broad audience, and makes a great co-viewing programme for parents with older children," said Fugitive's head of non-scripted, Merrily Ross.
"Merrily and her partner Anthony Kimble are not only adept salespeople with significant contacts internationally, they also have extensive experience with formats and a clear understanding of how to develop and grow programme brands," said Natasha Ryan, the show's creator and exec producer from Go Button Media.
Fugitive last year secured a first-look deal with Dave Winnan's new indie Little Delicious Media.
Covid-19 spurs distribution deals
Elsewhere, the distribution arm of German factual label Autentic has closed numerous deals with broadcasters and platforms ahead of next week's virtual Mip TV market.
Chinese SVoD service iQiyi has acquired a 14-hour package including series Berlin 1945, Secrets of Arabia and Terror!, while fellow Chinese digital firm ByteDance picked up 110 hours, including Magnificent Maghreb, web series Superintelligence – Beyond Human, and What Went Wrong – Countdown to Catastrophe.
French companies Mediawan and Ushuaia have both acquired 18-hour packages of history and nature titles including The Wild Andes, while Czech channel FTV Prima has picked up 52 hours, including evolution documentary Out of the Cradle. Deals have also been secured in Poland, Austria and Switzerland.
"In times of Covid-19, which has caused changes in the market, we are an ideal partner for all broadcasters and platforms that are in need of high-quality factual content at short notice," said Mirjam Strasser, head of sales and acquisition at Beta-owned Autentic Distribution.