US firm assembles dedicated team to produce two daily bulletins for short-form streamer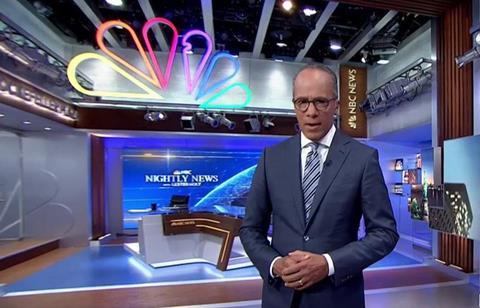 NBC News is to produce a daily news show for millennials for Jeffrey Katzenberg's shot-form service Quibi.
The US news operator will produce Daily Essentials bulletins to run on Quibi each morning and evening for seven days a week. Each show will be under six minutes and will consist of original news content produced from a custom-built studio in New York.
NBC News is putting together a production team exclusively for Quibi programming.
Breaking news coverage will be powered by NBC News Now, the network's digital streaming service.
The partnership will provide Quibi access to NBC News' worldwide newsgathering teams, besides archival footage.
The link-up follows a busy period of commissioning for the new platform, including World Productions' drama order Blood Orange, Workerbee/Green Door Pictures car stunt format Elba Vs Block and BBC Studios Natural History Unit's Fierce Queens [working title].
Quibi founder and chair Katzenberg said: "NBC News' worldwide reach brings in millions of viewers across its many platforms, and we are excited to work with them to deliver an innovative new way for millennials to get news in a format that fits into their lives."
NBC News president Noah Oppenheim said the partnership complements the news service's track record of "connecting with news audiences of all ages by delivering smart, high-quality video wherever and whenever they want it".
He added: "Millennials are as hungry for smart and trustworthy news as prior generations. With Quibi, we'll be able to meet that demand in a new style and format that works for them."