Daily Buzzfeed show and high-concept comedies head inaugural slate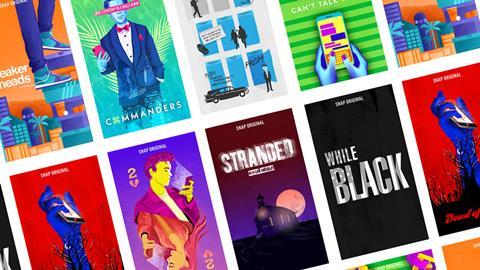 An entertainment and celebrity news show from digital outfit Buzzfeed and a scripted comedy about a computer that can alter real life are among a slate of originals from Snapchat.
The shows were announced at a presentation by Sean Mills, head of Snap Originals, in Hollywood yesterday.
Launching this spring, the untitled daily Buzzfeed show will air every afternoon, giving viewers up-to-date trends and news from internet culture.
Dakota Pictures' scripted series Commanders follows two teenager outcasts who discover a code within a retro computer that can change reality. Upon deciding to use the power to disrupt their school's clichéd social structure, they quickly realise high-school will never be the same.
Fellow comedy Sneakerheads, produced by Indigo Development and Entertainment Arts and EMJAG Productions, centres on three university friends as they negotiate the unpredictable world of Los Angeles sneaker cultures. Both scripted series launch in June.
Elsewhere, Can't Talk Now, produced by digital outfit New Form, is a teen soap that takes place inside the phones of a group of new high school friends, with drama unfolding across group texts, video chats and social media.
Another New Form title, Two Sides, focuses on a young couple managing their breakup with both characters' points of view portrayed simultaneously. They launch in the summer and spring, respectively.
Launching in September and based on the novel by Lance Rubin, comedy Denton's Death Date, produced by Insurrection Media, follows high school student Denton Little who, in the knowledge that his death date is only a week away, begins to live his life to the fullest.
Finally, zombie drama Dead of Night features a teenager trying to escape a quarantined city full of zombies, armed only with a phone. Shot entirely using storytelling technology ScreenLife, the show is filmed exclusively from the point of view of a smartphone screen. It is produced by Bazelevs in association with Hooked.
Unscripted
On the unscripted side, October Films' docuseries Compton Dreams explores the fluctuating lives of three budding artists from Compton as they try to become the next big name in hip-hop.
In While Black, another Indigo Development and Entertainment Arts production in conjunction with Main Event Media, author, filmmaker, recording artist and educator MK Asante investigates race and social issues in a series of candid conversations. Both series will air from the summer.
Also on the unscripted line up is docuseries Stranded with Sam and Colby from Bunim/Murray Productions, which the influencers will film from a haunted location. What starts as a joke quickly turns to something more terrifying.
Mills also announced the renewal of previously announced originals The Dead Girls Detective Agency and docuseries Deep Creek and Endless Summer.
"We're working closely with a new generation of creators and listening to our audience to develop new kinds of shows from the ground up", Mills said. "Mobile is now the dominant medium for telling stories and consuming content. In 2019 mobile will surpass television in time spent [viewing] for US adults.
"This transformation is creating new opportunities, but realising the potential is not as simple as repurposing old content for new screens."
Speaking to Broadcast earlier this year, Mills said the youth-skewing company was intent on identifying returnable series aimed at 13 to 24 year-olds across a variety of genres.