This year's Isle of Wight Festival will be broadcast live on Sky Arts in HD and UHD with 5.1 audio. Will Strauss learns how the OB team plan to deliver TV's most immersive festival experience ever.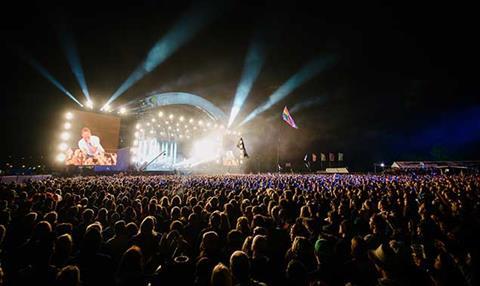 Depending on your point of view, a UK music festival is either a great opportunity to see lots of exciting bands and enjoy a carnival-like atmosphere with like-minded souls, or a mud-soaked reason to stick to Spotify.
Either way, the Isle of Wight Festival (8-11 June) is one of the highlights of the season.
For one, it is the first major festival of the year. But more than that, it has a legacy that dates back beyond Jimi Hendrix's legendary performance in 1970 and there is something about the ferry ride to the island that brings people together.
This year's musical line-up for Seaclose Park in Newport includes veteran rocker Rod Stewart, American hip hop legends Run DMC and indie rock multi-instrumentalists Arcade Fire.
Adding to that magic, Sky Arts is showing the festival live. Ordered by commissioning editor Barbara Lee, CC-Lab will produce the coverage, as it has done in the previous four years, but this year it will be broadcast live on Sky Arts in both HD and Ultra High Definition (UHD), with 5.1 audio.
Four hours of UHD content will be broadcast live every night from Friday 9 June to Sunday 11 June, with highlights shows from all four days also made available after the event, including for VoD.
Phil Edgar-Jones, director of Sky Arts and head of entertainment, says the step-change in quality will allow "festival fans to be able to get even closer to the music they love without having to be at the event", while CC-Lab commercial director Justin Rees says it will be "the most immersive Isle of Wight experience ever".
Even we never seen anything like the quality of the footage the music lovers are about to enjoy," he adds.
Weather with you
With such huge excitement surrounding it, this is one show that cannot be curtailed due to mud. Fortunately, the weather – come rain or shine – is unlikely to have much impact, other than perhaps putting a bit of a dampener on the event.
"Editorially, the weather can reduce the excitement and the fun in the crowd," says producer Mark Thorne. "The vibe can feel a bit damp, which makes it harder work to get the shots. Fortunately, for the past few years, we have been lucky with the weather."
Sometimes, from a performance perspective, however, wet weather can actually help.
"We had The Prodigy in 2015 and it was tipping it down, but the crowd was so into it, and the band put on such a great performance, the weather added to the spectacle," says Thorne. "There was a lot of wet, splashing about and lots of very dramatic steam rising from the crowd, which looked amazing. So it can work to your advantage."
Rather than the weather, it is the UHD workflow that has caused the most conversations leading up to the event (see box, below). Having broadcast Premier League football coverage live in UHD throughout the past season, Sky now has significant experience in the area, but this is the first time it has ventured into arts programming with those extra pixels. Will it differ? Yes and no.
"The first thing to bear in mind is that, unlike a football ground, there is no infrastructure on the site," says Sky Sports technical manager Robin Broomfield, who is overseeing the technology aspects for Sky Arts. "We're working in a field Actually this isn't as bad as you might envisage as everything from the two stages will run over single mode or SMPTE fibre."
The biggest challenge is that workflow. "We need to be able to pick everything up and take it off site for the edit that follows," says Broomfield, in reference to the postshow highlights programmes.
"That has caused the most discussion. We need to make sure we're working towards the same file formats so that there are no surprises further down the line. We must ensure that we have the cut and the ISO cameras recorded and that post-production has everything for the edits, including the 5.1 audio. We need to make sure we have the necessary stems from the main stage mixes."
(You gotta) fight for your right
With post-production to be done at Sky in Osterley, the responsibility for getting the footage there – and to the viewer at home – falls to CC-Lab and its OB partner, CTV. The latter won a competitive tender to provide UHD OB facilities for the festival.
Producer Thorne says it requires a careful balancing act. "There is a lot of media content to be managed," he says. "We need to make sure that we're as flexible as we can be in order to provide a really exiting live show, and make sure we're ready for everything that follows."
To that end, CTV, Sky and CC-Lab have devised and tested a workflow that they believe will work. The Main Stage will be captured using eight Sony HDC4300s, with five more HDC4300s covering the Big Top Stage and a further three in the presentation area, all using Canon lenses. An RF camera, a Sony HDC2500, will join a roving twoperson crew. This will be the only aspect of the production that is not native UHD. The feed will be up-converted from 1080p. CTV's OB2 will be the main unit for the coverage, handling audio and vision engineering for the live output.
Producer Mark Thorne: "We need to make sure that we're as flexible as we can be in order to provide a really exiting live show, and make sure we're ready for everything that follows"
A main production area will be responsible for presentation, while a second area will look after coverage from the main stage. CTV's TSV2 truck will cover the Big Top stage, while the MVT5 server vehicle will house SAM LiveTouch replay servers, SAM Rio editing systems and Sony PWS 4500 live servers, plus the archive that will be used to store footage for the post-festival output.
The use of LiveTouch for replays is something of a departure as, more often than not, this function is performed using EVS servers.
"In sport, most replays are done at 1080P 50," says Broomfield. "But for the festival, because it is chunks of content from other stages and quick-turnaround packages, rather than instant replays, we need to keep that in UHD."
Don't stop believing
"We're doing it in a very challenging production environment too," says CTV technical director Hamish Greig. "I believe the whole workflow we've devised is quite innovative. The ability to record, transmit and edit three productions in UHD and 5.1 simultaneously is a big ask, but we are confident this is a good solution."
The recording of the main stage and any ISO feeds will be done using the XAVC codec. While it is more difficult to edit with, it significantly reduces storage requirements compared with standard intra-frame codecs.
"With a projected 180 hours of recorded content, using XAVC Class 300 means we can enter the event with 48TB for archive, " says Greig.
As much of the workflow is untried, lots of trials have been required, he adds, and a LiveTouch expert has been added to the 120-strong crew.
"Entire parts of the workflow have been tested and analysed to fully understand the resultant impact, particularly from the client's perspective. We've involved the manufacturers in the various testing stages too."
Celia Moore, also a producer for CC Lab, is aware of the importance of this testing process.
"For UHD, some of the technology is only just becoming available," she says. "Some of it has only been tested in the past couple of months. And certain bits of equipment have never been used in an OB at all, let alone a festival environment. That will be a challenge. On one level, it is very exhilarating to be among the first people to be using this new kit, but we want to make sure that it is 100% going to work."
Assuming it does work, the result will be a more impressive and immersive experience for viewers, adds Thorne.
"The festival has a great history and a legendary status and story behind it," he says. "As well as the music, we try to cover the full festival vibe. We do mini VTs, where we're out and about in among the crowd. We cover the circus, the dry paint fights and all the things that are part and parcel of Isle of Wight. It's the colour, the atmosphere and the excitement that – hopefully on a sunny day – looks amazing. UHD will help with that."
The Isle of Wight Festival is live on Sky Arts 9-11 June
Picture workflow
Multiple cameras will cover the Presentation mix, the Main Stage mix and the Big Top mix, with the director's programme cuts performed on a remote panel linked to a 6ME SAM Kahuna switcher.
Quad HD camera signals will go directly into the Kahuna and together with the Kahuna programme signals will be fed into a SAM video router.
The main panel of the Kahuna will simultaneously produce the combined live programme output that is sent to Sky Arts.
Content from the stages will be recorded on SAM LiveTouch replay servers, where operators will compile the excerpts of the early acts for playout during the evening's live programme.
Each LiveTouch will be integrated with a SAM Rio editor so that any shots or audio can be instantaneously corrected within the playout server. This will reduce the need to send packages back and forth with the on-site Adobe craft edit.
A separate archive system will record the stage cuts and ISO cameras. This will be based around Sony PWS-4500 servers and Synology NAS units. A 10GbE network will make this available to on site edit personnel for back-up and proxy production.
Two satellite trucks will be used: one as the main truck and one as a back-up. Both will be UHD. An HD back-up will also be available. NTT Electronics' HEVC encoders will be used.
Audio workflow
Each stage will generate a 5.1 mix and a LoRo (downmix) that will be taken discreetly into OB2's Calrec Apollo mixer for QC and routing.
A Madi feed from the Apollo desk, along with the Stage audio, will be fed into the SAM video router. Embedding output cards will then be used to record eight tracks of audio into the first quadrant of the UHD Quad signal (5.1 and LoRo).
To ensure the music mobiles are happy with the downmix of the 5.1, an audio return
feed will be provided from a Dolby DP570 that will replicate the downmix being heard by Sky viewers at home.
For any audio that is not in 5.1, a Soundfield UPM-1 5.1 upmixer will be used.
The 5.1 output of the Apollo desk will be Dolby E encoded and inserted into AES2 of the Axon UHD embedder. The downmix from the Music stages will be embedded on AES1.
The same audio allocation will also be embedded into the 1080i/50 HD feed. All feeds leave site via satellite.