Channel 4 News allowed me to send my message of anti-racism across the world, says Patrick Hutchinson
How do you change the world? Campaigning, activism, education are huge tools, of course, but for me, the best way of breaking down prejudice and stereotypes has always been about random acts of kindness. On June 13 2020, my theory played out.
In the summer, when we were seeing youngsters supporting the Black Lives Matter movement clashing with counter-protestors on the street, and it was my long-time friend Jamaine Facey who suggested we go to Waterloo for the protest that day to provide some calm and guidance. As the African saying goes, it takes a village to raise a child and we wanted to make sure those younger people, all colours, sexes and backgrounds, didn't do anything they might regret.
We went there to protect people, so when I saw the counter-protester in trouble, I stepped up. My instinct was to get him to safety. I would have done it for anyone, and I'd do it again.
Later that day, I got a text from my sister with a photo asking, "Is this you?". It was the picture taken by Reuters' Dylan Martinez and my sister told me it was going viral.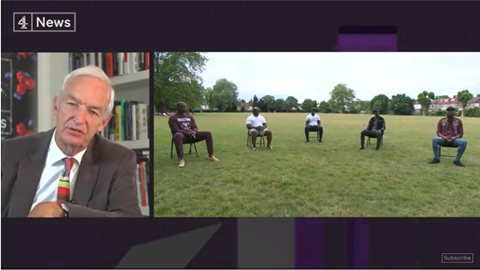 I put the image on my Instagram feed with the caption: "It's not black versus white. It is everyone versus racists." I didn't plan it, it just came to me on the day. I wrote what I was feeling and, when the newspapers and TV news reporters jumped on it, I realised a lot of people felt the same.
The media storm that followed came out of the blue, but myself, Jamaine and the other two guys we met up with on the day, Chris Otokito and Lee Russell, wanted to make the most of the platform we had. Jamaine and I had worked in the community with children and as mentors, but had always wanted to do something more. We knew that if we worked with the media correctly this could be our chance to start our own initiative.
I believed Channel 4 News could be trusted to tell my story.
We were being approached by lots of people in the media but we weren't experienced in handling that attention. Guided by a friend who was in PR, Gita Bartlett, I spoke to Channel 4 News' Keme Nzerem the day after the protest and then followed up with a longer interview with Jon Snow on June 15.
I believed Channel 4 News could be trusted to tell my story; its reputation and reporting on the issues of people of colour have always been well received. Gita also played a huge part in the decision and we all agreed that Jon Snow was an incredible journalist.
During that interview, our views about police prejudice, institutional racism, the need for politicians to step up and take responsibility and more education were heard on national TV.
Having that opportunity to speak out and reach that audience was massive. The media is the most powerful tool and it can be a force for good. Having the media understand the importance of diversity and equal opportunity is even more important than bringing about change in the big corporations. Who do corporations go to when they want to get their views out there? The media.
That's why looking at who's making the news is so important. What are the opportunities for working-class black kids and white kids? because this isn't just about race. Who is working behind the camera and in positions of power? What are those organisations doing to combat unconscious bias?
I've only had a positive experience with the media; so far so good for me. When they're on your side, you can gain from it. Since that day in June, I've written a book Everyone Versus Racism: A Letter to My Children with spoken-word poet Sophia Thakur.
It's a message to society filled with anecdotes about growing up, systemic racism, unconscious bias and some harrowing facts that some people might find difficult but they need to read. It's my vision for the future and a fairer and equal society.
The media is the most powerful tool and it can be a force for good
It's also because of that image, that I've formed an organisation called United To Change And Inspire (UTCAI) with the three other men I was with at the protest at Waterloo in June. Education, mental health, youth development/fatherhood and reform are our four pillars of action.
My focus is on education and I go into Pupil Referral Units to mentor kids and help get them back into mainstream schooling. As well as operating at grass roots level, we're focussing on changing government policy too; UTCAI is the glue between the downtrodden and the powerful.
Because of that random act of kindness, because I had my voice heard, I'm now in a stronger position to change the world.
Patrick Hutchinson is a personal trainer and martial artist. His book, Everyone Versus Racism: A Letter to My Children, is published today by HarperCollins