ITV2 was crowned Channel of the Year at the Broadcast Digital Awards as its breakthrough comedy Plebs also picked up a top award.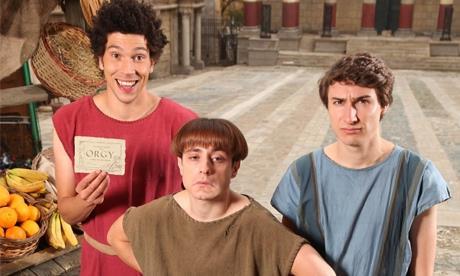 ITV's youth channel took home the biggest prize of the night after the success of shows including ITV Studios' The Big Reunion and The Magaluf Weekender, which is produced by Twofour.
Its other hit, Rise Films' Ancient Rome sitcom Plebs, was named Best Scripted Programme at the ceremony at the Lancaster London Hotel on Wednesday.
ITV2 last clinched Channel of the Year in 2011 – before director of digital channels and acquisitions Angela Jain had really made her mark on its output.
Elsewhere, E4 won the Best Entertainment Channel title as brands including Made In Chelsea and The Big Bang Theory came into their own, while Channel 4 swept the board for its multiplatform content, with the likes of Foxes Live and The Great British Property Scandal named winners.
Broadcast Digital Awards winners 2013
Best Scripted Programme:
Plebs (Rise Films) - ITV2
Best App or Website for a Programme:
Foxes Live: Wild in the City (Numiko for Windfall Films) – C4
Highly Commended: Antiques Roadshow Play-along App – BBC1
Best Content Partnership:
GT Academy Boomerang+ (Grand Central) – ITV4
Best Programme Acquisition (sponsored by Beyond Distribution):
Nashville (More4)
Best Digital Children's Content:
Kinect Sesame Street TV (Soho Productions) – Xbox
Best Factual Channel (sponsored by Procam):
Discovery Channel
Best Live Event Coverage:
BBC Digital Olympics
Best Game:
The Snowman and The Snowdog (Crash Lab & Lupus Films) – C4
Best Entertainment Programme (sponsored by The Hospital Club):
The Revolution Will Be Televised (Hat Trick Productions) – BBC3
Highly Commended: Parkinson: Masterclass (Parkinson Prods) – Sky Arts
Best Social Media and Digital Marketing:
Got To Dance (Princess Productions, Monterosa, Orca Digital, Cat & Mouse) – Sky1
Best Platform Innovation:
Kinect Sesame Street TV (Soho Productions) – Xbox
Best Specialist Channel:
Crime & Investigation Network
Best App or Website for Channel, Strand or Genre:
ITV.com/news
Best Entertainment Channel (sponsored by Elstree):
E4
Best Original Web Channel (sponsored by YouView from Talktalk):
Jamie Oliver's Food Tube (Fresh One Productions)
Best Popular Factual Programme (sponsored by Bridgeman Art Library)
Bradley Wiggins – A Year In Yellow (Twofour) – Sky Atlantic
Best Multiplatform Project (sponsored by A+E Networks UK):
The Great British Property Scandal (Tiger Aspect, Project Factory, mySociet) – C4
Channel of the Year (sponsored by WRN Broadcast):
ITV2