Greg Childs, editorial director of the Children's Media Conference (CMC), is leading a UKTI-backed delegation to the Kidscreen Summit in Miami on 8 February. Broadcast asked him about what to expect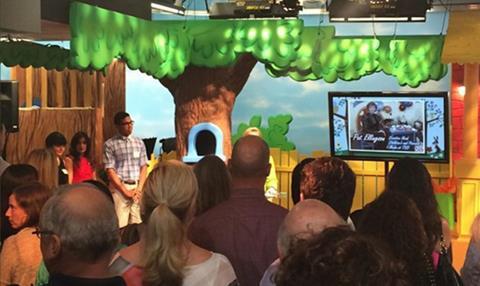 Why should UK companies attend Kidscreen?

UKTI has been supporting Kidscreen for six years now - it recognised the event's potential quite early on. While shows such as MIPJunior are essentially buyers' market, Kidscreen is more of a stimulus for international co-production and collaboration, because you're more likely to meet and strike up relationships with commissioners, co-production partners, writers, musicians and other production service companies.
Because of this mix of delegates a lot of cross-pollination takes place: UK companies can meet producers, writers and interactive agencies operating in different territories.
This year we are taking more companies over than ever – 50 in total as well as 17 individual delegates.
Is the event still small enough for that serendipitous chat with a commissioner in the lobby?
Around 1700 people attend - 400 plus of whom are buyers and there's lots of opportunity to meet international commissioners and buyers from around the world in smaller gatherings of under 30 people. And yes, it's still just about the right size to grab a coffee with people on the fly.
Kidscreen is the perfect place to go if …
…you are a bit of player with some initial investment, you're looking to close finance on a project and you want to build a portfolio of meetings around the summit and have that eclectic/ serendipitous chat.
What are the costs?
It's a relatively expensive event ($1895) plus flights and four days at a hotel so going along is not a decision to be taken likely. This year the UKTI reestablished the grants system to help delegates to attend and it's certainly made a difference to people thinking about taking the plunge for the first time.
Around 30 companies successfully applied for the TAP (Tradeshow Access Programme) grant, which they could put towards the price of the show fee. We were also able to offer delegation members a significant discount ($1,295).
And iKids is now incorporated into the event…
iKids was a separate event for digital media companies to talk about apps and games but now they've folded this into Kidscreen. As a result, there are new creative topics on games and apps that may be of interest to TV producers.
What events will UKTI@Kidscreen hosting around the event?
We're putting on a reception at Magic – the Pixar-built learning facility at Miami Dade College which functions like a professional animation and design studio. Our delegates will have the opportunity to chat to senior people in the industry and Magic students will be there showcasing their work.
UKTI will also be arranging a long-distance mentoring scheme between the Miami students and UK companies, so that they can get the British take on things - hopefully it will give US students a different view of the international market and UK creativity.
Separately there will also be exclusive daily background briefing breakfasts with high-level specialists in the North American and other markets.
Each morning a speaker will talk about the state of the market or a creative innovation. Past speakers have included Fremantle Media's vice president of children's Bob Higgins and YouTube's head of kids and partnerships, Gregory Dray.
For one breakfast we will be joining the Ontario delegation so that producers from both territories can meet one another in an event designed to encourage co-production talks.
Are there opportunities for companies to collaborate beyond the North American markets?
Yes, people don't just attend to meet commissioners in the US and Canadian markets – it's a real international event and there are also commissioners from China, Korea and South America attending.
The South American markets are becoming increasing interested in UK kids producers - particularly in Brazil, Argentina and, to an extent, Chile.
It's also a chance for companies to meet funding agencies – Singapore MDA Malaysia's MDeC are out there looking to promote animation companies, so you get an eclectic mix.
Have the Animation and Kids Live Action tax breaks had an impact on the way the international market views the UK?
It's made getting meetings much easier. Even when the tax breaks were still in the pipeline, interest in working with UK companies increased notably– it's been a major door opener for us Brits. The Games tax break too is starting to make a difference to the iKids crowd – so all the tax breaks have had a significant impact at shows like Kidscreen.
Kidscreen runs from 8-11 February at the InterContinental, Miami