The INEOS 1:59 Challenge gets 4.9m YouTube views and reached 500m+ TV viewers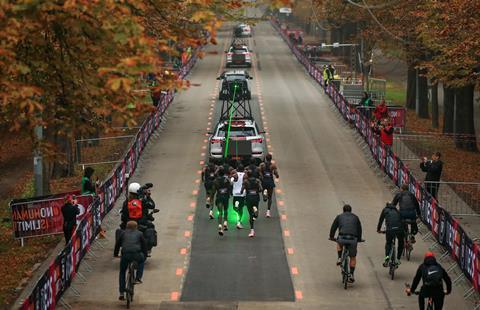 Host broadcaster Sunset+Vine has revealed viewing figures for Eliud Kipchoge's successful attempt at breaking the 2-hour marathon on Saturday morning.
The marathon, which took place in central Vienna, saw Kipchoge finish in just 1h59m40s. It was streamed live on YouTube, broadcast on BBC red button, on Eurosport and by a long list of different global broadcasters.
YouTube saw a peak viewing figure of 779k consecutive live streams and drew a total audience (to date) of 4.9m views.
Globally, across the 49 broadcasters that aired the event in 200 territories, it had a total reach in excess of 500m viewers.
120k people turned up in Vienna to cheer Kipchoge along and witness the marathon themselves.
Furthermore, news of the INEOS 1:59 Challenge has been covered 9,344 times by 1,081 TV channels in 296 markets across the world. On top of this, there have been 9,789 online press articles covering the INEOS 1:59 Challenge.
Across the INEOS 1:59 and Eliud Kipchoge's social media channels there were a combined 39.8m video views and 2.6m engagements on marathon day (Saturday 12th October).
Jo Grindley, CMO/CCO of INEOS TEAM UK, who led the engagement side of the INEOS 1:59 Challenge said: "The initial numbers coming from this weekend's coverage are simply astounding and there is no sign that the coverage is slowing down."
The race can be viewed in full still on YouTube, and Sports Channel Network is currently hosting a full highlights package of the marathon.