Ahead of next week's Broadcast Production and Post Forum, Sky and the BBC discuss testing Ultra HD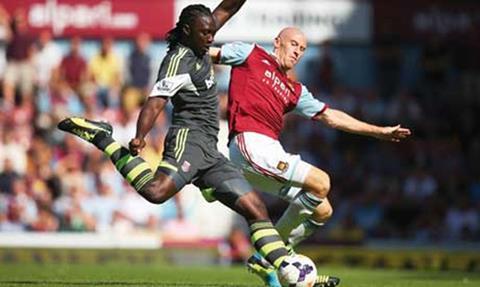 Live Sport
Robin Broomfield, 3D operations and development manager, BSkyB
As a renowned early adopter of technology, BSkyB is likely to be fastest out of the 4K broadcasting blocks in the UK. Sky was quickly into digital, then HD and then 3D; 4K should be next. But no channel will be launched without due consideration.
"We have to be cautious," says 3D operations and development manager Robin Broomfield. "The timing has to be right, or we could put something on the market that isn't very good."
The technology itself is nothing new. Dramas and movies are already shot in 4K, even if they're not being mastered or transmitted that way. What is new is doing live Ultra HD TV, particularly sport. Sky is undertaking a series of tests in that area. In the most recent, in August, it proved that it could deliver, via satellite, a live signal four times the size of HD.
For the four-camera private 'broadcast' of a Premier League match between West Ham United and Stoke City, on-screen graphics and instant replays were also tested.
"We were looking at whether we cover 4K in the same way as HD," says Broomfield. "We haven't answered that question fully yet, but it does look as though it's going to be the same. Unlike 3D, 4K is a quality uplift rather
than a different viewing experience."
While the test proved that live 4K broadcasting is technically possible, there are still hurdles to overcome. "When it's looking good, it's exceptional, but there are limitations currently," says Broomfield, pointing not just to a lack of 4K lenses on the market and the need for agreed industry compression standards, but also the motion blur that occurs when the camera follows play during action sequences.
"When the images were nicely framed and the action was happening, it wasn't offputting," he says. "But because football is a moving game, it is there to see. It would be nice to improve on it. Using a higher frame rate is one of the areas we should be looking at."
A higher frame rate per second would solve a lot of potential quality issues, but as 4K is not yet an agreed industry standard, there is still debate over how many frames are required.
"I would hope it would be at least 50p [50 full frames per second, progressive], which would be a step forward for us in the UK," Broomfield says. "We should test higher frame rates and it would be nice if all the broadcasters
could agree on a single format."
On-screen graphics won't be a problem in 4K, he says, but because of the amount of data involved, replays still need some development as one EVS XT3 server is currently required for each camera channel. With 24 cameras used for each Premier League match, each server costing £200,000, and finite space in an OB truck, that's not realistic. "EVS is working on two in, one out, but in principle we would still need 12 servers," he says.
There's some work to be done as far as final delivery is concerned. Broomfield says it's "not a big issue" but, again, it comes down to the large amounts of data being moved around.
"In our tests, we delivered the signal as four HD files," he says. "That's not a particularly efficient way of doing it."Broomfield is cautiously optimistic that a 4K roadmap will be put in place once all the issues are ironed out. But there's still a chance that 8K, which is 16 times HD, could crash the party. Japan's NHK, for one, is planning domestic 8K satellite tests to coincide with the 2016 Olympic Games, ahead of a service launch in 2020.

"And where does that leave us?" he asks, half in jest. "That's only a couple of World Cups away."
Natural History
Mike Gunton, creative director, BBC NHU
The BBC may still be some years away from broadcasting 4K but that isn't stopping some departments, notably the Natural History Unit (NHU), shooting in higher resolutions.
A new six-part wildlife epic is already doing just that. The as-yet-untitled series will document the struggles animals go through at pivotal stages in their lives - and in greater picture detail than any previous NHU show.
"It's slightly mad," admits NHU creative director Mike Gunton. "We weren't commissioned as a 4K series and it probably won't transmit in 4K. On Africa, we used something like 53 types of camera to satisfy the needs for different speeds, locations and activities. When we started on this latest series, we realised that doing that was ridiculous so we looked for a camera that could satisfy more of our needs."
The camera chosen was a Red Epic, a high-resolution digital camera with excellent dynamic range that can comfortably shoot between 60 and 150 frames per second, which is sufficient for most wildlife requirements, with the exception of special effects shots.
"Low-light sensitivity and dynamic range are important because we often operate in difficult circumstances, like in jungles where you have dark undergrowth and a bleached-out sky," says Gunton, who also embraces the richness and the crisp, smooth pictures that 4K produces.
"Animals in nature are beautiful things. The higher the resolution of the image, the more beautiful they look. Even the apparently mundane can appear utterly extraordinary when you start shooting in super high-resolution. The textures jump out at you."
Shooting in 4K provided some unexpected editorial benefits. "The shallow depth of field meant we could isolate our animal 'stars' out of a group or the landscape," he says. "This allows us to draw the audience's eye to that particular animal. This wasn't something we had considered; we just stumbled across it."
While shooting in 4K has plenty of plus points, there are various mountains that need to be conquered too - not least cost. "You have to reconfigure your cameras," says Gunton. "We also realised that the ENG type lenses we had weren't good enough so we had to upgrade to Cine lenses, which are significantly more expensive."
That wasn't all. "We are cavalier when it comes to acquisition," he admits. "We will shoot 1,500 to 2,000 hours to generate six. The storage and post you need for that is going to be more expensive so you have to factor that in. Overall, I would say it's more expensive - but not outrageously so."
There's also "unsympathetic" camera focus to deal with and entirely new workflows to conjure up but, all said, Gunton is convinced that 4K is the way forward.
"I cannot see us going back," he says. "Any high-end project will be shot in 4K from now on. There are lots of interesting commercial elements to this too as we're starting to do theatrical and giant-screen presentations. Plus, if you've shot in 4K, you're future-proofing to some degree. I am sure it won't be that long before people start broadcasting in 4K."
Robin Broomfield and Mike Gunton will be speaking at the Production & Post Forum on 23-24 October at London's BFI. For tickets, visit www.broadcast-forums.com