Norwegian ice-hockey team purchases Ross Video kit to improve fan experience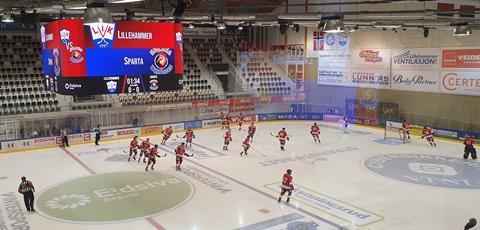 Norwegian ice-hockey team Lillehammer IK has upgraded its stadium big screen offering in a bid to improve the quality of the match-day experience for fans.
The club appointed Danmon Group Norway to help upgrade the Eidsiva Arena to include video production, mixing creative content from six new cameras to a large LED cube positioned above the ice rink.
Lillehammer IK purchased Ross Video's Graphite all-in-one production system that includes a Carbonite switcher, XPression graphics and a Rave audio engine in a single unit.
DashBoard was chosen to manage game data and statistics, including live data from an online API.
Ross Video's compact PIVOTCams were also chosen to feed the in-stadium productions.
Finally, Lillehammer opted for an XPression Tessera SCE rendering engine to display graphics on all LED boards and the LED cube.
The LED boards deliver video, animations, advertisements, announcements and in-game statistics.
Aleksander Stalsberg, the head engineer for Lillehammer IK, said: "Our fans are enjoying a more impactful production on match days and we're flexible enough to cater for a variety of different events in the arena beyond ice hockey."