As she hands over the editorship of Broadcast, Lisa Campbell looks back at a decade in TV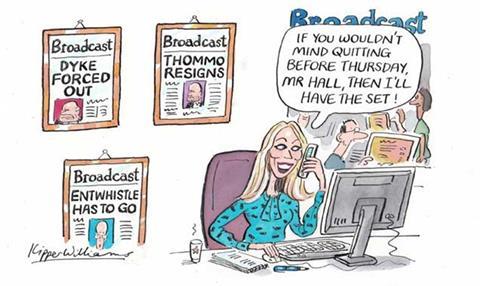 Summing up more than 10 years in TV in 1,000 words is something only a fool would embark upon, so here goes.
I joined Broadcast at the end of 2003, when all the talk was of the uninspiringly named Codes of Practice in the 2003 Communications Act.
I wondered what sort of dry and dusty rag I'd joined and when I'd get to talk proper telly: Brookside's last ep, after 21 years, perhaps? The live version of The Bill, marking its 20th anniversary? (RIP both of you). The Games? (The Jump, in only slightly warmer climes). At Home With The Eubanks (as it sounds, and sadly none of the youth hostelling element that Alan Partridge once pitched)? Okay, maybe not.
But the reaction from thousands of Broadcast readers on 1 January 2004 made clear the Act's enormous impact on the sector. This was the official point at which the "lifestyle choice" of independent television producer turned into a viable financial decision.
Cue a period of rapid consolidation, the growth of the super-indie and the birth of the producer millionaire.
From 2003 to 2012, the sector grew by a massive £1.4bn, now totalling more than £2bn, according to our annual Indie Survey. Expansion into international markets, notably the US, has shaped this growth. With Fremantle Media rumoured to be buying All3Media, Endemol soon up for grabs and ITV Studios positioning itself as a global production powerhouse, we can forget the 'super' indie: the next wave is gonna be 'mega'.
Bad stuff
No sooner had the corks stopped popping than disaster struck. Much loved BBC director general Greg Dyke was forced to resign as the fallout from the Hutton crisis reached a head at the end of January 2004.
As staff blinked through their tears, Dyke was characteristically frank: "I don't want to go. But if in the end you screw up, you have to go." Greg was one of a handful of refreshingly open, colourful characters who enlivened the pages of Broadcast. We were as sad as everyone else to see him go.
Meanwhile, a major 'scandal' that blew up on the other side of the Atlantic, involving the Federal Communications Commission and an unprecedented fine levied at CBS, says much about today's media liberalism/female denigration, depending on your view.
The crime? Nipplegate. A wardrobe malfunction at the Superbowl involving Justin Timberlake tearing off part of Janet Jackson's outfi t, to reveal… a nippleguard. A new era of conservatism over partial nudity ensued, affecting programmes from daytime soaps to ER.
But forget Miley Cyrus and Beyoncé, which self-respecting celeb doesn't have 'wardrobe malfunction' as item number two on their PR plan these days?
More bad stuff
It's amazing how much your mind remembers the bad stuff, isn't it? Or maybe that's because I became editor in 2007, TV's annus horribilis, characterised by tempests over trust, chaos over compliance, ire over impartiality.
The BBC had a direct bust-up with the palace over Queengate and heads rolled, including those of BBC1 controller Peter Fincham and RDF's Stephen Lambert, the latter telling Broadcast he nearly quit TV forever as a result. With Undercover Boss and everyone's recent favourite C4 hit Gogglebox – a Broadcast Award double-gonger – under his belt, there's a lesson to us all in there somewhere. Especially George Entwistle.
Although there wasn't a Savile-level scandal in 2007, there was more on top of Queengate: ITV phone-in scandals, fakery scandals at Five; even Blue Peter had its bottom smacked for 'faking' a competition winner. Then there was the Celebrity Big Brother racism row – when Jade Goody was accused of bullying Bollywood star Shilpa Shetty and C4 incurred the wrath of both Tony Blair and Gordon Brown. C4 chief exec Andy Duncan stepped into the limelight to smooth things over, but his 'wardrobe malfunction' caused a mini-scandal all of its own – he wore a polo shirt.
Not dead yet
Thank goodness the year ended with one of the best Xmas gifts Auntie Beeb has ever given us. Not an Only Fools And Horses triple-bill, but something that would revolutionise our TV viewing: the iPlayer. It became a swift success – by January 2008, more than 3.5 million people had used it. Six years later, and that 3 million is now a whopping 3 billion.
It makes all those years struggling to remain conscious at the RTS Cambridge convention seem utterly pointless.
There, the oft-repeated mantra "we're doomed" made it feel like you were trapped in a Dad's Army version of Groundhog Day. Okay, that's harsh. It's always a worthwhile chin-scratching affair, but what I've realised is that it's pointless to try to predict the future. Flick through our archives and you'll find scores of wide-of-the-mark scenarios, mostly from 'experts' like myself.
Meanwhile, ITV, for years lambasted as the terrestrial 'dinosaur', has bitten back, successfully adapting its business model to the changing media landscape, without, as once threatened by Michael Grade, handing back its PSB licence.
It helps that, for all the talk about the post-digital switchover shake-up ('Digital Britain' anyone? Me neither) and the emergence of players such as Netflix, TV viewing is booming. So too is production, helped in no small part by Sky, which we once loved for Sky+ and now love for its £600m content pot.
UKTV, too, has become a serious commissioner and, like Sky and the terrestrials, is investing heavily in drama – something else we were told was dying on its arse not that long ago. "Why can't we make drama like the Americans?" said, er, everyone. Now, we're kicking their asses (okay, apart from the best two dramas ever: The Wire and Breaking Bad).
Best bits
The first time I said "The director general" when the White City receptionist asked me who I was there to see
Interviewing the legendary Davids – Frost and Attenborough
Spending weeks in the British Library reading TV gossip across the decades in Broadcast (and Television Mail as was) for our 50th anniversary book ­
The Broadcast Awards (2004-present day)
Tea with Richard Desmond, served by his butler
Arriving early (for once) at a press conference, to discover there were only two of us in the room – and Idris Elba was the other
Running the Expert Women campaign and being invited to meet senior MPs
Witnessing up close Wendy Deng's acrobatic intervention during the custard- pie assault on Rupert Murdoch
Clocking up seven years to become the second longest-serving editor in 56 years (with C4-induced wrinkles to prove it)
Discovering Jake Kanter had a voice for radio with our Talking TV podcast
Best of all: the entire Broadcast team past and present
Top 10 Shows
Life On Mars
Sherlock
Big Brother
The X Factor
The Olympics/Paralympics
Peep Show
Twenty Twelve
Educating Yorkshire
24 Hours In A&E
Lie Of The Land
Lost In translation: Talpa Media's I Love My Country