NAB 2016: A multi-purpose compact camera for shooting in low light and an addition to the cine-servo lens range are among the highlights of Canon's presence in Las Vegas.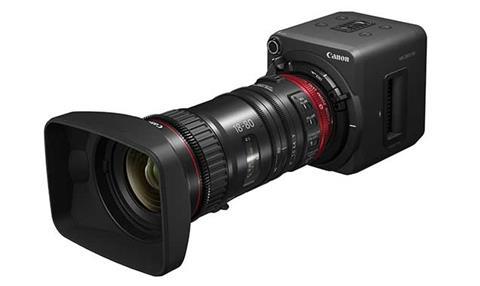 The Canon ME200S-SH is a professional camera for capturing HD images in low or difficult lighting conditions.
Featuring Canon's Dual Pixel CMOS Autofocus system and an 8.29 megapixel Super 35mm CMOS sensor, it is said to be suited to a number of production scenarios including wildlife and sport.
The camera supports Canon Log, enabling it to capture up to 12-stops of dynamic range and ensure that detail is retained in both bright areas and shadows.
The Canon CN-E18-80mm T4.4 L IS KAS S is an EOS lens with cine-servo style functionality that has been designed for use with large-format, single-sensor cameras.
It includes a servo engine that is powered via EF mount connectors for hand-held shooting and has an 18-80 mm focal length that equates to a 4.4x zoom ratio.
Weighing 1.2kg, the new lens is the smallest and lightest in the cine-servo range.
Canon has also announced that it will release firmware updates for the C300 Mark II and the XC10 cameras and the DP-V2410 and DP-V3010 4K reference displays.
C4325