Women's football; The future of cricket on television; Rugby behind the scenes; Eurosport at 30; Steve Smith (Sky Sports) interviewed; Sky Creative Arts' F1 promo; Swans TV; basketball; boxing
Welcome to issue one of Broadcast Sport – the stylish new quarterly magazine for the sports industry, from the publisher of Broadcast. Broadcast Sport is dedicated to bringing the inspiring worlds of sports production, sports broadcast and sports tech innovation to life.
The magazine has grown out of a series of popular sports industry events we held last year. Over the next 72 pages, there are in-depth articles on people and productions and the biggest sports broadcasters, including Sky Sports, BT Sport, Eurosport and DAZN.
Sports production highlights include our cover story – a detailed look at what's being done to televise and the-scenes report from the recent action-packed Gallagher Premiership Rugby game between Saracens and Leicester.
There's a fascinating industry debate on how best to bring cricket to TV audiences, our guide to the most important new sports tech at Las Vegas trade show NAB 2019, and a look at how Swansea FC creates content for Swans TV.
Broadcast Sport is not only a quarterly magazine – we've launched Broadcast Sport online too, as the home for sports industry news. Visit http://broadcastnow.co. uk/sport and join our social media channels for your daily dose of sports production, sports distribution and sports tech news.
Issue two will be out in June. See you again then.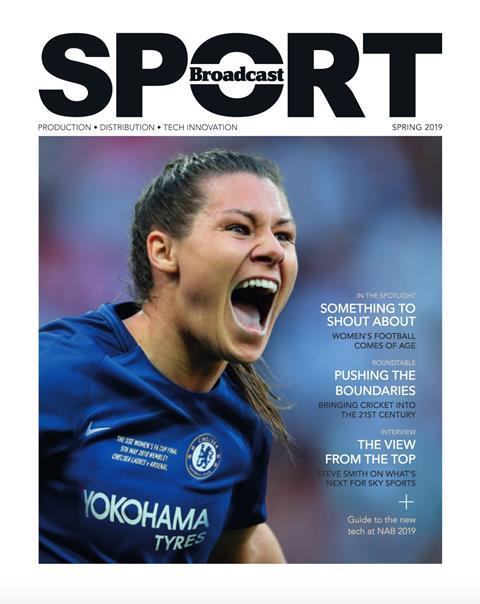 Click on the cover above to read the digital version of Broadcast Sport magazine issue #1