Sports disruptors; Formula 1 remote production; Formula E; Sarah Greene (Sunset+Vine) on women's sport; squash; cricket; boxing; Women's World Cup and more
There's a very busy summer of sport ahead. Cricket grounds are already alive with the sound of wickets falling in the Cricket World Cup, while football stadiums throughout France welcome the Women's World Cup at a time when interest in the women's game has never been greater. Coming soon are Wimbledon, the Tour de France, The Open, and much more besides. But how fans will view and interact with content is becoming harder to pin down.
broadcasters to secure live and highlights packages of key sports. And rights holders and non-rights holders are sharing huge quantities of sports content on social media, reaching larger audiences than conventional TV.
It's these disruptors that dominate issue #2 of Broadcast Sport. We delve into the world of content creators who have grabbed a substantial slice of the sports pie with or without the rights to any live sports (p16-23). Sticking with disruptors, the leading streaming enhancing their reputations within sports through brilliantly told documentaries. Our roundtable feature (p36-39) discusses the growth of the sports doc.
There's loads more in issue #2 too, with motorsports catamaran racing (SailGP), women's sport, cricket, golf and rugby all featured. I hope you enjoy it – and hope Show on 11-12 June. See p62-63 for our show preview.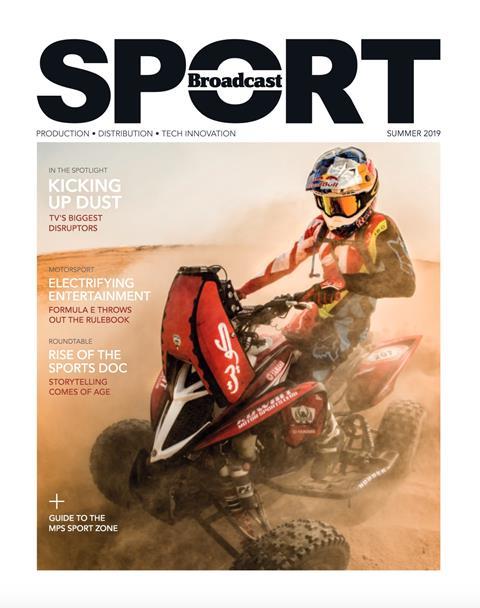 Click on the cover above to read the digital version of Broadcast Sport magazine issue #2