Offline cutting rooms continue to be in high demand at post houses as Envy and Fifty Fifty add more rooms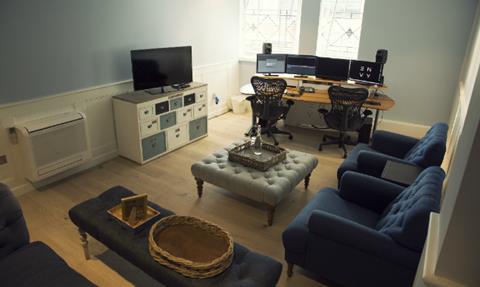 Envy has opened another eight offline suites in its Mortimer Street site, after adding a new floor to the facility. The extension, which Envy facilities director Natascha Cadle revealed to Broadcast cost around £250,000 to build, took four months to finish, with a further six weeks to install the wiring and kit for the offline rooms.
In addition to the edit suites, the space also includes a terrace for use by clients (pictured right). The entire floor is currently being used by Studio Lambert's Vlogglebox (E4).
Envy's Mortimer Street building, which only opened in August last year, now has 30 offlines, bringing the firm's total number of cutting rooms across all sites to 160.
As well as investing in expanding its editing facilities, Envy is in the middle of a facility-wide IT upgrade, at a cost of £150,000, to "make everything a little quicker and more efficient", said Cadle.
Fifty Fifty has also expanded its offline capabilities, with the addition of five new edit rooms (pictured right) in its building on D'Arblay Street, Soho, giving it 19 offlines in total.
"We're adding extra offline suites in response to the volume of work coming through," operations director Alex Meade told Broadcast. "This should stop us having to outsource any more work. We're using office space that up until now we were subletting out, as we desperately need the additional space. Three offlines are already complete and two more will be finished within the next few weeks."
As part of Fifty Fifty's expansion, the facility has also installed 192TB of Quantum StorNext storage, which it is using for 4K finishing and near-line storage. It has recently finished the full 4K post on Netflix originals series Jack Whitehall: Travels With My Father for Tiger Aspect and Cave Bear, which streams in 2017, and is about to begin work on a number of additional 4K productions.
The installation of Fifty Fifty's new offline rooms, along with the investment in Quantum storage, cost £250,000.