Interest in international co-production among Germany producers has never been higher. Miriam Ducke, senior trade adviser for Creative Industries, Berlin explains why.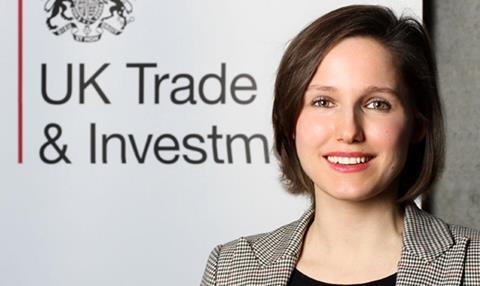 UKTI has seen a flood of interest from German buyers for its UK-based broadcast events recently - why is that?
For German producers and buyers, the UK is a major sourcing market. In terms of bigger productions, Germany looks at the UK and US first, but also shows interest in productions from France and Scandinavia.
UK television productions also have a great track record in Germany – recent successful UK shows include Sherlock, Downton Abbey, Doctor Who and Midsomer Murders.

Have co-productions such as Generation War and Deutschland 83 given German producers and broadcasters the confidence to reach out internationally?
Certainly, if a show is an international success, this will have a positive impact on other and future productions. It strengthens the 'Made in Germany' brand.
Interestingly, while Deutschland 83 received very positive reviews and got picked up by many markets, ratings in Germany were rather disappointing.

Nevertheless, there is current talk about a renewal of the show.
What UK television formats does the German market like to buy into?
Germans like anything British…well, almost anything. The German market likes to buy into things typically British and crime related - such Midsomer Murders, Miss Marple, James Bond, Sherlock Holmes, Jekyll and Hyde.

Also content around British humour, British countryside and British aristocracy, history and culture.
It's a bit tougher to export kids' brands but there are definitely shows that have made it onto the German market such as Bob the Builder and Shaun the Sheep.

Broadcast-wise who are the key players in the German market and what are they looking for?
The key players are the public broadcasters ZDF and ARD as well as the private broadcasters RTL, PRO7 / SAT1.
ZDF and its younger skewing ZDFneo are the strongest buyers and are interested in co-productions as well as TV series acquisitions.
ARD meanwhile, does its central purchasing through Degeto Frankfurt and shows somewhat less interest in co-productions. However, it consists of many individual regional public-broadcasting TV channels that contribute programming hours.
The private broadcasters are known to be primarily interested in buying show and reality TV formats or event movies.
Are there opportunities for UK producers to partner with local companies?
Co-productions and joint ventures with German companies are where the main opportunities lie.

Another tactic is for a UK company to acquire German company or form strategic partnerships with German production companies, including first look deals etc. In terms of meeting companies to link up with, the BFI organises events in tandem with the German regions for producers to meet possible co-production partners – there's one with the UK in the pipeline.

The UKTI also brings trade missions to markets – our latest is a 'Northern Powerhouse' mission to the Berlin International Film Festival next month.

What advice would you give to producers wanting to do business in Germany?
Good high quality content and cast matter. The cast doesn't necessarily need to be German but they need to be known and relevant to German audiences.
In terms of topics or genres, British comedy, British crimes and Royalty work.
Also, make sure to know the basics of German business, be reliable, follow up and deliver! UKTI is in the market and happy to help.
I also recommend that UK producers talk to German decision makers and buyers in person, by scheduling meetings during shows such as Berlinale, Mipcom or MIPTV or by attending networking events.