Michael Hirst, the man behind swashbuckling soap opera The Tudors, talks to Chris Curtis about scripting sexed-up history and facing criticism of taking right royal artistic licence.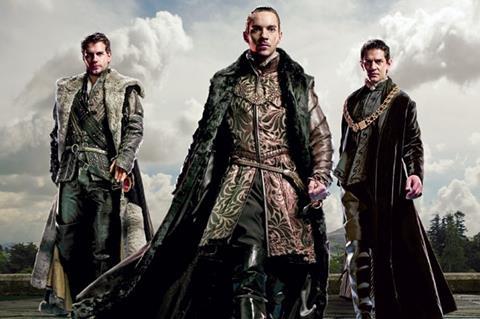 I'm not very good at writing about contemporary society," admits Michael Hirst, the creator, writer and executive producer of global smash The Tudors. "William James said that for a baby, the world is a buzzing, booming chaos and it's like that for me; I can't make much sense of it. I feel more comfortable with history."

This has been true since Hirst's early life as a history undergraduate at LSE in the late '60s. After stints at Nottingham and Oxford universities, he was set for a career as an academic, but ditched his PhD on Henry James' short stories to write film scripts.
Mentor Nicholas Roeg threw Hirst's first effort out of a window, but the critical response to his work has improved since then. He landed a Bafta nomination for the screenplay of feature film Elizabeth and has had huge popular success with Showtime's Henry VIII swashbuckler, The Tudors, which also airs on BBC2.

Sony Pictures Television International has sold the sexy, wife-executing romp to 70 countries, but the show has also spawned controversy, and still attracts the ire of 'serious' historians. The Daily Mail got its knickers in a twist when it first aired on the BBC in 2007, accusing the corporation of dumbing-down and sexing-up history.

Hirst isn't losing any sleep. "I'm actually less defensive about it now than I was. As a whole, The Tudors is remarkably true, but it's drama, not history. You have to condense things and highlight things, but my only resources are books by historians, which I read avidly. All historians disagree with one another anyway, so the idea that there is one forensic truth is itself a lie."
Artistic licence
Hirst has described the show as 85% historically accurate, and he admits it takes some licence with costumes and chronology. He is keen to avoid the "anodyne Jane Austen-style" that he says strangles many history shows.
"I get a lot of juice out of the footnotes in history books," he says. "I read in a footnote that while Henry was grieving for Jane Seymour and making himself head of the church, he was also rewriting the Lord's Prayer and the Ten Commandments. You sit back and think, 'Where does that come from? That's pretty good stuff'. But you can bet that somewhere down the line someone will say, 'Look what he's made up now'."
One reason Hirst says he created the show was to correct the public's perception of Henry as he appears in the famous Holbein portrait, all ruffs around his neck and bulging belly. Hirst's Henry (played with a slightly camp ferocity by Jonathan Rhys Meyers) is a smouldering, bodice-ripping king, who also lives up to the reputation of a ruthless autocrat.
"There's always an attraction to people who exercise power. Think of Tony Soprano – not a very nice man, but compelling to watch. The reason The Tudors has been successful is that for the first time, viewers can see these were real people, not dummies in museums. They had the same range of feelings we do. Henry was married to an older woman, fell in love with a younger woman and wanted to marry her. That's fairly commonplace."

It was this kind of contemporary relevance Showtime wanted from the show, but the route to screen was a tricky one. In the mid-2000s, Hirst was approached by "thrusting young TV exec" Ben Silverman, who at the time headed a "small production company called Reveille".
"He took me for lunch at a rather grand hotel and asked me if I could turn the Tudor dynasty into a kind of soap opera like The West Wing. I laughed and said no."
But Silverman was persuasive. He sent Hirst several episodes of the presidential drama, convincing the film writer that creating a TV series didn't have to mean dumbing down.
Nude wrestling
A pilot for CBS, featuring the notorious scene where Henry wrestles naked with the King of France, was rejected by "the grey suits upstairs" and after a two-year hiatus, the project moved to cable channel Showtime. It loved the idea, urging Hirst to "push the material further" and handing him an unusual level of creative control.
The design department shows him sketches, he checks suggested shoot locations and sits in on conference calls about the show's music. He steps back on casting but is largely "embedded" in the creative process, working with hands-on producer Morgan O'Sullivan, who is tasked with bringing Hirst's vision to screen.
But even a $34m (£22.4m) US blockbuster has budget constraints. "Sometimes I'm told I can't have a battle I want," confesses Hirst.
And despite the dominance of writing teams in the US, Hirst will have written the full 40 episodes when the show ends after season four.
"It makes it much easier for Showtime – it only has one ego to deal with rather than 10," he says. "There's a benefit of continuity of having a single person's vision. We have the same crew and cameramen but about five different directors each series, so the tone could change, but it seems to work," he says.

Does that mean it has been a gruelling project?
"I felt comfortable writing them all. In film, the director is the most important person, and the writer feels like a bit of a lemon. In serious TV, the writer is God – and you don't want to retire from that position."
The future king
Hirst's next project is another TV historical epic – retelling the Arthurian legends for the BBC and Showtime in Camelot, and he is keen to keep working in the medium.
"The standard of TV writing, certainly in the US, is higher than in movies. I've jumped over the fence because when I started in the '80s, I wouldn't have considered TV. As a screenwriter, your ambition was to write movies."
But moments after delivering this verdict, he makes a confession: he barely watches any TV. He insists he leads a "hugely boring life" of reading, writing and looking after the children – he and his wife have four together and nine between them, and almost all of them are still young enough to be at home or nearby.
In between family life, Hirst is currently working on the second half of the concluding fourth season, with production due to begin in Ireland in mid-June.
Historical fiction may not be the most dramatic (there's not much 'will he/won't he' about whether Anne Boleyn is going to be beheaded) but Hirst is confident there'll be no problem rounding it off.
"I was never going to kill Henry; it would be too easy. Right at the end, there are things I want him to reflect on – I want him to suffer a little bit.
By the end, he's wiped out almost all the friends he's had, all the people he's known and is a slightly monstrous figure."
Perhaps Hirst's Tony Soprano comparison isn't so far-fetched after all.
Michael Hirst's writing credits include:
The Tudors, Elizabeth (film, 1998), Uncovered (film, 1994), The Ballad of the Sad Café (film, 1991) Fools of Fortune (1990)
Lives: Garsington, Oxfordshire
Supports: Manchester United. "We lived in Bradford but my father took me to Old Trafford and I saw Best, Law and Charlton. I've been a fan ever since"
The Tudors
Produced by Peace Arch and TM Productions in association with the Canadian Broadcasting Corporation and Showtime Networks
Distributor: Sony Pictures Television International
Details: Third 10-part season now airing in the US, fourth goes into production mid-June
Budget: $34m (£22.4m) per 10-part series
Michael Hirst on…
Criticism that The Tudors is sexed-up
In the UK, any sex is gratuitous. Violence is fine, but sex is gratuitous. Sex seems to me to be part of love, and the court at the time was absolutely saturated with sex.

The Reformation
I don't think it's been addressed properly in drama. We tend to think of it as a good thing – it leads to freedom of thought, Shakespeare, Elizabeth I and so on. But the fate of generations was destroyed, and part of series three is to be serious about this.

Responding to criticism from David Starkey
I don't want to go there. If I start, I won't be able to stop. Starkey would do himself a great favour by shutting up.

Studying history at LSE
It was the fag end of the 1960s and the student union had sit-ins the whole time. It was hysterical really, but I walked out because I became so disillusioned.