Chewing Gum creator launches industry broadside as she reveals sexual assault
Writer and actress Michaela Coel has laid down the gauntlet for producers to better protect 'misfit' talent and be more transparent about budget pressures and production challenges.
Delivering the Edinburgh TV Festival's MacTaggart Lecture, the creator and star of E4's Chewing Gum recalled her reticence to rock the boat by asking for a writing extension on the show even after she was sexually assaulted.
Coel said she called producers at Fremantle Media UK label Retort for help before she contacted her own family. The company funded her therapy at a private clinic.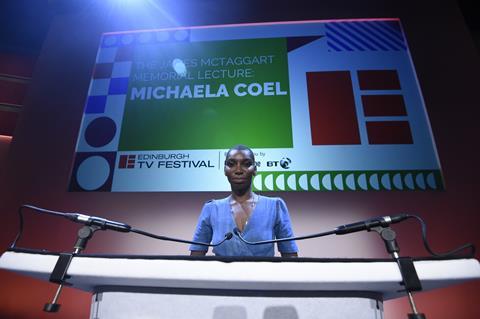 But she recalled her struggle to request to push back the deadline. "I wasn't sure how damaging it would be to the company, so couldn't ask," she said.
"Someone was transparent with me. 'They won't offer you the break', a colleague said. 'That's not the way it is. You have to take it.'"
She asked for an extension and her wish for more time was granted – but "the head of comedy never found out why".
For Coel, the incident highlighted a bigger question for the industry: "How do we operate in this family of television when there is an emergency? Overnight, I saw [Retort] morph into an anxious team, teetering back and forth between the line of knowing what empathy is and not knowing what empathy is at all."
Hinting at her BBC2 commission Jan 22nd (w/t), produced by Various Artists Limited, which will deal with issues of consent, Coel declared: "It's been therapeutic to write about it, and actively twist a narrative of pain into one of hope, and even humour, and to be able to share it with you, as part of a fictional drama on television, because I think transparency helps."
'Scrabbling for misfits'
In a speech that challenged the industry to be more responsible in working with new talent, Coel related her frustration in not being given an executive producer credit on Chewing Gum and in losing the international online rights to her 'baby' to Netflix.
Eschewing the word 'diversity' – "I couldn't get clarity on it" – Coel said broadcasters, production companies and online streaming services have been "scrabbling for misfits, like kids in a playground scrabbling for sweets – not sure of the taste just aware they might be very profitable".
But the desire to commission alternative voices is not always handled with due care, she claimed, with not enough being done to give new voices the skills they need to become the executive producers of the future.
Pairing them with established writers from the offset, for example, can help with story structure and other practical considerations, but risks diluting the voices that producers and broadcasters want to be heard.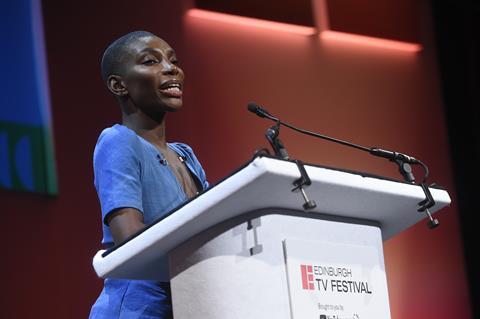 "Why are we platforming misfits, heralding them as newly rich successes whilst they balance on creaking ladders?" she asked.
"As they enlighten you, with TV stories you can't film or write without them, enlighten them. Shine a torch on the figures and the budgets they can't see."
Sharing information about shows' budgets would empower the 'misfit' creatives to see the bigger picture.
"When a budget is lower than standard, it leaves production companies saving and scrimping and that is often taken out on the writer - for example, the erasure of script editors," she said.
"Without a healthy writing team, and a great story, what do you have on the screen to inspire misfits? Oh, Love Island."
On-set experiences
Coel detailed further shocking experiences of her career, as she claimed 'that's the way it is' cuts no dice.
She told one producer that bundling five BAME actors into one trailer "looked like a slave ship". Coel, who considered the set-up "thoughtless" rather than racist, had her own trailer.
She also recalled how, on a separate international shoot – understood to be Clerkenwell Films' E4 drama Aliens - producers told her to keep calm and carry on when she and a black colleague were pelted with stones.
"The producers saw shooting in that place as a low-cost haven," she said. "They didn't consider the experiences of the brown and black cast…because they didn't think to see things from our point of view."
'Interrogate your own morals'
Coel closed with a challenge for producers in the audience.
Acknowledging the stress of a "noisy" job with "everything coming at you, from all angles, at all hours," she suggested: "Make silence for yourself, for five minutes, to check if you're okay, and interrogate your own morals and beliefs in relation to how you operate."
Accepting that you are not always right, and that you can grow from that awareness, is the first step to mending TV's "faulty house".
"I'm going to try to be my best. To be transparent, and to play whatever part I can, to help fix this house. What part will you play?"