Follows the staff & patients of a hospital in Manila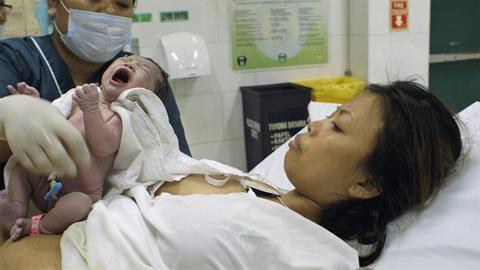 Dir. Ramona S. Diaz. USA/Philippines, 2016. 94m
Once a cloistered activity that went on behind firmly closed doors, childbirth has become a familiar activity on screen, from big-scale Hollywood drama to small-screen fly-on-the-wall factual series.
Audiences are, however, unlikely to have experienced it as presented by Ramona S. Diaz's Motherland, which follows the staff and patients of Dr Jose Fabella Memorial Hospital in the Philippine capital of Manila - the busiest maternity ward on the planet which caters to the country's poorest women and where childbirth is more of a group activity than an intimate moment.
An eye-opening, moving and often shocking film, Motherland is a serious-minded documentary without talking heads, music, or narrative structure; instead, DOP Nadia Hellgren observes every stage of the process, from admissions to delivery room, operating theatre to postnatal ward, and lets the facts speak for themselves.
While continuing festival interest seems assured following the film's Sundance premiere, particularly at events which champion female filmmakers and stories, the subject matter should also prove compelling enough for specialist distributors and on-demand platforms.
The film opens in the middle of a conversation between an admissions nurse and a young patient. As the nurse fires questions at the woman, in a manner that makes it clear that she asks them several times a day, we discover that the 24-year-old expectant mother is Catholic, unmarried, uneducated, unemployed and about to give birth to her fifth child. Here, her story is far from unique
Motherland then opens up to take in the full terrain of the hospital, from the lines of often-labouring women at the front door to the packed delivery and operating rooms - in which women give birth virtually on top of each other - and the cacophonous postnatal ward in which hundreds of new mothers and newborns are identified by number rather than name.
With so many bodies, and the mountains of corresponding paperwork, there is an awareness that, without the due diligence of the dedicated nursing staff, chaos would easily ensue.
With no formal introductions, we learn the names and situations of these women by eavesdropping on their conversations. Yet, thanks to some assured editing from Leah Marino, individual stories emerge out of the maelstrom, all of which underscore the monumental challenges facing both the hospital and the woefully overpopulated, poverty-stricken country as a whole.
The hospital's family planning nurses repeatedly attempt to get these girls to accept contraception in this staunchly Catholic country, but usually fail in the face of parental pressure or uneducated fear.
Mothers (and, occasionally, fathers) are taught the art of Kangaroo Mother Care, in which they wrap their tiny premature babies - of which there are far too many - close to their chests to keep them warm, as the hospital can't afford incubators. One young woman who has recently given birth to twins only has one blanket, is unable to pay her bill and, finally allowed home, leaves with her babies by rickety motorbike sidecar in the pouring rain.
While such conditions may be devastatingly alien to Western viewers, award-winning Asian American filmmaker Diaz (Imelda, The Learning, Don't Stop Believin': Everyman's Journey) is careful to strike a balance. While these women understand their plight, they are not defined by it; they remain stoic, proud, bawdy in their interactions and loyal to those around them, going so far as to breastfeed the babies of those unable to do so.
Indeed, if Motherland has a message beyond raising awareness of the plight faced by millions of Filipino women, and the ongoing debate around the country's controversial Reproductive Health Act, it's that life goes resolutely on. Despite the pitiful conditions, babies are born, survive and are loved.
As we see final credits video of the families at home with their burgeoning broods, however, one can't help but wonder how many of these infant girls will themselves be on the Fabella Hospital's maternity ward in far too short a time.
Production Company: CineDiaz
International Sales: Dogwoof, info@dogwoof.com
Producers Ramona S Diaz, Rey Cuerdo
Executive Producers: Brillante Ma Mendoza, Sally Jo Fifer, Justine Nagan, Chris White
Cinematographer: Nadia Hallgren
Editor: Leah Marino
Website: www.motherland-film.com