Phoebe Waller-Bridge's lost, filthy, lovable character broke hearts while breaking the fourth wall in BBC Three's six-part sitcom, hailed by judges as a "brilliant unique voice" that was "breathing new life" into British comedy.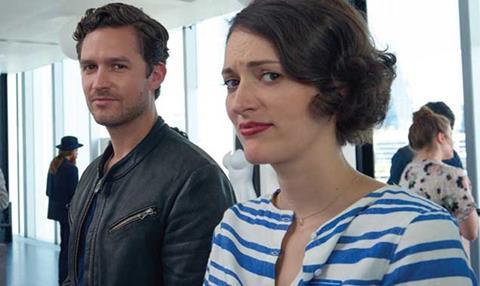 Two Brothers Pictures for BBC Three
Based on creator and star Waller-Bridge's one-woman stage production, Fleabag followed a 20-something woman working out modern feminism while navigating her sexuality and the loss of a best friend.
The comedy provided a rarely heard and much-needed voice for women on screen with gut-busting dark humour – a knife-wielding shower scene that would have Anthony Perkins rolling in his grave, for instance, is shortlisted for the Timeline TV Moment of the Year.
Olivia Coleman's brilliant turn as the character's unhinged godmother-cum-stepmother also impressed, as did Sian Clifford as uptight sister Claire.
The sitcom, which was also shortlisted for Best Comedy Programme and Best Original Programme, premiered on BBC Three in July and launched on Amazon Prime in the US in September. Since then,
Waller-Bridge has scored big Stateside, winning an eight-part BBC America commission for dramatic thriller Killing Eve.
As for whether more Fleabag is on the way, Waller-Bridge has said the show will only continue if the right story comes along for a new chapter. Fingers crossed.
SHORTLIST
CHARLIE HEBDO: 3 DAYS THAT SHOOK PARIS
Films of Record for More 4
Commissioned by More 4 within two months of the January 2015 Paris attacks, Films of Record presented astonishing access to members of France's law-enforcement agencies and elite counter-terrorism units.
The doc, which also aired in a primetime slot on French broadcaster France 5 on the anniversary of the shooting, has already won a Broadcast Digital Award.
Michaela Coel's Bafta-winning coming-of-age comedy, now available globally via Netflix, followed the hilarious misadventures of Tower Hamlets resident Tracey as she grappled with boyfriend problems and a devoutly Christian family. Like Fleabag, Chewing Gum originated from a stage play, Coel's Chewing Gum Dreams. Series two is now on air.
LOVE ISLAND
ITV Studios and GroupM Entertainment for ITV2
In ITV's gift to watercoolers everywhere, 11 singles canoodled in a luxury island villa. The show broke its own records last year when it averaged 602,000 (3%) and peaked with 965,000 (5%) for its finale. It will return this summer for another loved-up round, and ITV2 is on the hunt for a stripped series to accompany the reality programme.
MURDERED BY MY FATHER
BBC Studios for BBC Three
Vinay Patel's factual-based drama for the online channel, which explores the 'honour' killing of a 16-year-old teenager, was hailed by some critics as nuanced and "unbearably heartbreaking".
Commissioned by Damian Kavanagh, the 75-minute single was a follow-up to the Bafta-winning drama Murdered By My Boyfriend.
PROFESSOR GREEN: SUICIDE AND ME
Antidote Productions and Globe Productions for BBC Three
Forming part of BBC Three's gender season, Antidote Media's debut commission followed the British rapper – also known as Stephen Manderson – as he uncovered the truth behind his father's suicide. The programme drew an audience of 477, 000 (2.3%), coming in above the 399,000 (2.1%) slot average.