Brian Cox, Jim Al-Khalili & Blink's Justine Kershaw pay tribute to Bafta & RTS-winner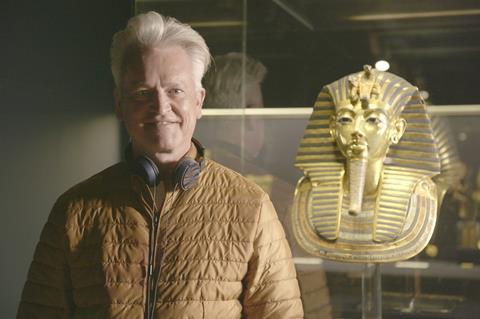 Bafta and RTS Award-winning director Kenny Scott has died aged 54.
Known for the way in which he created imaginative visual sequences to explain complicated ideas, from machine-gunning powder-filled balloons to putting chess games on the side of New York vans to drive past a chess grandmaster, Scott's career took him from a physics PhD on superconductors in the early 90s to working with leading scientific communicators including Adam Hart-Davis, Alice Roberts, Brian Cox and Jim Al-Khalili to name but a few.
His highest-profile film was Blink Films' 2012 Channel 4 doc Mummifying Alan, which won both the Bafta for specialist factual and RTS science and natural history gong for using the body of taxi driver Alan Billis to discover how the Egyptians preserved their pharaohs.
Billis' daughter Nicola said Scott was a funny and thoughtful man who put her family at ease during the making of the programme. "He was natural, calm and kind and it was almost like he had known us for years. Having that effect on people he had known for just a short time is an ode to what an awesome human he truly was."
Blink creative director Justine Kershaw added that he had the rare combination of scientific rigour and visual flair.
"Mummifying Alan was not only a highly sensitive subject but an unprecedented experiment," she added. "Despite the many, unique challenges Kenny managed to make a programme which was not only intelligent and visually stunning, but transcended the specialist factual realm to become a film about confronting death, the immortality of love and the legacy of remembrance."
Inspired by the sophisticated high-speed cameras he used during his research for his postgraduate qualification at Trinity College, Cambridge from 1988-1992, Scott's first job in TV after graduating was at Granada, Yorkshire Television.
A freelance director from the early 2000s, Scott's most recent project to air was an episode of BBC2's acclaimed The Universe with Brian Cox which explored the dramatic history of the Milky Way and was made on his 'home patch' of the Island of Skye.
Cox said he would always remember their time together. "Kenny brought a unique combination of intellectual rigour, storytelling excellence, artistic flare and experience to his directing, and his character echoes through the film. But most of all, beyond his talent, he was a lovely human being and I will miss him both professionally and personally."
His comments were echoed by another prominent academic and broadcaster Professor Jim Al-Khalili, who worked with Scott on Stephen Hawking Medal-winning BBC series The Secrets of Quantum Physics.
"He turned a complex scientific subject into a work of art that that profoundly moved everyone who watched it, including Stephen Hawking. Kenny was a unique human being who combined visionary film making, talent, courage and professionalism with the absolute sharpest of intellects," said Al-Khalili.
Infectious passion
At the time of his death Scott had just completed Alleycats' BBC2 film Tutankhamun's Secrets, due to air later this year.
Alleycats managing director Ed Stobart said that his infectious passion had inspired the team.
"Prior to the film he had never met the bulk of our team and the degree to which his passing has saddened us all is the mark of the man," he added.
Windfall co-founder Ian Duncan, who championed Scott early in his freelance career in London added: "He was a visually inventive director and a brilliant writer, blessed with the rare gift of explaining complicated ideas simply."
Other tributes came from his director/producer colleague Carla Wright, who collaborated with him on True North's Return of the Black Death and said he had a "unique imagination with no boundaries".
She recalled their summer of 2013 spent persuading museums to courier 700-year-old documents across London, arranging freshly exhumed Black Death skeletons to be moved and getting through Porton Down security to film actual bubonic plague.
"As a director with a vision Kenny expected a lot from those around him, but he also had a big heart. He cared about people intently and always championing the underdog. I'll remember Kenny for his extraordinary melting pot mind brimming with science and art. He was wildly ambitious and infectiously enthusiastic," she said.
"While I sometimes questioned the sanity of his ideas, I've come to realise that this was inevitable. History tells us it's rare to spot a genius in the moment, and I think Kenny might just have been one."