The convergence of media, entertainment and technology will dominate NAB 2017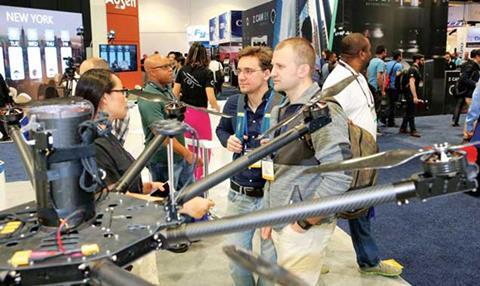 The theme at NAB 2017 is 'The M.E.T. Effect', the convergence of media, entertainment and technology, fuelled by internet connectivity and integrated systems, and growing consumer demand for more digital content and immersive experiences.
New to this year's event – taking place on 22-27 April at the Las Vegas Convention Center – is the IP Showcase and Facebook live video solutions pavilion; GoogleTalks sessions; a programme called Next-Generation Media Technologies: AI, AR and Cloud Innovations; the Connected Car Hackathon; and a Cyber security pavilion.
And, as usual, the major manufacturers will be showing their latest products.
SOUTH HALL LOWER
Blackmagic Design (SL216) has launched a new version of its Ursa camera and unveiled two grading panels for its editing and colour correction software.
The Blackmagic Ursa Mini Pro camera has a 4.6K image sensor with 15 stops of dynamic range.
Blackmagic chief executive Grant Petty says: "The Ursa Mini has been a real success. However, we wanted to design a new model that delivers many of the features customers have been asking for, so it's even more powerful and faster to use."
Petty says the Ursa Mini Pro is three cameras in one. "It combines high-end digital film quality with the features of a broadcast camera," he says. "It can be used for digital film, broadcast and live production."
The two grading panels are the DaVinci Resolve Micro Panel, which is designed to fit on a desk next to an editor's keyboard, and the larger DaVinci Resolve Mini Panel, which has LCD screens for access to Resolve's grading features.
A wide range of new technology is being debuted by SAM (SL1805), including 12G and IP multiviewers, a 12G-SDI Master Control system with HD/1080p and 4K 12Gps single link, and IP products that use 40, 25, 50 and 100 GbE interfaces.
Also new is FormatFusion4 HDR conversion for the Kahuna production switcher line-up, and support for 4K and HDR conversion in the mid-range KudosPro and UHD1000 products.
SAM's Media Biometrics technology offers distributed intelligent logic engines across the workflow, which enable exception-based and schedule-aware monitoring. Also on show is the web-based Morpheus UX for precise multichannel playout, and ICE SDC, SAM's pure software playout solution for virtualised IP playout.
Facilis (SL7920) is launching Hub Server, a performance aggregator that can be added to new and existing TerraBlock systems and is able to optimise drive sets and increase the bandwidth available.
Pebble Beach Systems (SL6320) and Blue Lucy have joined forces to introduce Beluga, a new workflow engine, MAM and video processing solution.
Beluga integrates closely with Pebble's Marina automation system to offer targeted file delivery, content preparation and integrated QC workflows, without the need to deploy an enterprise MAM solution.
Signiant (SL8711) is showing a new cloud transport architecture for standard HTTP(S) transfers, which can deliver optimised content to cloud object storage at multiple gigabits per second.
Signiant is also introducing functionality that enables authorised users to access their files from anywhere, on any device, to take advantage of accelerated transport. System administrators can maintain full control and visibility of each transfer.
As well as the latest version of Cinegy Air Pro, Cinegy (SL11116) offers Cinegy News, an all-in-one production package that includes the firm's Archive and Desktop applications. It includes a fully featured Newsroom Computer System (NCRS) client for news production.
Two Thunderbolt 3-to-PCIe card expansion boxes are on show from Sonnet Technologies (SL9927).
The Echo Express SEL and SEI Thunderbolt 3 editions allow computers with 40Gbps Thunderbolt 3 ports to take advantage of 2,750 MB/s of PCI Express bandwidth – as does the eGFX Breakaway Box, a Thunderbolt 3-to-PCI Express expansion solution, and the SF3 Series CFast 2.0 card reader.
Object-based nearline storage provider Object Matrix (SL5405) is to showcase platform MatrixStore. The DCG platform is designed to help content producers manage "a veritable deluge of data".
Boris FX (SL6824) is showing its new 360/VR tool Mocha VR, and updates to Sapphire and Continuum effects plug-in suites, including floating license services for enterprise customers.
The latest version of FlashNet CMS on show at SGL (SL5306) includes integrated archiving to Amazon's S3 and Glacier platforms, as well as support for Ci, Sony's cloud-based service.
There are also enhancements to the FlashNet Infinity User Interface, including a navigator tool and support for AXF objects and Sony ODA 2.
Editshare (SL9716) will display its enhanced XStream EFS system, which is able to dynamically defi ne the combination of storage technology and fi le protection applied to media and project spaces.
Suitcase TV (SL5825) is showcasing its Iphrame Flyaway IP-based production system, which combines IP, ASI and SDI signals in a portable flypack system for realtime, ultra-low-latency production.
Highlights on the Rushworks (SL12713) stand include Locked On, an object tracking innovation that the company claims eliminates the need for video camera operators, as well as upgraded PTX Model 1 and 2 universal pan/tilt heads controlled from DMX or Visca devices.
Also on show is the SegmentR Pro transcode utility and Newsdolly, a robotic camera dolly that introduces dynamic PTZ (Pan Tilt Zoom) camera motion and anchor tracking to news, studios and stage.
Decentrix, on the Microsoft stand (SL6710), is highlighting its BIAnalytix Mediabase analytics system, debuting a new option that delivers a complete set of interactive analytical tools.
Ortana Media Group (SL5221) is launching additions to its Cubix media asset management, automation and orchestration platform, including face and voice authentication, cognitive services and a module to enable interaction with metadata, audio tracks and automated quality-control reports.
SOUTH HALL UPPER
AZilPix (SU9817) is making its NAB debut with Axon Digital Design, introducing the US market to its Studio.One camera system for multi-angle and live 360 video production.
The Zao-S is a miniature mobile encoder being showcased by Soliton Systems (SU4910). Weighing 400g, and about the size of an iPhone, it provides live video streaming with H.265 encoding over 3G or 4G mobile networks.
Teamcast (SU6505) is showing Vortex II, a dual-cast ATSC1.0/ATSC3.0 exciter to help broadcasters prepare for the deployment of the ATSC3.0 DTV system. Also on show are the Tyger High Throughput Satellite Modulator, offering rates up to 480 Mbaud, and a complete solution for the DVB-CID standardised key feature.
Masstech (SU3202) is launching a disaster recovery option for playout environments. If primary playout operations are disrupted, it provides a fully automated content replication and playout platform for a secondary site.
Audinate (SU621) is showcasing the Dante Domain Manager platform, a complete network management solution that allows multiple private networks within the same infrastructure, providing security for IT departments and AV managers.
Highlighted on the Magewell (SU12813) stand are 4K models in the Pro Capture family of PCIe video capture cards. Five 4K models offer a flexible choice of input interfaces including HDMI, SDI or DVI, and support resolutions up to 4096 x 2160. Select models also support 4K at 60fps. Also debuting are the USB Capture Plus family of devices.
Globecast (SU11106CM) is launching its Optim.Net for peer-assisted media delivery. The CDN offl oading service relies on the audience watching the content to participate in the delivery to other viewers.
Globecast will also be highlighting its US disaster recovery services, content localisation and monetisation, and its VODlogistics offering.
Vimond Media Solutions (SU10105CM) is launching Live Channel Planner, which is for scheduling and monitoring several live channels. It covers both linear live set-up and event-based live programmes such as sport. It is said to improve efficiency and reduce the potential for errors.
NORTH HALL
The Ross Video (N3706) stand is packed with live production kit, including the Frontier Virtual Engine, which brings photorealistic rendering, particle systems and physics to broadcast virtual sets.
Ross is also introducing a new pan/tilt head – the VR100 – to its robotic camera systems for virtual studio tasks and v7.0 of its XPression motion graphics systems, adding support for Microsoft Windows 10 and IP.
Production switchers have also received updates. The Acuity v6.0 adds LiveEDL and Soft Panel operation, while Carbonite v12.2 adds support for the CB9 for use as a second control panel. Carbonite Black Solo's v1.2 software simplifi es tasks and adds Ross-patented RGB PanelGlow illumination.
Also new is the RCP-QE Series remote control router panel, which offers 18 or 36 coloured backlit graphic LCD keys with multiple menus. The DashBoard Facility Control System v8.3 has expanded Visual Logic to permit users to create their own device application program interfaces. Lightning, the Control System formerly known as LCS, is updated to version 5 with picture-in-picture functionality and support for new PivotCam PTZ cameras from Ross.
Evertz (N1503) will be demonstrating two new components of its IP-based Dreamcatcher live production system. DC-Live-Edit is a video/audio editing tool with instant craft editing capabilities and render-free publishing. The DC-MG media gateway makes use of unused processing capacity to complete jobs at high speed and transcodes content in a matter of moments.
New software-defined video networking IP-based solutions will be introduced, including support for new standards, transport for uncompressed UHD over IP, remote production and virtualisation.
Evertz is also showing products that include 12G-SDI routing, distribution, conversion and HDR/SDR conversion, as well as advancements in cloud-based playout in the Mediator-X and OvertureRT Live VM systems.
Seven new features for the CloudAir playout and streaming platform are being introduced to the US market by PlayBox Technology (N5311), as well as more than 40 new features for the Neo channel-in- a-box series.
Tedial (N1420) is debuting Evolution Augmented Storage (AST), which can handle any multimedia content regardless of its physical location and facilitates media operations across multiple sites.
Tedial is also introducing Multiverse, a tight integration between Pebble Broadcast Systems' Marina Automation and its own Evolution MAM.
TMD (N6227) is launching bolt-ons for the Mediaflex-UMS architecture for software-defined workflow management.
The first, MediaPackages, provides workflow management for the creation and delivery of packages to non-linear/OTT platforms. Media-MiSR offers integration, automation and reporting with third-party scheduling systems, and manages content cache storage for playout systems. Finally, MediaLines provides management for the scheduled recording of live feeds.
DNF Controls (N3927) is debuting the GTP-30 interface, which provides IP control to drive video/KVM routers, production switchers, multiviewers, servers and DDRs, graphic devices and tally systems. A software-only edition of the GTP-30 is also on show.
DNF will also debut ST600-Ki Pro, an ethernet-based, tactile control panel for AJA's Ki Pro DDRs, and the new USP3-Touchscreen Monitor Adapter.
NAB will also see Blue Lucy's (N5824) BLAM system's core asset management features combined with task automation, the ability to create and manage user-defined workflows and the software's integration with third-party technology.
Starfish (N5924) is launching a US operation and focusing on transport stream processing products such as TS Splicer.
Numerous control and configuration enhancements are being added to the Barnfind (N5111) BarnOne and BarnMini families. Highlights include a new web interface, signal redundancy switch, several new
BarnMini modules, a Stage Box break-out panel, HiLo SFP system and an enhanced CAM-CCU system.
The new MX-32 is being added to the Apantac (N5906) series of multi viewers, making it possible to monitor up to 32 independent video (3G/HD/SD-SDI) inputs simultaneously with four independent outputs.
Veset (N5931) is showcasing Veset Nimbus, a cloud-based platform for all-in-one playout that also offers tools for event management.
CENTRAL HALL
Hitachi Kokusai (C4309) is showcasing the Z-HD5500 HDTV studio and field production camera, which aims to address the challenges of shooting in venues with low-cost or varying frequency LED lighting. The camera supports HLG and PQ HDR specifications.
HDR is also a big focus for Sony (C11001), with products including live camera systems, servers, monitors and camcorders receiving additional HDR capabilities via software or firmware updates.
Sony is also showcasing a number of products for live IP production workflows, including camcorders that can stream from the field directly to the TV station or the cloud for playback or editing. 4K live production camera systems for sports with Share Play operation and Slow Motion Replay are on show, as is the Media Backbone Hive content production platform.
DPA Microphones (C3336) is showcasing its GSM4000 Gooseneck Shock Mount Accessory and MMP-G Modular Active Cable for MicroDot, a completely wireless microphone set-up for live and recorded broadcasts, with integrated shock mount technology.
VidOsat is a new lightweight Kuand Ka-Band satellite terminal from VidOvation (C6646) that works with the Aviwest DMNG Pro bonded cellular transmitter to create a hybrid transmission system.
Also new is the VidOvation VidOlink Reacher 1500, which supports the wireless transmission of HDMI, HD SDI, tally and two-way intercoms up to 1,500 feet.
Domo (C7137) is showing its new Broadcast Nano HD transmitter, the ProRXD 8-Way Diversity RF wireless receiver platform, and improved bidirectional camera controls. The company is also launching Encipher, a dual-channel IP encoder.
Shotoku (C6015) is showing Graphica, a series of manual VR/AR tracked camera cranes able to calculate positional data output from embedded physical rotary encoders. The firm is also highlighting its SmartPed fully robotic XY pedestal and the Free-d2 absolute tracking system.
VR is the focus for Timecode Systems (C2746) as it unveils how its SyncBac Pro and Blink Hub app can be combined to offer timecode synchronisation for GoPro cameras in VR rigs, treating multiple GoPro cameras in a rig as one.
Taking centre stage on the Leader Instruments (C9021) stand is the newly enhanced LV5490 multiscreen waveform monitor. A new HDR option enables the LV5490 to measure both 4K and HD HDR in all the competing protocols, while new five-bar display capabilities provide simultaneous display of maximum and minimum luminance, component and composite levels, and gamut errors.
NAB takes place 22-27 April 2017 at the Las Vegas Convention Centre