Exceptional talent, crew, studios and locations, combined with tax breaks, make the capital an increasingly big draw for international productions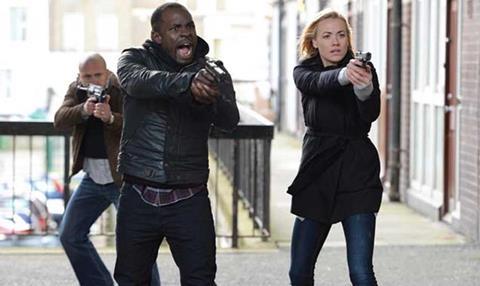 London: capital of not only England but the broadcast industry too. All the major broadcasters have their HQs in the city, the bulk of indie producers have their offices here and the large majority of the 50,000-plus workers (both freelance and staffers) reside here.
In Creative Skillset's most recent workforce survey, it is estimated that 57% of TV people work in the capital. This figure, however, is slowly diminishing, with the BBC for one making a conscious effort to employ more people outside of the capital than within it. In October, it announced that 51% of its staff are now employed outside of London.
London is a multi-genre city that plays host to a wide variety of productions. Some, such as shiny floor light-entertainment shows, are almost exclusively made here.
It is also a hugely, and increasingly, popular shooting destination. In 2007, there were around 14,000 shooting days in the capital. By 2013, that figure had risen to more than 18,000 with, on average, 50 different crews filming on the streets of London on any given day. Although it is not yet available, the 2014 figure will be higher still.
Part of this increase can be put down to an influx of both domestic and international producers taking advantage of tax breaks that make it attractive for high-end TV production.
The Fox/Sky production of 24: Live Another Day is a great example. Before the tax breaks, it is unlikely that this show would have been made in England, let alone London.
It used a core crew of 130 for the duration, supplemented by more than 500 temporary crew, a UK cast of about 150 and thousands of extras. In all, it delivered approximately £37m to the UK in production spend.
"London offers the complete package for producers," says Adrian Wootton, chief executive of Film London and the British Film Commission. "We have some of the world's best talent, crews, studios and facilities concentrated here in the capital, and when you combine this with our competitive tax reliefs, it makes the city an incredibly attractive place to do business."
London has physical benefits too, he adds: "The city itself has the history, architecture and settings to ensure it can take centre stage in big-budget period pieces, stand in for other world cities or adapt to meet the needs of futuristic dramas."
SHOOTING STAR: ARRI AMIRA
Steve Gray is an experienced London- based director of photography with credits across fi lm, TV and commercials including Top Gear (BBC2), drama-docs Locked Up Abroad (Raw TV for Nat Geo) and I Shouldn't Be Alive (Darlow Smithson for Discovery Channel), plus documentary Italy Unpacked (Wall To Wall for BBC2).
He says he is always seeking new ways to create images, and embraces modern technology, which excites him now as much as when he first worked with film. His most recent acquisition is the Arri Amira, a documentary-style camera that delivers high-quality images – but in a form suitable for single-operator use and shoulder-mounted operation.
"I had always been a bit hesitant to buy a camera, rather than rent one, because formats change all the time," he says. "I had looked at buying the Arri Alexa but because of the work I was doing, which was largely documentary, it was bulky and too expensive.
The Amira is smaller, the price is better and people are looking for that quality of picture, so it felt like the right thing to do."
For Gray, the Amira provides the best of both worlds for factual programme-makers. "Within TV documentaries, people want the full-frame sensor look, but they don't necessarily want to pay for it," he says.
"The Amira has come out at a time when there are now more affordable PL lenses like the Canon CN7x17 17-120mm Cine-Servo, a single zoom lens that gives you the full coverage you need for ob doc-style coverage, without constantly having to change lenses. It is a speed and logistics thing. It gives you the Alexa look but also the high frame rate options at the flick of a switch."
A recently announced codec update that adds a broadcaster-friendly 50 Mbit/s MPEG-2 recording option could boost interest in the Amira. "Productions with lower budgets can then get the sensor look, but using a codec that they'll find more user-friendly," says Gray.
Steve Gray will be making informal presentations using the Arri Amira with Visual Impact at the Look Listen Experience roadshow in London: www.looklistenexperience.com
TRICKS OF THE TRADE: SONY'S HIGH/LOW KEY FEATURE
Alister Chapman
DoP
"The high/low key function on Sony's new PXW-FS7 camera (below) works by changing the brightness range of the image displayed in the viewfinder or monitor. This can be useful when shooting in the Cine-EI Mode and using a Look Up Table (LUT) to help judge exposure.
"My preferred LUT for exposure assessment is 709 (800), which is compatible with the gamma curve used in most TVs and monitors. If you expose via the 709 (800) LUT so that the pictures look right on the screen or in the viewfi nder, then your S-Log recordings will also be correctly exposed.
"However, the 709 (800) LUT, like most LUTs, cannot show the full 14-stop capture range of the S-Log recordings. So sometimes you might see an image via the LUT that looks correctly exposed, but the highlights look clipped or blown out.
"This is where the high/low key function comes into play. It allows you to see the entire range the camera is capturing and check for over- or under-exposure issues without having to turn the LUT on or off.
"To do this, first allocate the high/low key to one of the camera's assignable buttons. On the first press, the viewfinder or monitor image will show the high key parts of the shot by making the image darker. A second press of the button will show the low key (darker) parts of the scene by making the image much brighter so you can see into the shadows.
A third press of the button returns the image to the normal range that the LUT can show."
Alister Chapman will be conducting 'hints and tips' sessions using the Sony PXW-FS7 with Visual Impact at the Look Listen Experience roadshow: www.looklistenexperience.com