As drama production booms, is fact ent still Northern Ireland's biggest strength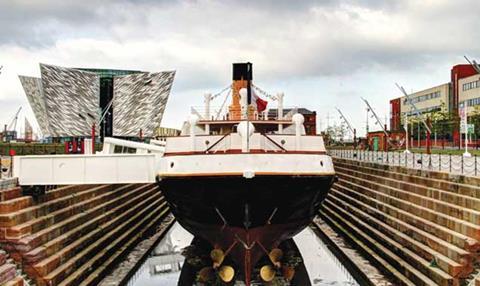 With season four of HBO's Game Of Thrones in production and BBC2's The Fall, starring Gillian Anderson, set to return to Belfast for a second series, it is not surprising that the biggest headlines to come out of Northern Ireland this year have revolved around the region's boom in drama production.
But it is the factual entertainment production sector that has traditionally been Northern Ireland's biggest strength. All this time, a cluster of small but dynamic indies have been producing quality TV shows, securing international and UK network commissions, and seeking to create new business models.
"We have been turning over 200 hours of television every year for seven years," says Stephen Stewart, managing director of Green Inc and producer of RTÉ's daytime staple The Daily Show as well as network shows BBC1's Ask Rhod Gilbert and The Many Faces for BBC2.
Also in the works are a sitcom for the BBC, a second series of comedy panel show Monumental and cycling trip Michael Smiley: Something To Ride Home About for BBC Northern Ireland. "There are very few companies in London that would have done the scale of what we've done. Now it's about building more awareness of the quality of producers here," says Stewart.
Dermot Lavery, co-founder of Double Band Films, agrees: "There is a hunger and desire to grow our sector and we are starting to have a great self-image." He has several history documentaries in development and production for Channel 4 – one, Queen Victoria And The Crippled Kaiser, aired last week – as well as a feature documentary, Road, for BBC Northern Ireland, which is narrated by Liam Neeson.
Lavery credits government-backed agency Northern Ireland Screen – which will be taking a delegation of indie producers to non-fiction summit Real Screen in Washington in January – with "facing the industry outward and encouraging companies to look at bigger and different markets".
However, Greg Darby, founder of local post house Yellow Moon and whose business has boomed thanks to an increase in drama production, admits: "The grass is greener on the drama side at the moment. But we can't be totally seduced by the new work, because it was the old factual entertainment work that got us here in the first place, and we were, and still are, very good at it."
Securing UK network commissions for fact ent and entertainment shows remains a challenge, even for established indie producers such as Philip Morrow, who runs Wild Rover, which makes BBC1's
National Lottery game show Secret Fortune and has just delivered a pilot for C4, quiz show Divide And Conquer.
Commissioning conundrum
"It's about achieving consistency," he says. "We have very good relationships with the commissioners, but if you don't get back-to-back commissions, you can lose essential members of the team and you have to start all over again. It's about getting to that critical mass where you can actually start to make plans for the future."
Jannine Waddell of Waddell Media, the company behind C4's weekday ethics strand 4Thought.TV and BBC's The Farm Fixer, suggests that the biggest stumbling block is nervousness from the commissioners. "They don't know us as well and people's jobs are on the line. The issue is persuading UK broadcasters to take a leap of faith." A returning network series, she says, remains "the holy grail" for indie producers in the region.
But BBC Northern Ireland spend was down last year, and it continues to make its current affairs programmes in-house rather than commission indies.
Meanwhile, documentary company Ten Alps, which acquired local current affairs specialist Below The Radar in 2009 to take advantage of what should have been a move towards devolution of production hours from London, decided to withdraw from the region early this year.
"We need to break the invisible blockage that is stopping these companies having a more dynamic and consistent commissioning relationship with the network, and we can't do that without focus and clear support from the BBC and C4," says Richard Williams, chief executive of Northern Ireland Screen, who suggests that quotas could be a tangible solution.
"All the broadcasters need to say is 'right, we're doing it'. It would save a lot of time, energy and anxiety, and as a consequence, it would free them up to put their focus on making great shows."
Williams points to the growth in local drama production as evidence of "what can happen when targets are taken seriously". "The BBC has clearly decided that it is going to produce a certain amount of drama out of Northern Ireland, and they are doing it. Nobody is seeing a decline in standards; quite the opposite, exciting things are happening. I don't see why the same can't apply to factual entertainment," he says.
Positive outlook
Still, Williams is optimistic that change could be on the horizon following "very constructive talks with BBC Northern Ireland on how we can bring together all of our buying power and different influences on the sector to ensure that the whole is bigger than the sum of the parts".
The recent appointment of Steve Carson as head of BBC Northern Ireland has also been met with warmth in the region, while others credit Jay Hunt and Danny Cohen for "changing the attitude to Northern Ireland at C4 and the BBC for the better".
Meanwhile, Below The Radar appears to have emerged unscathed following the departure of previous owner Ten Alps from the region with two documentaries in production for RTÉ and a thriving Irish language department that has just delivered a six-part magazine series for BBC Northern Ireland.
In the meantime, Northern Irish indies are increasingly turning their attention to the international market. "International is a huge part of Wild Rover's business," says Morrow, whose US commissions include Take The Money And Run for ABC and the sale of Secret Fortune to Switzerland and Sweden, with more territories to follow. "It is very stabilising because it means that some money is coming in, even if you can't always achieve the level of UK commissioning you would like," he says.
Waddell Media recently launched an international division, boosted by a first-look deal with international distributor Cineflix. It is now in the late stages of development on a two-part series about the Panama Canal for a US broadcaster. "After making 30 episodes of Future Weapons for Discovery, we realised that without US commitment, we were not going to survive with what we get out of the UK," says creative director JB Waddell, who has been encouraged by the receptiveness of US cable networks, such as G4, History and Discovery.
"In the US, they just see us as a UK network company. They are very aggressive and hungry and if they like your idea it can be in the pipeline in a matter of weeks," he says.
Going global
Another producer setting his sights on the global market is Trevor Birney, who launched Fine Point Films at the beginning of this year as an offshoot of Below The Radar (which he cofounded with Ruth O'Reilly) to build relationships in the US and Canada.
Fine Point Films co-produced Alex Gibney's Emmy-winning documentary Mea Maxima Culpa and is working on more documentaries with the director: one for ESPN's prestigious 30 For 30 series and another set for a theatrical release about the relationship between the US and Cuba. "Going to the BBC and getting a documentary fully funded, that is not building a business," says Birney. "You've got to be working internationally.
We are a production company in Belfast, working with an Oscar-winning director, on international stories, for global theatrical release. That's the future."
Philip McGovern, who runs Belfastbased Big Mountain Productions with Jane Kelly, and whose RTÉ's The Genealogy Roadshow was picked up by US broadcaster PBS, points out that the local industry can benefit from such international exposure.
"There is a tradition of very high-end series producers and showrunners, because the people working the sector have worked with the best in America and London," he says.
Companies such as Green Inc are also branching out when choosing co-production partners. "When you are up against the super-indies, it's one way to create a bigger presence. And it's a safety net for the broadcasters because two heads are better than one," says Stewart, who has teamed up with Belfast digital company Big Motive for online projects.
Rather than acting as a drain on local crew and resources, having such a big returnable series as Game Of Thrones in town has served to strengthen the region's facilities and crew base, not only by providing on-the-job training but also through the addition of new sound stages in Belfast studio facility The Paint Hall.
While there is an argument that the city would benefit from having a dedicated TV studio, Williams – who has high hopes the region will secure a quiz show or sitcom in the next 12 months – notes that many big TV shows build their sets in film production stages or other temporary spaces. "What we need to offer is flexible space for all sorts of shows," he says.
In the meantime, the fact ent sector will continue doing what it does best – producing quality ideas and content.
As Jannine Waddell says: "The message is: we are very much open for business. We've got the ambition, we've got the talent, and we will deliver."