Following a period of rapid growth, October Films is at a key stage in its development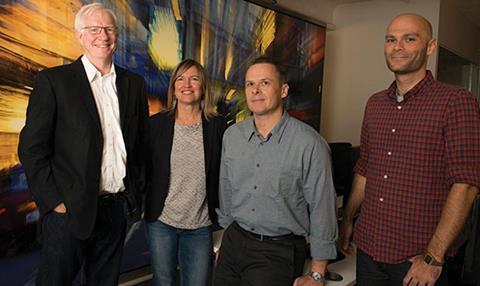 The climate may be mild as September gives way to October, but there are tell-tale signs of autumn on the short walk from Camden tube station to October Films' premises. From children congregating in still-fresh school uniforms to the nip in the wind, there are reminders that Christmas is around the corner.
It's a time of change at the company too, with a new stage of the development planned after a period of rapid growth.
Over the past three years, October's turnover has doubled to £11m and its annual output has trebled to 65 hours, with increasing commissions from the US. The indie is undergoing a strategic management restructure and Denman Rooke, moving from managing director to executive chairman, explains the need for "more solidified roles" as it expands its development and production teams to cope with the snowballing workload.
Rooke will head up the company with fellow board members Adam Bullmore, who becomes managing director; Jane Manning, who takes the director of production and operations role; and Matt Robins, who becomes creative director, travelling back and forth between the UK and October's US base to oversee both territories.
"The key question as we go forward is how to manage growth," Rooke says. "We're at a critical stage in our development and significantly more profitable than we were. With that comes the need to manage bigger teams and spread our resources much more widely." Bullmore has been with the company for 24 years and Manning joined two years later, while Rooke arrived in 1995 (Robins came on board in 2004). They have been running the company together for more than a decade and there is a warmth and familiarity in the enthusiastic chatter they share between answers.
"The company is in my DNA now," says Bullmore. "We've put a great deal of energy into the company and want to make sure that doesn't dissipate and that we're not running off in 100 different creative directions without much focus."
Fresh blood
So where does the focus lie? According to the quartet, building a strong creative layer below them will facilitate further growth by freeing them up to concentrate on moulding the company's strategy.
"We've put a structure in underneath us that can handle the heavy load of exec producing," explains Robins from his New York base, via speakerphone. "That's enabled me to stay creative and ideas-and-deal-driven."
Raw TV's Jos Cushing has come on board as an exec producer, highlighting October's "first bold declaration of that new model working". He had previously worked with the indie on a freelance basis on Channel 4 format Rude Tube, and will now work on developments in the UK and US.
Manning oversees the recruitment process, with input and advice from her three colleagues. Though she joined October in a production role, she now focuses on logistics and operations. Fostering a culture of employee progression is key to the way the indie works, and Manning points to the high number of staff who join in entry-level positions before making their way up to senior production roles.
New hires will also be key to October's experiments with factual genres. Traditionally a bluechip documentary indie, meaty current affairs pieces like Panorama: Saving Syria's Children and Secrets Of Your Supermarket Shop for C4's Dispatches figure prominently in its recent portfolio. But its growth has been aided by the ability to create successful formats in many factual guises.
Rooke reveals a particular focus on developing docudrama projects after Obsession: Dark Desires became US cable network Discovery ID's highest-rated show this year, topped off with a commission for a second series.
Drama producer Steve Murphy was hired as series producer for "80% scripted drama, 20% factual hybrid" formats, part of a significant investment in the indie's drama development team and a sign of the path it will keep forging in drama.
"It would be a leap too far to suddenly say we're going to start producing BBC1 dramas," says Rooke.
Robins concurs: "I think as a factual storyteller, it just gives us another way to look at stories and form. We'll look at factual stories using skills we've learned making this docu-drama series and Adam's Spying On Hitler's Army: The Secret Recordings [a 2013 docu-drama for C4], which was really beautifully executed. It didn't shy away from calling a drama a drama, but it was built on true stories that grab audiences."
American dream
To capitalise on October's growing business across the pond, Robins was sent out to New York last year to set up a permanent base, although the creative director will spend his time overseeing developments in both the UK and US.
"Five years ago, we had 4-5% turnover from the US, with money that came from co-productions," says Rooke.
Bullmore picks up the thread: "If you looked over the past two years and what we're going to do next year, around a third of our turnover will come from the US, and it's climbing."
October started formulating plans to create a base in America four or five years ago, says Robins, adding that the company "sensibly and steadily" built a strategy to set up a production outpost in the US, rather than "jumping in with both feet".
He says the ability to have regular meetings with commissioning editors from broadcasters and cable networks was a real advantage when trying to win commissions, though his key task was to build on greenlights already won by securing returning series.
"We're in the process of building a team over here, but I'm looking for people with a passion for both markets," he says. "I don't want this just to be become a US silo that operates within itself."
He emphasises the importance of October's home market, and is enthusiastic about the ability to "cross-fertilise" projects that could work in both territories.
"We want to make sure we don't drop the ball," says Rooke. "We've increased our spend on UK developments over the past two years and never want to lose sight of the fact that the UK is where the majority of our revenue comes from, and where we see the shows we've made in our own living rooms."
The future looks bright in both markets, with funded UK developments under way with the BBC, ITV, C4, TLC and a number of US networks. But can the true indie continue to thrive in a world of consolidation?
October's purely independent status makes it an increasingly rare beast and Bullmore says it would be "naïve" not to keep an eye on an acquisition spree that shows no sign of slowing down.
"It's quite good to be a little bit scared of how many large broadcast Tyrannosaurus Rexes there are out there," he says with a wry smile. "I think our job is to be the furry little squirrel nicking all the nuts."
Key Recent Shows
Operation Stonehenge: What Lies Beneath
Broadcasters BBC2; Canadian Broadcasting Corporation; Smithsonian Channel; France 5; ORF Austria; ZDF Germany
TX September 2014
Length 2 x 60 minutes

Kris: Dying To Live
Broadcaster BBC3
TX March 2014
Length 1 x 60 minutes

Trauma: Level One
Broadcaster ITV
TX November 2013
Length 2 x 60 minutes

Panorama: Saving Syria's Children
Broadcaster BBC1
TX September 2013
Length 1 x 45 minutes

Obsession: Dark Desires
Broadcaster
Discovery ID
TX March 2013
Length 10 x 60 minutes

Dispatches: Secrets Of Your Supermarket Shop
Broadcaster C4
TX January 2013
Length 1 x 30 minutes