Panasonic has unveiled its first professional fully integrated camcorder for capturing full HD 3D content.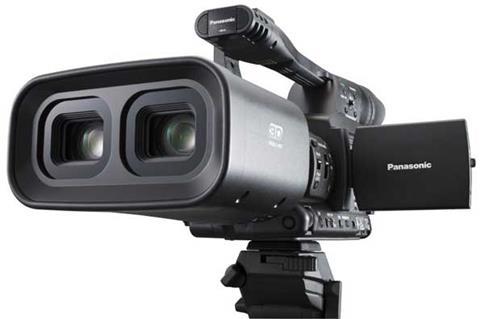 The made-to-order solid-state shooter will have its lenses, camera head and a dual Memory Card recorder all integrated into a single, lightweight body.
Current 3D capture options are based on two cameras placed side-by-side in rig form.
The 'Twin-lens Full HD 3D camcorder' will be made available to buy in the autumn of 2010 at a cost of US $ 21,000.
The camcorder incorporates stereoscopic adjustment controls with a twin-lens system in the optical section allowing the convergence point to be adjusted.
Functions for automatically correcting horizontal and vertical displacement are also provided.
Conventional 3D camera systems require these adjustments to be made by means of a PC or an external video processor.
Right and left Full HD video streams will be recorded as files on SDHC/SD Memory Cards,
Engineering samples of the camcorder are being exhibited at the Panasonic booth at CES this week.
A mock-up version was previewed at NAB in 2009.
Very few integrated 3D camcorders are currently available commercially around the the world.
One such example, however, is the CP20 (and its sister product the CP30) which is made by 3D-One in Holland. This point-and-shoot 3D HD camcorder was introduced late in 2009.